Ten Books on my Summer TBR for 2015
Top Ten Tuesdays are hosted by The Broke and the Bookish, where we make lists of our top ten books (or something else!) based on that week's prompt. The topics are provided ahead of time and can be found here. Book links bring you to Goodreads or my review.
The TTT from a few weeks ago included books I plan to throw into my beach bag this summer, so I'm going to give you a brief recap of what those books were (series/duologies represented by the first book's cover):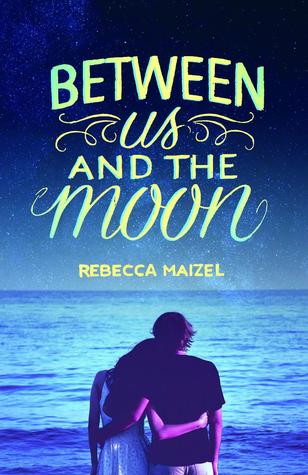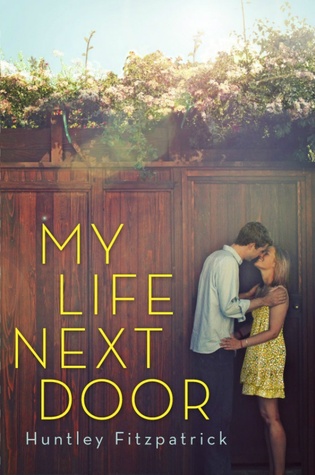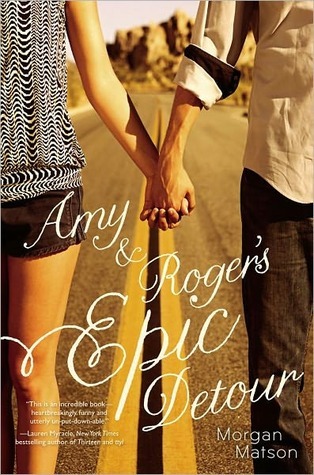 ---
Aaaaand as usual I have more than 10 here, but I couldn't resist…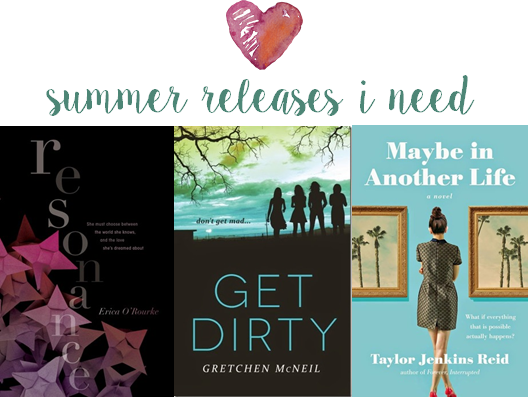 Everyone knows my extreme love for Dissonance by Erica O'Rourke, so obviously I am VERY excited to get my hands on Resonance when it comes out! I absolutely love that world and can't wait to see how it all ends up. Even though I wasn't super thrilled with Get Even by Gretchen McNeil, I DEFINITELY need to know what happens next with that ending. Get Dirty comes out this summer and I want it. And, last but not least, Maybe In Another Life by Taylor Jenkis Reid sounds phenomenal.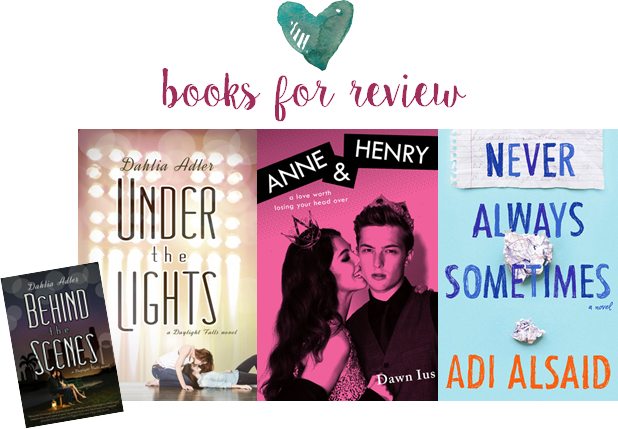 I have Under the Lights by Dahlia Adler for review, so I plan to read that and its predecessor (Behind the Scenes) at some point this summer. I'm excited for Anne & Henry by Dawn Ius as well, despite some of the early reviews. I'm on the blog tour for Never Always Sometimes by Adi Alsaid and this one sounds great.
I am FINALLY going to read Even In Paradise by Chelsey Philpot. If you know me at all or have been following my blog, I've been saying this for literal months. (Actually, over a year now! Jesus Christ.) HOWEVER, thank god for Cristina because she suggested reading it for Book Buddies this month. Now I am going to read it – for absolute real this time. My Book Buddies read with Kaitlin for July will be the next one in The Program series – The Treatment by Suzanne Young. I can't wait to see what happens next in this one!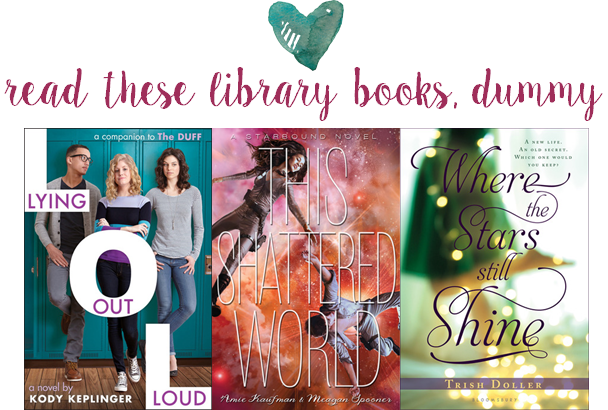 As usual, I just returned too many library books without getting a chance to read them. I requested these ones specifcially through interlibrary loan because I WANT TO READ THEM so I MUST ACTUALLY READ THEM. I love Kody Keplinger and am really excited to get to her latest, Lying Out Loud. I finished These Broken Stars by Amie Kaufman and Meagan Spooner in April, so I'm definitely interested to see what happens next in this series with This Shattered World. I actually picked up Where The Stars Still Shine by Trish Dollar on a whim, but I've heard great things and the cover gets prettier and prettier the more I look at it.
Related Posts