I received this book for free (hey, thanks!) in exchange for an honest review. I promise that this does NOT affect my opinion of the book or the content of my review. For real.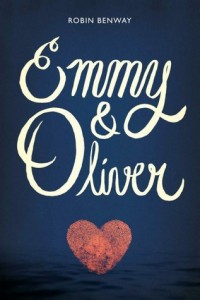 Emmy & Oliver
by
Robin Benway
Genres:
Contemporary
,
Young Adult
Published by
Harper Collins
on June 23rd 2015
Also by this author:
Audrey, Wait!
Format:
ARC
(352 pages) •
Source:
Around the World ARC Tours
Goodreads
•
Amazon
•
Barnes & Noble

Emmy's best friend, Oliver, reappears after being kidnapped by his father ten years ago. Emmy hopes to pick up their relationship right where it left off. Are they destined to be together? Or has fate irreparably driven them apart?

Emmy just wants to be in charge of her own life.

She wants to stay out late, surf her favorite beach—go anywhere without her parents' relentless worrying. But Emmy's parents can't seem to let her grow up—not since the day Oliver disappeared.

Oliver needs a moment to figure out his heart.

He'd thought, all these years, that his dad was the good guy. He never knew that it was his father who kidnapped him and kept him on the run. Discovering it, and finding himself returned to his old hometown, all at once, has his heart racing and his thoughts swirling.

Emmy and Oliver were going to be best friends forever, or maybe even more, before their futures were ripped apart. In Emmy's soul, despite the space and time between them, their connection has never been severed. But is their story still written in the stars? Or are their hearts like the pieces of two different puzzles—impossible to fit together?
I can't lie when I say I was a bit hesitant going into this one. I enjoyed Audrey, Wait! by Robin Benway but wanted a little more. I LOVE how unique the concepts of her books are. She takes a cool plot idea, adds great characters, and gives it a great contemporary feel without being too predictable.
Sometimes love isn't something you say, it's something you do." (pg. 75, ARC)
This book blew me away. I was utterly addicted to it and needed to know how things turned out. If I could have stuck with Emmy and Oliver (the main characters, obviously) forever, I would have. There were so many endearing moments that just killed me with feels. The main premise is that Emmy's best friend, Oliver, was kidnapped by his father 10 years ago and the family/neighborhood never really moved on. Suddenly Oliver is found and returning home to his mom, who is now remarried and has two kids. Naturally everything takes some getting used to. Oliver doesn't remember everyone as much as they remember him, but he does end up falling back into his old crowd of friends: Emmy, Caro, and Drew. The minute Oliver was introduced, I fell in love. Seeing him and Emmy fall back in together had me so anxious and full of love; I just NEEDED them to get together immediately. Emmy was an interesting character because she was constantly hiding things from her parents, like the fact that she applied to college and enjoyed surfing, because they were a bit overbearing since Oliver went missing. It was an interesting dynamic because they were simultaneously cool parents that joked around and her friends loved – and parents that were too strict (kind of understandably). Her parents were very present in the book, which is sometimes unusual in YA books that aren't specifically about parent/family relationships. I have to say that all of the supporting characters in this book were equally engaging and fleshed out. I loved Caro and Drew. I loved Oliver's sisters. I loved everyone.
This book had a perfect mix of family feels, best-friend-turned-boyfriend-love, amazing friendship, coming of age, learning about yourself, and moving on. It's truly everything I could ever want from a YA contemporary. It even had a great focus on feminism; Emmy and Caro were constantly fighting against traditional expectations for girls. Emmy tells Oliver at one point when they're surfing that girls can never win. When she wears her wetsuit, boys ask where her bikini is because her body is too nice to be covered up. When she wears a bikini, they say she's a slut. There was another instance when Emmy and Caro explained to Oliver that "you're not like other girls" is not a compliment. Why NOT be like other girls? Lift each other up and stand together. I just REALLY appreciated this element of feminism that is not explored enough in YA.
"Well, that's growing up, isn't it? … You don't always have to know. And things aren't always fair. You just have to keep moving forward. One step in any direction." (pg. 248, ARC)
When it came time for the drama or the climax, I was happy to see it was more family-oriented than boyfriend-oriented. View Spoiler »Emmy's lies have to catch up to her eventually and she comes clean about surfing and college. You can also tell that Oliver's dad is going to come back into the picture at some point so there's some resolution as far as that's concerned. « Hide Spoiler I'm used to most books having the romantic element have a big dramatic moment where they fight and get back together eventually after some stupid misunderstanding. I won't spoil anything, but I'll say that the "drama" of the book is not what you'd expect… and that made me very happy. It explores more issues than just the romance and was much more well-rounded in that way. Emmy and Oliver had to deal with their own family issues, friend issues, and "moving on" from the past.
I honestly can't think of any issues with this book. Emmy and Oliver are added to my list of OTPs and I can definitely say I'll be rereading this one when the preorder arrives on my doorstep. This book was real, raw, funny, adorable, fun, heartbreaking, happy, sad… everything.
"I guess the more you start to love someone, the more you ache when thy're gone, and maybe it's that middle ground that hurts the most, when you can see them and still not feel like you're near enough. So close and so far." (pg. 289, ARC)

This book totally took me by surprise and exceeded my expectations. I loved it so much.











Related Posts