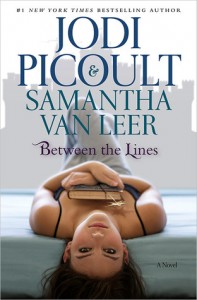 Between the Lines
by
Jodi Picoult
,
Samantha van Leer
Series:
Between the Lines #1
Genres:
Contemporary
,
Magical Realism
,
Young Adult
Published by
Simon and Schuster
on June 26th 2012
Format:
eBook
(368 pages) •
Source:
Scribd
Goodreads
•
Amazon
•
Barnes & Noble
What happens when happily ever after…isn't?

Delilah is a bit of a loner who prefers spending her time in the school library with her head in a book—one book in particular. Between the Lines may be a fairy tale, but it feels real. Prince Oliver is brave, adventurous, and loving. He really speaks to Delilah.

And then one day Oliver actually speaks to her. Turns out, Oliver is more than a one-dimensional storybook prince. He's a restless teen who feels trapped by his literary existence and hates that his entire life is predetermined. He's sure there's more for him out there in the real world, and Delilah might just be his key to freedom.

A romantic and charming story, this companion novel to Off the Page will make every reader believe in the fantastical power of fairy tales.

This was my book club's pick for May, which was really the only reason I was motivated to read it! (And even then, I only picked it up a couple of days before the meeting… YOLO). I started a YA book club because there weren't any near me, and this is what we agreed to read for the first meeting! We thought it would be good for those who aren't experienced YA readers, since Jodi Picoult is a popular and recognizable adult fiction writer.
Soooo, about this book. I have somewhat mixed feelings. I didn't actively want to sit down and read it that often, but I did find myself pretty engaged as I was actually reading it. The concept itself is probably my favorite part. It's like Toy Story for books! What happens to the characters in a book when you close it? In this case, they're all essentially "actors" in the book and lead regular (very different) lives when the book is shut. Delilah reads this book and starts to fall for the main character, Oliver, and he finds a way to communicate with her. The two of them spend the book trying to get him out of the story so they can be together. Pretty cool, eh?
Otherwise, the book felt suuuuper young to me. The writing definitely didn't feel Picoult-esque, and that's probably because she wrote it with her young daughter, but there were some parts that had me majorly rolling my eyes. A lot of it was cheesy and superficial. The book is literally Delilah and Oliver trying out different ways to pull him out of the book, the ideas not working, them coming up with a new one, that new idea not working, etc. Not much really happens. The characters themselves were really superficial too. Delilah has the classic, overused trope of being a "clumsy girl" but that's really it. A lot of school/bullying issues were brought up, but never fleshed out. There's literally one reason she claims to like Oliver and all of their "bonding" talks happen on the side, where the reader can't follow them. Loooots of telling instead of showing.
HOWEVER, a bit of intrigue was added because of the alternating points of view. The chapters switched between Delilah, Oliver, and the actual text of the fairy tale that Oliver is stuck in. That definitely made things a bit more interesting, because I was always looking forward to hearing the other person's perspective or seeing what happened in the tale.
I liked the last 25% of the book the best, because there were some cool twists and new characters introduced. I was a little weirded out by the very end of the book through. View Spoiler »In order to get Oliver to stay in the human world, he switches places (essentially) with the author's son, Edgar. So, Edgar heads into the book and they rewrite the conclusion without Oliver. Oliver ends up in the real world. Because the two of them look identical, he's going to just… take Edgar's place in the world? I can't imagine being THAT willing to give up a human life/world to live in a fairy tale. I don't get how that would work. Anyways, it'll be interesting to see how it all pans out in the sequel. ALSO it's kind of stupid because the author/her son live a good 3 hours away from Delilah, which means Oliver will still be VERY far away from him… how is this relationship even going to continue??? « Hide Spoiler Needless to say. I'm very glad there's a sequel to this one. I'm not sure when I'll get around to reading it, but I will at some point.











I rounded up to 3.5 because I liked it enough to read the sequel and enjoyed the overall concept.
Related Posts