In an effort to cut down on posts and burnout, my Review Roundups will feature 2-4 books I've read or listened to recently. Sometimes they're newer releases and sometimes they're all backlist titles. My ARC reviews usually get the solo treatment. Enjoy the mini reviews!
---
Infamous
by
Alyson Noel
Series:
Beautiful Idols #3
Genres:
Young Adult
,
Mystery/Thriller
Published by
Harper Collins
on April 3rd 2018
Also by this author:
Blacklist
Format:
eBook
(432 pages) •
Source:
Scribd
Goodreads
•
Amazon
•
Barnes & Noble
There's no shortage of suspense, glitz, or scandal in the gripping conclusion to #1 New York Times bestselling author Alyson Noël's Beautiful Idols trilogy.

Layla Harrison never imagined she'd see the inside of a jail cell, but sometimes fate can be as nasty as a commenter on her celebrity gossip blog. Luckily, she wasn't alone—fellow promoters Aster Amirpour and Tommy Phillips were also detained when Hollywood It Girl Madison Brooks's dead body turned up at an Unrivaled nightclub.

But it wasn't Madison at all. The real Madison Brooks is alive and hiding out after escaping a kidnapping attempt that almost took her life. Once the police discover they've made a mistake, Layla, Tommy, and Aster are set free—only to discover that they're all being played.

However, none of their dirty little secrets compares to the one Madison has been keeping her entire life, and her past is dangerously close to being revealed. Which means Madison must come out from behind the shadows to ensure that she doesn't lose everything she's worked for, regardless of who might get caught in the crossfire.
Let me do a little plug here about Scribd again (link gives us each a free month if you sign up!) – I was hoping this book would be added because some of the others were on there, but I kept checking and didn't see anything yet. I went on Scribd late in the day on April 3rd (its release day!) and found it, when I was super in the mood to read it. I love that they have new releases THAT day!
So overall, this was a pretty good series finale. I didn't find it quite as captivating as other books in the trilogy (and honestly I'm probably rounding up my rating a bit because of how much I enjoyed the series overall). There have been a couple of book series that I liked but didn't love, where I thought about it a lot in between books and highly anticipated each release, but they never blew me away. This is definitely one of those series.
I never connected with any of the characters and wish this book had more recap in the beginning. I forgot SO much of what happened in the previous book and there aren't any recaps anywhere, so I just tried to re-learn everything as I went along. I can't pinpoint my favorite character because there were too many POVs in this book to keep track of, and no one was really opened up and fleshed out.
I predicted whodunnit very easily in this book (I wasn't sure in the previous books) but didn't know the full story of why. There were some good twists regarding that. I probably should have guessed them because it's very tropey for a mystery book but hey, I'm not complaining. I really enjoy Alyson Noel's writing style too. It's very easy? (I mean this in a good way) and addicting. I'm definitely interested to see what she writes next. There are conversations at the end of the book about the next competition, so she could realistically make a spin-off.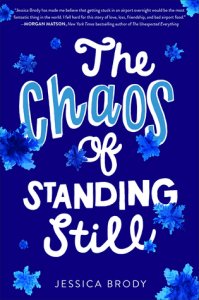 The Chaos of Standing Still
by
Jessica Brody
Genres:
Young Adult
,
Contemporary
Published by
Simon and Schuster
on November 28th 2017
Also by this author:
In Some Other Life
,
The Geography of Letting Go
Format:
Hardcover
(406 pages) •
Source:
Library
Goodreads
•
Amazon
•
Barnes & Noble

Ryn has one unread text message on her phone. And it's been there for almost a year.

She hasn't tried to read it. She can't. She won't. Because that one message is the last thing her best friend ever said to her before she died.

But as Ryn finds herself trapped in the Denver International Airport on New Year's Eve thanks to a never-ending blizzard on the one-year anniversary of her best friend's death, fate literally runs into her.

And his name is Xander.

When the two accidentally swap phones, Ryn and Xander are thrust into the chaos of an unforgettable all-night adventure, filled with charming and mysterious strangers, a secret New Year's Eve bash, and a possible Illuminati conspiracy hidden within the Denver airport. But as the bizarre night continues, all Ryn can think about is that one unread text message. It follows her wherever she goes, because Ryn can't get her brialliantly wild and free-spirited best friend out of her head.

Ryn can't move on.

But tonight, for the first time ever, she's trying. And maybe that's a start.
It took me a surprisingly long time to get into this book. I started the audiobook when my podcasts slowed down for a little bit, then moved over to the physical copy. I was truly never in the mood to read this as it sat under my couch for practically a month. I was determined to get it done because I did LIKE it when I was reading!
Ryn is still reeling from the loss of her best friend a year earlier. She has one unread text from Lottie that she can't bear to open, as it was the last thing she said to her. She's stuck in the Denver airport and meets Xander (as well as a few other interesting characters) to spend the extended layover with. I loved meeting all of the characters and seeing what kinds of shenanigans they could get into when they were snowed in. Books that feature a really small amount of time (like 24 hours) are some of my favorites.
Lottie would overreact or make a dumb decision to piss me off, then she would redeem herself fairly quickly when she realized she was being silly. It was nice to see that kind of self-reflection in a main character instead of people just making choices that make no sense and sticking with them for the sake of stubbornness or the story's plot. I didn't love her but I did love Xander. He was adorable and so fun – exactly what she needed to let loose.
Even though this took me a while to really get into, I ended up really enjoying it. Jessica Brody has such fun concepts for her books and I'll definitely continue to reach for them whenever they come out!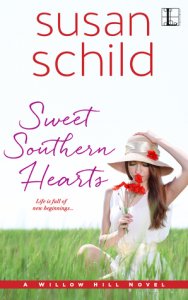 Sweet Southern Hearts
by
Susan Schild
Series:
Willow Hill #3
Genres:
Adult
,
Contemporary
Published by
Kensington
on January 10, 2017
Also by this author:
Linny's Sweet Dream List
,
Sweet Carolina Morning
Format:
eBook
(214 pages) •
Source:
Scribd
Goodreads
•
Amazon
•
Barnes & Noble

Susan Schild welcomes you back to the offbeat Southern town of Willow Hill, North Carolina, for a humorous, heartwarming story of new beginnings, do-overs, and self-discovery…

When it comes to marriage, third time's the charm for Linny Taylor. She's thrilled to be on her honeymoon with Jack Avery, Willow Hill's handsome veterinarian. But just like the hair-raising white water rafting trip Jack persuades her to take, newlywed life has plenty of dips and bumps.

Jack's twelve-year-old son is resisting all Linny's efforts to be the perfect stepmother, while her own mother, Dottie, begs her to tag along on the first week of a free-wheeling RV adventure. Who knew women "of a certain age" could drum up so much trouble? No sooner is Linny sighing with relief at being back home than she's helping her frazzled sister with a new baby…and dealing with an unexpected legacy from her late ex. Life is fuller—and richer—than she ever imagined, but if there's one thing Linny's learned by now, it's that there's always room for another sweet surprise…
This is another one of those book series that I always look forward to the next installment, even if I haven't loved the previous ones. Don't ask me why this happens. In any case, I kind of forgot there could be another book in this series until I finally checked out Goodreads, then Scribd. Of course it was there. I never got around to reviewing the second book but it was very similar to the first and third installments.
Linny and Jack are newly married and dealing with Jack's son, Neal, and his ex-wife, Vera. Linny is still taking charge with her new business while trying to balance… a lot of other things. She also takes a camping trip with her mom and her mom's friends early in the story. It was a bit hobbled together and didn't really feel like there was an overarching theme or plot to the story for quite a while. There were some annoying elements as well, like Linny's mom going on and on about someone who essentially got "addicted to pot" and ruined their lives, stole things from family to sell, etc. – literally the most baffling and illogical portrayal of someone who smokes marijuana. Clearly the author has some kind of extreme bias against the drug and a gross misunderstanding of how it works.
I was very pleased toward the end because a certain annoying and terrible character was FINALLY told off. There were some very cute moments at the end and it was a quick read overall.
Related Posts