The Nostalgia Project is my way of revisiting and rereading old favorites from my young adulthood to see if they still resonate with me. Learn more here and read old posts or reviews here!
---
I didn't include the Gemma Doyle trilogy by Libba Bray in my original post about this project. Honestly it doesn't really fit because it's not the same kind of genre I was looking to analyze. However, if this trilogy is anything to me, it's nostalgic. My book club decided to read this series for our meetings for March, April, and May, so it was finally the right excuse to make this reread happen!
---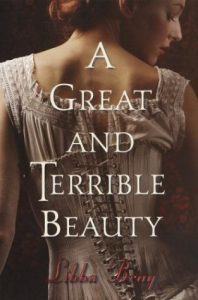 A Great and Terrible Beauty
by
Libba Bray
Series:
Gemma Doyle #1
Genres:
Young Adult
,
Historical Fiction
,
Fantasy
Published by
Simon and Schuster
on December 9th 2003
Also by this author:
Summer Days & Summer Nights
,
The Diviners
,
Lair of Dreams
,
Before the Devil Breaks You
,
The King of Crows
Format:
Audio/eBook
(403 pages) •
Source:
Overdrive
,
Owned
Goodreads
•
Amazon
•
Barnes & Noble

A Victorian boarding school story, a Gothic mansion mystery, a gossipy romp about a clique of girlfriends, and a dark other-worldly fantasy—jumble them all together and you have this complicated and unusual first novel.

Sixteen-year-old Gemma has had an unconventional upbringing in India, until the day she foresees her mother's death in a black, swirling vision that turns out to be true. Sent back to England, she is enrolled at Spence, a girls' academy with a mysterious burned-out East Wing. There Gemma is snubbed by powerful Felicity, beautiful Pippa, and even her own dumpy roommate Ann, until she blackmails herself and Ann into the treacherous clique.

Gemma is distressed to find that she has been followed from India by Kartik, a beautiful young man who warns her to fight off the visions. Nevertheless, they continue, and one night she is led by a child-spirit to find a diary that reveals the secrets of a mystical Order. The clique soon finds a way to accompany Gemma to the other-world realms of her visions "for a bit of fun" and to taste the power they will never have as Victorian wives, but they discover that the delights of the realms are overwhelmed by a menace they cannot control. Gemma is left with the knowledge that her role as the link between worlds leaves her with a mission to seek out the "others" and rebuild the Order.
Man, this book. ? I love when rereads are a perfect mix of homey, nostalgic feelings plus a "brand new" story (because I forgot almost everything that happened!). It's time like these where I love that my bookish memory is terrible. This was like revisiting an old favorite and being surprised at the same time.
I think the biggest difference, looking back, is the pacing. I can see how some people may consider the story somewhat slow or even boring at times. The pacing is similar to a historical fiction book (which makes sense, because it is one), but there are some fantastical elements. The pacing is definitely not like that of a fantasy novel. I didn't mind the slow-moving plot because my feels kept me going, not gonna lie.
Gemma and her friends were worse to me this time around. I liked Gemma overall, even though she was definitely selfish a lot of the time. Her friends were terrible at the beginning of the story and I would have hoped for more character development by the end. I think they get better with each book though?
Overall, I was really happy to be revisiting this story! I probably did an equal mix of reading the ebook and listening to the audio. I have to say, the narrator does a pretty great job with Gemma's character. I would recommend the audio if you're interested in that authentic British accent 🙂 I'm looking forward to seeing the magic of the realms continue to grow as the books continue. AND THE SHIP.
---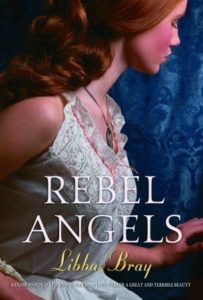 Rebel Angels
by
Libba Bray
Series:
Gemma Doyle #2
Genres:
Young Adult
,
Historical Fiction
,
Fantasy
Published by
Simon and Schuster
on December 26th 2006
Also by this author:
Summer Days & Summer Nights
,
The Diviners
,
Lair of Dreams
,
Before the Devil Breaks You
,
The King of Crows
Format:
eBook
(576 pages) •
Source:
Overdrive
Goodreads
•
Amazon
•
Barnes & Noble

Ah, Christmas! Gemma Doyle is looking forward to a holiday from Spence Academy, spending time with her friends in the city, attending ritzy balls, and on a somber note, tending to her ailing father. As she prepares to ring in the New Year, 1896, a handsome young man, Lord Denby, has set his sights on Gemma, or so it seems. Yet amidst the distractions of London, Gemma's visions intensify–visions of three girls dressed in white, to whom something horrific has happened, something only the realms can explain...

The lure is strong, and before long, Gemma, Felicity, and Ann are turning flowers into butterflies in the enchanted world of the realms that Gemma alone can bring them to. To the girls' great joy, their beloved Pippa is there as well, eager to complete their circle of friendship.

But all is not well in the realms–or out. The mysterious Kartik has reappeared, telling Gemma she must find the Temple and bind the magic, else great disaster will befall her. Gemma's willing to do his intrusive bidding, despite the dangers it brings, for it means she will meet up with her mother's greatest friend–and now her foe, Circe. Until Circe is destroyed, Gemma cannot live out her destiny. But finding Circe proves a most perilous task.
I don't remember which book was my favorite the first time around, but DAMN this one is good. I feel like so many stories fall prey to middle-book-syndrome because there is less action. The books are bridging the gap between the beginning and the end, so they end up being reserved for keeping things steadily moving. This was absolutely not the case here.
As much as I obviously love the setting of Spence Academy (love those boarding school books), it was fun to see the girls running around London during this time period. I completely forgot how little Spence was in the second book. This series is a such a perfect mix of historical fiction and fantasy.
Gemma continues to cement herself as one of my favorite characters of all time. For that time period, she was so sassy and quick-witted (especially about her brother). I would literally laugh out loud at her comebacks about him. No character is perfect and obviously she jumps to incorrect conclusions about things at times, but I can fully understand her reasoning all the time. I noticed a lot of reviews where people said Felicity and Ann weren't themselves in this book or something, but I disagree. I think all three girls are growing up so much with all that they're uncovering. Major secrets are revealed in this one too.
Overall, such a fantastic middle book for me. The finale is over 800 pages and I saw a lot of reviews saying it could have been 200-300 pages shorter, so we'll see how I end up feeling. It has been the best decision to FINALLY reread this series.
---
The Sweet Far Thing
by
Libba Bray
Series:
Gemma Doyle #3
Genres:
Young Adult
,
Historical Fiction
,
Fantasy
Published by
Simon and Schuster
on December 26th 2007
Also by this author:
Summer Days & Summer Nights
,
The Diviners
,
Lair of Dreams
,
Before the Devil Breaks You
,
The King of Crows
Format:
Paperback
(819 pages) •
Source:
Owned
Goodreads
•
Amazon
•
Barnes & Noble

IT HAS BEEN A YEAR OF CHANGE since Gemma Doyle arrived at the foreboding Spence Academy. Her mother murdered, her father a laudanum addict, Gemma has relied on an unsuspected strength and has discovered an ability to travel to an enchanted world called the realms, where dark magic runs wild. Despite certain peril, Gemma has bound the magic to herself and forged unlikely new alliances. Now, as Gemma approaches her London debut, the time has come to test these bonds. The Order - the mysterious group her mother was once part of - is grappling for control of the realms, as is the Rakshana. Spence's burned East Wing is being rebuilt, but why now? Gemma and her friends see Pippa, but she is not the same. And their friendship faces its gravest trial as Gemma must decide once and for all what role she is meant for.
I was the most nervous heading into this book out of the three. I remembered that a certain thing happened that I hated and didn't want to relive. Plus, I saw a bunch of disappointed reviews and couldn't remember if I felt the same way about it. I knew the story was incredibly long (for some people, too long) and would take me a while to work through.
Certain parts of the story are a little formulaic at this point too. There are a lot of betrayals and secrets and people not being who you think they are. It makes for an interesting read (especially for the first time or if you forgot everything about it from the first time you read it *cough*), but can feel somewhat repetitive just in that storytelling element.
I forgot how frustrating her friends got in the final book. Everyone was blinded by the magic and their hopes for the future; no one thought logically about anything. I was so annoyed that they listened to certain people instead of those that actually made sense. I won't spoil anything, but Jesus Christ.
However, things reaaaaally pick up in the final 25% or so. I loved how badass Gemma became! All of the threads of feminism at that time are just awesome. Despite the sad element to the ending that I didn't want to happen, I think this series ends on a nice note. (Maybe a little unrealistic, but nice!) I totally hope Libba Bray comes out with more books in this series in the future. There would be so much room to keep going.
---
Goal: reread the series to see how it holds up
I had a friend in high school I would share books with all the time. She read a bit of historical fiction but I wasn't usually a fan. This series was definitely an exception to that rule. I remember reading these books once they were all out, or almost all out? I think I read the first two books in 2006 and then had to wait until 2007 when the final one came out. I loved them at the time and it definitely broke me out of my usual YA contemporary or long thriller series.

I'm happy that my Nostalgia Project has held up for me so far! Much like the Gallagher Girls, this series was exactly how I remembered it. I didn't consider myself a feminist when I first read, so reading it through that lens today was absolutely eye-opening. I didn't even notice how much Gemma and her friends challenged the norms of the time (especially with how things ended for everyone)! This series absolutely stands as one of my favorite series of all time. I could see myself revisiting it for years to come. I'm a big fan of the audio narrator for the series, so that'd be a great way to reread.
4.5 stars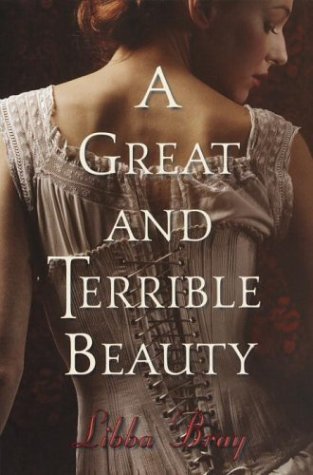 5 stars
4 stars
Related Posts