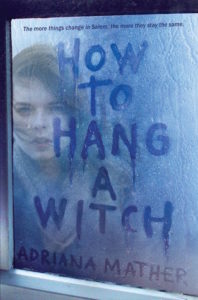 How to Hang a Witch
by
Adriana Mather
Series:
How to Hang a Witch #1
on July 26th 2016
Also by this author:
Killing November
,
Hunting November
(368 pages) •
Goodreads
•
Amazon
•
Barnes & Noble
It's the Salem Witch Trials meets Mean Girls in a debut novel from one of the descendants of Cotton Mather, where the trials of high school start to feel like a modern day witch hunt for a teen with all the wrong connections to Salem's past.

Salem, Massachusetts is the site of the infamous witch trials and the new home of Samantha Mather. Recently transplanted from New York City, Sam and her stepmother are not exactly welcomed with open arms. Sam is the descendant of Cotton Mather, one of the men responsible for those trials and almost immediately, she becomes the enemy of a group of girls who call themselves The Descendants. And guess who their ancestors were?

If dealing with that weren't enough, Sam also comes face to face with a real live (well technically dead) ghost. A handsome, angry ghost who wants Sam to stop touching his stuff. But soon Sam discovers she is at the center of a centuries old curse affecting anyone with ties to the trials. Sam must come to terms with the ghost and find a way to work with The Descendants to stop a deadly cycle that has been going on since the first accused witch was hanged. If any town should have learned its lesson, it's Salem. But history may be about to repeat itself.
Initial Excitement
This book is truly out of my norm. I've only read a handful, at most, of books about witches. I just don't go down that path for some reason. Actually, paranormal books in general are some of my least-read across YA fiction. In any case! I was in the mood for a somewhat creepy, a little scary maybe, book to read around Halloween. I started it that weekend and finished a couple of days later.
Quick Summary
Sam moves to Salem when her dad, who is in a mysterious coma, is transferred up to Boston. Her family has a huge history in the town and her ancestor, Cotton, was directly involved in running some of the Salem Witch Trials. She moves into her grandma's house with her stepmom, Vivian, and quickly becomes a pariah, like she's always been; kids think she's cursed and they always somehow get hurt around her.
Storytelling, Setting, and Feels
The coolest part of the book was how atmospheric it was. I was a huge fan of the Salem setting. I live about 2 hours away from there but have never made the journey. I'm thinking that needs to change next year! I absolutely loved the parallels to the history of Salem – lots of the events of this book mirrored the old days of the Witch Trials.
The story itself was really interesting too. I'll get more into Sam soon, but I did like her as a main character for the most part. The plot centers around her trying to figure out if there is a curse on her, working with a ghost (Elijah) to figure everything out, and dealing with the Descendants (#meangirls). They're a group of girls directly descended from witches who were put on trial in Salem. The mean girl aspect wasn't as bad as I expected, thank god, because that trope is overused.
Characters
Sam // I know that I should think like a young adult, but it does get frustrating for me every time a character jumps to conclusions without consulting with anyone first. Don't ice someone out because you heard a rumor! Ask them if it's true and go from there! Good lord, this girl needed a huge lesson in that. Otherwise… she wasn't too bad. I was annoyed by her occasionally and thought a lot of the dialogue was a little awkward maybe?
Jaxon // I liked him from the beginning because he was persistent without being creepy about it. Maybe I just love the neighbor-love-story a little too much. He sounded cute and didn't let Sam get away with blowing him off. However, this aspect of his personality was annoying at the end when he wouldn't trust her. However again, maybe she deserved it because of how much she didn't trust him when she heard rumors? Whatever, teen angst.
Elijah // I haven't really read books involving ghosts before so this was neat. I liked his character a lot but there was also some creepy stuff involved… and no, I don't mean creepy-scary, I mean creepy-gross. I don't think this is really a spoiler but I'm going to warn you anyways that this is romance spoilery: Sam somehow simultaneously falls for Elijah, who is a GHOST, and Jaxon, a regular human boy. I know this is the definition of a love triangle… but really? A ghost? I know that you can see and feel him… but that's too much for me, girl. *shakes head*
The Descendants // I barely remember their names so here they are lumped together. I think they'd prefer it that way, TBH. I liked that they had to eventually work with Sam to get all their shit together in Salem. I was waiting for the moment they stopped being those #meangirls and started actually helping.
Negative Stuff
Some of Sam's character traits bothered me and I really thought the dialogue (maybe even the writing style) wasn't that great? It felt awkward and almost elementary. I'm not a writer (believe me I've tried) and this book reads like some of my current work-in-progress. This did help make it easy to read, but I found myself feeling like something was just not clicking with the way the story was told. Most of my negative feelings about the book are just things that I can't exactly put my finger on. It's just the vibe I got from it.
The romantic plotline was weird and I didn't enjoy it. I did like Jaxon a lot, so that's fine, but the rest of it felt icky to me. I wish it never happened because honestly, there was no need for it to happen.
Ending Feels
The ending confused me. A lot happened at once and I was kind of desperate to finish at that point, so I read it a little too fast to fully comprehend. I like how it wrapped up and it totally managed to surprise me. I had a few theories that didn't pan out, which I'm glad about, but I really didn't see that coming.
I finished the book and wrote my whole review without realizing/remembering that this is apparently a series-starter? I complained right away about how the ending was a little more abrupt than I'd like, and that I would love to read more about witchy things coming up. View Spoiler »Also her dad is apparently alive and great! I want to meet him because yay for father-daughter relationships!! « Hide Spoiler I think there is possibly a lot more to discover in this world and I'm actually pretty excited for an upcoming book or two.
TL;DR?
This was a perfect Halloween weekend read to push me out of my comfort zone. It was a little spooky and atmospheric, thanks to Salem, and I'm very glad I read it. I don't usually read any books that are likely to ~scare~ me, so I think this is perfect if you prefer less creepy books around this time of year. If you like books about witches or are generally curious about the Salem Witch Trials, I think you should check this book out. It was a very pleasant surprise for me!
Gif It Up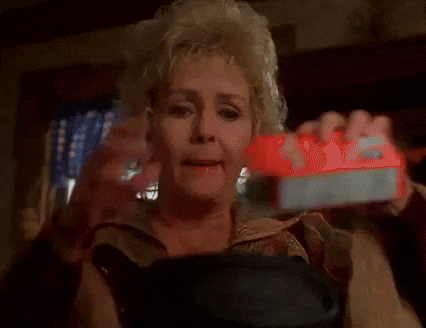 Rating Breakdown
| | |
| --- | --- |
| Plot & Premise | |
| Characters | |
| Writing Style | |
| Pacing & Flow | |
| Feels or Swoons | |
| Addiction Level | |
| Overall: | 3.7 |
Related Posts