In an effort to cut down on posts and burnout, my Review Roundups will feature 2-4 books I've read or listened to recently. Sometimes they're newer releases and sometimes they're all backlist titles. My ARC reviews usually get the solo treatment. Enjoy the mini reviews!
---
I received this book for free (hey, thanks!) in exchange for an honest review. I promise that this does NOT affect my opinion of the book or the content of my review. For real.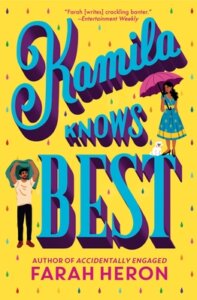 Kamila Knows Best
by
Farah Heron
Genres:
Adult
,
Contemporary
Published by
Hachette
on March 8, 2022
Also by this author:
Accidentally Engaged
,
Jana Goes Wild
Format:
eARC
(368 pages) •
Source:
Publisher
Goodreads
•
Amazon
•
Barnes & Noble
Kamila Hussain's life might not be perfect, but, whew, it's close. She lives a life of comfort, filled with her elaborate Bollywood movie parties, a dog with more Instagram followers than most reality stars, a job she loves, and an endless array of friends who clearly need her help finding love. In fact, Kamila is so busy with her friends' love lives, she's hardly given any thought to her own . . .

Fortunately, Kamila has Rohan Nasser. A longtime friend of the family, he's hugely successful, with the deliciously lean, firm body of a rock climber. Only lately, Kamila's "harmless flirting" with Rohan is making her insides do a little bhangra dance.

But between planning the local shelter's puppy prom, throwing a huge work event, and proving to everyone that she's got it all figured out, Kamila isn't letting herself get distracted—until her secret nemesis returns to town with an eye for Rohan. Suddenly, it seems like the more Kamila tries to plan, the more things are starting to unravel—and her perfectly ordered life is about to be turned upside down.
I'm enjoying Farah Heron's books a lot! This book, like the first one I read by her, made me so hungry! This time for biryani instead of beer and bread.
In KAMILA KNOWS BEST, she is struggling to balance everything in her life. She loves her job at a small accounting firm run by her father and family friends, volunteering for party planning and with an animal shelter, and hosting elaborate weekly Bollywood movie nights for her friends. She has a ton on her plate and still manages to take on more.
Kamila was a…challenging character to get along with for me. Her actions and the fact that she constantly cut people off, assuming she knew what they were going to say about her, was so frustrating. I know that her father and Rohan sometimes acted like they knew what she wanted and assumed things when they shouldn't, but she totally did the same thing to them too. Aside from those frustrating moments, she otherwise had a fun personality and generally wasn't afraid to be herself… I just struggled to LIKE her a lot of the time.
The ending was so cute and I love the way everything wrapped up. The romance was top-notch for most of the book and had a really strong slow build. Overall, a great plot with lots of pups and solid friends-to-more romance.

Finlay Donovan Knocks 'Em Dead
by
Elle Cosimano
Series:
Finlay Donovan #2
Genres:
Adult
,
Mystery/Thriller
Published by
Macmillan
on February 1, 2022
Also by this author:
Finlay Donovan Is Killing It
,
Finlay Donovan Jumps the Gun
Format:
Audiobook
(368 pages) •
Source:
Scribd
Goodreads
•
Amazon
•
Barnes & Noble

Finlay Donovan is―once again―struggling to finish her next novel and keep her head above water as a single mother of two. On the bright side, she has her live-in nanny and confidant Vero to rely on, and the only dead body she's dealt with lately is that of her daughter's pet goldfish.

On the not-so-bright side, someone out there wants her ex-husband, Steven, out of the picture. Permanently. Whatever else Steven may be, he's a good father, but saving him will send her down a rabbit hole of hit-women disguised as soccer moms, and a little bit more involvement with the Russian mob than she'd like.

Meanwhile, Vero's keeping secrets, and Detective Nick Anthony seems determined to get back into her life. He may be a hot cop, but Finlay's first priority is preventing her family from sleeping with the fishes... and if that means bending a few laws then so be it.

With her next book's deadline looming and an ex-husband to keep alive, Finlay is quickly coming to the end of her rope. She can only hope there isn't a noose at the end of it...

From Edgar-Award nominee Elle Cosimano, comes Finlay Donovan Knocks 'Em Dead―the hilarious and heart-pounding follow-up to Finlay Donovan is Killing It.
I'm really not even sure what to say about this book because this series is just SO much fun to read. I seriously need to add to my "cozy mystery" TBR because if there are other series like this out there, I need to get going on them. Following Finlay and Vero around for this book was just as enjoyable as the first one. This was my most anticipated release of 2022 and did not disappoint!
Finlay, a romantic suspense author, and Vero, her live-in nanny, are at it again. This time, her ex-husband Steven is the target. When his name is mentioned on a popular women's forum, Finlay and Vero try to track down who wants him killed and protect him from danger.
I would be shocked to read a bad book in this series. Cosimano's addicting writing style makes me so engaged and happy. I always listen via audio and seriously need to just start buying these as physical copies because I never want to stop reading once I start. I love the blend of comedy, family feels, and mystery/murder. It's such a perfect, entertaining mix. I didn't see the ending coming at all and really was never pulled to figure out whodunnit ahead of time. I had some theories but overall, I just enjoy the ride with these… and haven't been disappointed yet!
Now, back to eagerly awaiting the next book in the series… 🙁
Related Posts