I received this book for free (hey, thanks!) in exchange for an honest review. I promise that this does NOT affect my opinion of the book or the content of my review. For real.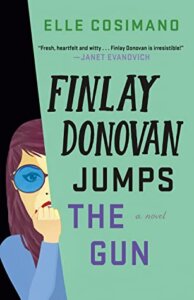 Finlay Donovan Jumps the Gun
by
Elle Cosimano
Series:
Finlay Donovan #3
Genres:
Adult
,
Mystery/Thriller
Published by
Minotaur Books
on January 31, 2023
Also by this author:
Finlay Donovan Is Killing It
,
Finlay Donovan Knocks 'Em Dead
Format:
Review Audio
(304 pages) •
Source:
Publisher
Goodreads
•
Amazon
•
Barnes & Noble

Author and single mom Finlay Donovan has been in messes before―after all, she's a pro at removing bloodstains for various unexpected reasons―but none quite like this. When Finlay and her nanny/partner-in-crime Vero accidentally destroyed a luxury car that they had "borrowed" in the process of saving the life of Finlay's ex-husband, the Russian mob did her a favor and bought the car for her. And now Finlay owes them.

Mob boss Feliks is still running the show from behind bars, and he has a task for Finlay: find and identify a contract killer before the cops do. The problem is, the killer might be an officer themself.

Luckily, hot cop Nick has just been tasked with starting up a citizen's police academy, and combined pressure from Finlay's looming book deadline and Feliks is enough to convince Finlay and Vero to get involved. Through firearm training and forensic classes (and some hands-on research with a tempting detective), Finlay and Vero use their time in police academy to sleuth out the real contract killer to free themselves from the mob's clutches―all the while dodging spies, confronting Vero's past, and juggling the daily trials of parenthood.

From USA Today bestseller and Edgar-Award nominee Elle Cosimano, comes Finlay Donovan Jumps the Gun—the highly anticipated, hilarious, and heart-pounding next installment in the beloved Finlay Donovan series…
This series has become truly one of my all-time favorites. It reminds me a lot of the time I read EVELYN HUGO and needed like a million more books just like it, but couldn't find them. I wrote a whole post about it haha. There's just some magical quality in Cosimano's writing and these characters that gets me every time.
I'll be honest, I was nervous about this one a little bit. I'm not a big police gal and wasn't jazzed up about reading about a ton of cops and a citizens police training program. I definitely didn't love that aspect overall but it was kind of fun creating that "summer camp" or "college dorm" vibe where everyone is in one place during the story.
This story did a good job of wrapping up some loose ends from the first two books while opening the door for future installments. Parts of the initial mystery seemed to be solved enough for the reader to finally get a bit of closure (and not drag the same questions out into book four), but there are lingering threads to keep it moving.
Finlay and Vero were just as funny and interesting to read about as they always are. This is the kind of series I'd keep reading forever and ever, with the main characters solving whatever mystery comes up next. This is technically my least favorite book of the three but a four-star book I didn't want to stop listening to? Can't go wrong.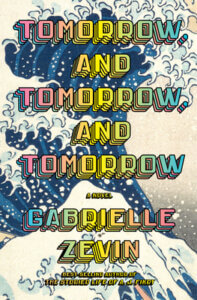 Tomorrow, and Tomorrow, and Tomorrow
by
Gabrielle Zevin
Genres:
Adult
,
Literary Fiction
Published by
Random House Large Print Publishing
on July 19, 2022
Format:
Paperback
(640 pages) •
Source:
Library
Goodreads
•
Amazon
•
Barnes & Noble

Let the games begin! From the New York Times best-selling author of The Storied Life of A. J. Fikry--a glorious and immersive novel about two childhood friends, once estranged, who reunite as adults to create video games, finding an intimacy in digital worlds that eludes them in their real lives.

On a bitter-cold day, in the December of his junior year at Harvard, Sam Masur exits a subway car and sees, amid the hordes of people waiting on the platform, Sadie Green. He calls her name. For a moment, she pretends she hasn't heard him, but then, she turns, and a game begins: a legendary collaboration that will launch them to stardom. They borrow money, beg favors, and, before even graduating college, they have created their first blockbuster, Ichigo a game where players can escape the confines of a body and the betrayals of a heart, and where death means nothing more than a chance to restart and play again. This is the story of the perfect worlds Sam and Sadie build, the imperfect world they live in, and of everything that comes after success: Money. Fame. Duplicity. Tragedy.

Spanning thirty years, from Cambridge, Massachusetts, to Venice Beach, California, and lands in between and far beyond, Gabrielle Zevin's Tomorrow, and Tomorrow, and Tomorrow is a dazzling and intricately imagined novel that examines the multifarious nature of identity, games as artform, technology and the human experience, disability, failure, the redemptive possibilities in play, and above all, our need to connect: to be loved and to love. Yes, it is a love story, but it is not one you have read before.
Man, I'm not sure where to begin with this one. Unfortunately the hype absolutely was a detriment here. The fact that this book has won a ton of awards, most people rated it five-stars, and I saw it everywhere were huge factors in me picking it up. I was on the fence because the synopsis really didn't interest me. I used to pick up the popular, overhyped books everyone was reading to make sure I wasn't missing out. I took a break from that over the last few years and have largely ignored literary fiction titles for multiple reasons. I think this is a lesson to really only read the books that truly interest you, regardless of how many five-star ratings there are.
I saw Tiktoks of people sobbing and needing therapy after reading this one. While it was sad in a part or two, it didn't emotionally impact me as much as I expected. The characters were not really likeable – Sadie drove me crazy and made everything about herself, while accusing Sam of the same thing over and over and over again. It definitely got to a point where I wondered if the three of them (including Marx) were even truly friends. They didn't seem to like each other.
I'm not a gamer aside from playing a bit of Pokemon TCG online and I think true video game lovers would have a better time with this one. I know a lot of non-gamers loved it and you probably don't have to be one in order to enjoy the book, but there were so many references to video games and things that I didn't really care about.
I found it hard to put this one down in parts but in many other parts I wondered what the point was. Zevin has a really nice writing style and this is the first book I've read of hers since ELSEWHERE when I was a kid. I don't regret reading it but it definitely left me feeling more like "really? What's all the hype for?!" after finishing instead of enjoying it. Truth be told, I found it to be pretty engrossing and intriguing throughout a lot of it (and my star rating is still pretty high!), but my negative feelings kind of took over because of the hype and my confusion.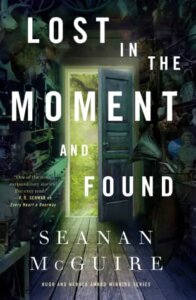 Lost in the Moment and Found
by
Seanan McGuire
Series:
Wayward Children #8
Genres:
Young Adult
,
Fantasy
Published by
Tordotcom
on January 10, 2023
Also by this author:
Every Heart a Doorway
Format:
Audiobook
(208 pages) •
Source:
Scribd
Goodreads
•
Amazon
•
Barnes & Noble

A young girl discovers an infinite variety of worlds in this standalone tale in the Hugo and Nebula Award-winning Wayward Children series from Seanan McGuire, Lost in the Moment and Found.

Welcome to the Shop Where the Lost Things Go.

If you ever lost a sock, you'll find it here.If you ever wondered about favorite toy from childhood... it's probably sitting on a shelf in the back.And the headphones that you swore that this time you'd keep safe? You guessed it….

Antoinette has lost her father. Metaphorically. He's not in the shop, and she'll never see him again. But when Antsy finds herself lost (literally, this time), she finds that however many doors open for her, leaving the Shop for good might not be as simple as it sounds.

And stepping through those doors exacts a price.

Lost in the Moment and Found tells us that childhood and innocence, once lost, can never be found.
I don't know if I've even reviewed the last few of these on my blog but here were are with another installment in the Wayward Children series! I usually rate all of them around four-stars because the series is always fascinating. I love seeing what will be behind the next door and what experiences the child/young adult has lived through to bring them there.
This one was really hard to read for the first 30% or so. The author put a note at the beginning that made me personally feel a lot better even though I don't have any experience with what Antsy goes through in this book (gaslighting and potentially more unsavory behavior from her stepfather). I was so angry and didn't want to hear any more about that terrible man, so I was relieved when she found her door.
There were some interesting twists about her door/world that made this one really interesting. The ending was lovely – I really loved that part. Overall, my gut kind of told me that this one is my favorite when I finished reading! I don't remember too much of the rest of the series since my memory is garbage and there are now 8 books, but I do think this is my fave of the bunch.
Related Posts