I received this book for free (hey, thanks!) in exchange for an honest review. I promise that this does NOT affect my opinion of the book or the content of my review. For real.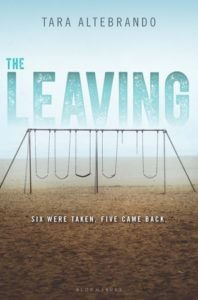 The Leaving
by
Tara Altebrando
on June 7th 2016
(432 pages) •
Goodreads
•
Amazon
•
Barnes & Noble

Six were taken. Eleven years later, five come back--with no idea of where they've been.

Eleven years ago, six kindergarteners went missing without a trace. After all that time, the people left behind moved on, or tried to.

Until today. Today five of those kids return. They're sixteen, and they are . . . fine. Scarlett comes home and finds a mom she barely recognizes, and doesn't really recognize the person she's supposed to be, either. But she thinks she remembers Lucas. Lucas remembers Scarlett, too, except they're entirely unable to recall where they've been or what happened to them. Neither of them remember the sixth victim, Max. He doesn't come back. Everyone wants answers. Most of all Max's sister Avery, who needs to find her brother--dead or alive--and isn't buying this whole memory-loss story.

Wooof I haven't been THAT addicted to a book in a long time! I sat down at 10:30 PM on a Friday night to start this book and finished it three hours later without stopping. I'm not a huge mystery/thriller reader but some of them just speak to me. This was definitely one of them.
Six kids went missing eleven years ago, and then five of them randomly return. None of them remember what happened. MEEP. I didn't have any theories while reading (for the most part) so that made it even more fun. I had no idea what was going on.
This was the epitome of a page-turner. I sat and literally could not stop reading. I tried to stop when I got tired and ended up reading through bleary eyes for an extra two hours. I loved the style of the story; the chapters were super short and alternated between three characters. Avery is Max's younger sister (the only person who didn't return), and Lucas and Scarlett were two that returned. Lucas and Scarlett had some cool effects with the writing style. Hers were kind of written like poetry, with different symbols and text effects. Lucas had some parts (memories) that popped onto the page in black boxes. It's hard to explain, but it was cool. It added to the effect of the memory loss story.
The characters were interesting because they don't know who they are or what they're like. They don't remember anything about their lives, so you can't really form an attachment to them? It's one of the rare occasions where you don't need a lot of character development to make a story work. It didn't feel like it was about them, but more about what happened to them and why. However, I did hate Avery – the one character who did have a distinct personality. She was annoyingly jealous and self-centered for the entire story. I don't know. I just didn't like her at all. So it was very annoying that her story ended in a certain way. View Spoiler »She ended up with Lucas after being jealous the entire book about him and Scarlett. I never shipped them. « Hide Spoiler
I did have some issues with it towards the end. First of all, I feel like some things went unanswered. There are still some aspects of the mystery that weren't cleared up. Hopefully they fix that for the finished copy? I understood what happened and why overall, but some smaller pieces didn't click into place for me. It almost felt anticlimactic, even though the ending was cool.
Overall, this was a major page-turner that I would highly recommend. I'm curious to see how others feel about this one!

| | |
| --- | --- |
| Plot & Premise | |
| Characters | |
| Writing Style | |
| Pacing & Flow | |
| Feels or Swoons | |
| Addiction Level | |
| Overall: | 3.9 |
Related Posts