Book Buddies is a discussion-style review that takes place with one of my two buddies. (Learn more and see past reviews here) We both read the book and then have a private discussion about it. We post our discussion as a review on the last Wednesday of each month. You'll be able to see our similar/different opinions on the overall book, characters, writing style, etc. – just like a regular review. The first half our discussion will take place right here, and the second half will be on Kaitlin's blog! (Link below)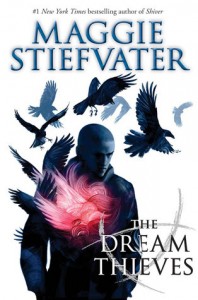 The Dream Thieves by Maggie Stiefvater
Series: The Raven Cycle #2
Genres: Young Adult, Paranormal
Published by Scholastic on September 17th 2013
Also by this author: The Raven Boys, Blue Lily, Lily Blue, The Raven King, Call Down the Hawk
Format: Audio/Physical (439 pages) • Source: Library, Scribd
Goodreads • Amazon • Barnes & Noble


If you could steal things from dreams, what would you take?

Ronan Lynch has secrets. Some he keeps from others. Some he keeps from himself.

One secret: Ronan can bring things out of his dreams.

And sometimes he's not the only one who wants those things.

Ronan is one of the raven boys—a group of friends, practically brothers, searching for a dead king named Glendower, who they think is hidden somewhere in the hills by their elite private school, Aglionby Academy. The path to Glendower has long lived as an undercurrent beneath town. But now, like Ronan's secrets, it is beginning to rise to the surface—changing everything in its wake.
---
View Kaitlin's part of the discussion

here

.
Some spoilers ahead!
In our discussion of THE RAVEN BOYS, I asked which character was your favorite. Has your answer changed now that we've gotten to know them a bit more?
Kaitlin: Oh man, this is a hard question because all of the characters are so good. In this book, the boys did some things that I really did not agree with but I am leaning towards Noah or Gansey for my favorite Raven boy. Adam and Ronan did some things that had ticked me off a bit so that had caused me to like them a bit less compared to Gansey and Noah. I really liked Blue in this book as well and it was really great to read more about Maura, Calla, and Persephone because all four of these ladies are such great characters.
Lauren: I agree! I think Gansey might be my favorite for some reason, but I really want to get in his head even more. In this book, there was less time spent with Blue and Gansey and more with Ronan and Adam. I know that this one was mostly about Ronan's dream stuff, so it makes sense, and I'm glad we spent more time getting to know him. I have weird feelings about Adam. I have a bad feeling about the fact that he likes to go off on his own sometimes. It makes me wonder what he'll do next…
We also talked about how it was somewhat confusing with the ley lines and supernatural stuff. Did you settle in better to the story, or was it still confusing? (Or maybe more confusing with the introduction of more stuff?)
Kaitlin: 
All this ley line stuff was still soooo confusing for me, I think that contributed to the fact that I couldn't finish this book. The problem with me is that when I read and parts get boring, I tend to skip words. A lot of this book was super confusing for me still. It's just super complicated with all this ley line, Greywaren, Cabeswater and all that stuff. I'm pretty sure I don't exactly understand what had happened at the end of
The Raven Boy's
if that shows how confused I am with all this ley line stuff.
Lauren: 
I know what you mean. I found that this one was more confusing than the previous book. It took me a while to figure out how the powers, ley lines, and dreams were all related. I ended up reading the
Recaptains
during and after reading the book, because it helped clarify things as I went along. I don't like feeling stupid when I read and that happened a lot. I also think it didn't helped that I mostly listened to this one as an audiobook. I can zone out while listening sometimes and get confused during 
any 
book, so that was not a good thing with this (already confusing) book.
This book focused a lot on Ronan, who we were both curious about after book one. What did you think of his importance in this book and how it ties to the previous book?
Kaitlin: It was definitely very interesting to learn more about Ronan and I personally enjoyed a good amount of it. He is such a different character compared to the others in this book and there is so much to his past and family that remains a secret. I still think that Ronan has more to this background and history than what the Dream Thieves showed us and I am looking forward to reading about what it is.
Lauren: I think that's what I'm most curious about with Ronan – his past and his family. There are still so many mysteries about his dad and brothers. I wonder what we'll find out next. This one covered a lot of ground with the introduction of the dream stuff, so I liked that a lot. I'm curious about Declan, too. They obviously don't have a good relationship and I wonder what else has happened in their family.
Do you have any theories about anything? How about the Gray Man and his brother? Maura?
Kaitlin: We never have read much about Maura or why what happened to her happened but I am looking forward to finding out what. Other than that, I am horrible at making predictions so I really don't have any other theories on the Gray Man or his brother. But, they must be very important characters so we shall see where Maggie takes them!
Lauren: I am terrible with predictions too haha. I think Maura's past is still quite a mystery, and I bet that there's something having to do with Blue's father coming up. He is brought up frequently enough where I wonder if he has any impact on what's going on or what's to come. Maura and the Gray Man have a weird  relationship but I kind of ship them! I hope she's safe and I don't know what the heck happened to her at the end of this one.
What did you think about the ending and the epilogue? Which book do you feel had more of a cliffhanger?
Kaitlin: This book definitely had a much bigger cliffhanger compared to the Raven Boys. The prologues and epilogues are always written in such different styles compared to the actual book and that adds on to the mysteriousness of this whole book. A lot happened in the few pages of the epilogue and it definitely left a huge cliffhanger. I realllly wanna find out what happened and why it happened because I really love this character and I need to know more about them before something really bad happens to them.
Lauren: I agree! I'm a huge fan of creepy prologues and epilogues because they make things more mysterious in general. I had to read parts of the epilogue multiple times to try to figure out what's going on and I NEED to know about Ronan's "secret" about Adam. The epilogue opened up a lot of things, as usual, so I'm eager to read the next book. Also, the ending of the actual book (before the epilogue) was definitely a cliffhanger. WHERE IS MAURA?!
| | |
| --- | --- |
| Plot & Premise | |
| Characters | |
| Writing Style | |
| Pacing & Flow | |
| Feels or Swoons | |
| Addiction Level | |
| Overall: | 4 |
Related Posts