In an effort to cut down on posts and burnout, my Review Roundups will feature 2-4 books I've read or listened to recently. Sometimes they're newer releases and sometimes they're all backlist titles. My ARC reviews usually get the solo treatment. Enjoy the mini reviews!
---
Finale
by
Stephanie Garber
Series:
Caraval #3
Genres:
Young Adult
,
Fantasy
Published by
Macmillan
on May 7, 2019
Also by this author:
Caraval
,
Legendary
,
Once Upon a Broken Heart
,
The Ballad of Never After
,
A Curse for True Love
Format:
Audio/Physical
(478 pages) •
Source:
Scribd
,
Owned
Goodreads
•
Amazon
•
Barnes & Noble

A love worth fighting for. A dream worth dying for. An ending worth waiting for.

It's been two months since the Fates were freed from a deck of cards, two months since Legend claimed the throne for his own, and two months since Tella discovered the boy she fell in love with doesn't really exist.

With lives, empires, and hearts hanging in the balance, Tella must decide if she's going to trust Legend or a former enemy. After uncovering a secret that upends her life, Scarlett will need to do the impossible. And Legend has a choice to make that will forever change and define him.

Caraval is over, but perhaps the greatest game of all has begun. There are no spectators this time—only those who will win, and those who will lose everything.

Welcome, welcome to Finale. All games must come to an end…
I had been putting off FINALE for way too long. I looked at the Monthly Motif challenge for October ("tricks and trades") and thought it would be great for FINALE… but surely I'd read this highly anticipated release ASAP in May, right?! Nope. I don't know – I got nervous it wouldn't be as good as I wanted. In some ways, it wasn't. In many ways, it was a perfect finale (pun intended for sure) to this story. I don't necessarily think this book NEEDED to exist in a lot of ways, but I can't fault Garber for writing it.
I loved being back inside this world. I feel like Tella was again the lead character, even though this book alternated between her and Scarlett's perspectives. Scarlett seemed to have way less chapters? Either way, it was nice to see some love triangles get resolved (a bit annoying both sisters had some semblance of them) and wrap everything up. There were some twists I didn't see coming but didn't fully love either.
I think Garber has a really accessible writing style, especially considering she writes fantasy books. I always struggle with fantasy and can't just sit down and read one from start to finish usually. With hers, I totally can. I'm not sure if it's because her writing does fall a bit on the simplistic side or I just enjoy its ease for fantasy reading.
I don't think this was a bad book by any means. I enjoyed the reading experience, being back in the world, and seeing how things end up for all of the characters. I just think that a lot of it felt unnecessary and not much happened overall, which makes me think the book could have been avoided completely.

I received this book for free (hey, thanks!) in exchange for an honest review. I promise that this does NOT affect my opinion of the book or the content of my review. For real.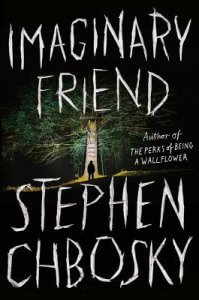 Imaginary Friend
by
Stephen Chbosky
Genres:
Adult
,
Horror
Published by
Hachette
on October 1, 2019
Format:
Hardcover
(720 pages) •
Source:
Publisher
Goodreads
•
Amazon
•
Barnes & Noble
Christopher is seven years old. Christopher is the new kid in town. Christopher has an imaginary friend.

Single mother Kate Reese is on the run. Determined to improve life for her and her son, Christopher, she flees an abusive relationship in the middle of the night with Christopher at her side. Together, they find themselves drawn to the tight-knit community of Mill Grove, Pennsylvania. It's as far off the beaten track as they can get. Just one highway in, one highway out.

At first, it seems like the perfect place to finally settle down. Then Christopher vanishes. For six awful days, no one can find him. Until Christopher emerges from the woods at the edge of town, unharmed but not unchanged. He returns with a voice in his head only he can hear, with a mission only he can complete: Build a tree house in the woods by Christmas, or his mother and everyone in the town will never be the same again.

Soon Kate and Christopher find themselves in the fight of their lives, caught in the middle of a war playing out between good and evil, with their small town as the battleground.
Let me get a few things out of the way here first:
I would never have picked this book up or requested it if it was written by someone other by Stephen Chbosky (adult literary horror???)
This book does not need to be nearly as long as it is
This took me multiple months to read and I had to break up my reading into sections
I received a finished copy from Grand Central Publishing and was so excited to try something new. I adored his debut YA novel, THE PERKS OF BEING A WALLFLOWER, like most other people I know. Even though this was completely out of my wheelhouse, I had to see more writing from him.
As I mentioned, this book is SO LONG. It doesn't need to be that long and the first quarter of the book is a bit boring. I ended up using my readalong-style scheduling methods to break this out. I was planning to read it throughout October but time got in the way and other books needed to be read. I decided I'd probably use most of November to read this and aimed to read the 30-40 chapters in the mornings.
After over a month of hemming and hawing and barely reading this one, I decided to quit. I didn't mark it as DNF on Goodreads, just here on my blog, because I do hope to come back sometime? Maybe next October? The pacing just didn't interest me and after the spooky month was over, I didn't see a point. I just wish he would write another normal ass YA book instead of this next!

Call Down the Hawk
by
Maggie Stiefvater
Series:
Dreamer #1
Genres:
Young Adult
,
Paranormal
Published by
Scholastic
on November 5, 2019
Also by this author:
The Raven Boys
,
The Dream Thieves
,
Blue Lily, Lily Blue
,
The Raven King
Format:
Audio/Physical
(472 pages) •
Source:
Purchased
,
Scribd
Goodreads
•
Amazon
•
Barnes & Noble

The dreamers walk among us . . . and so do the dreamed. Those who dream cannot stop dreaming – they can only try to control it. Those who are dreamed cannot have their own lives – they will sleep forever if their dreamers die.




And then there are those who are drawn to the dreamers. To use them. To trap them. To kill them before their dreams destroy us all.

Ronan Lynch is a dreamer. He can pull both curiosities and catastrophes out of his dreams and into his compromised reality.

Jordan Hennessy is a thief. The closer she comes to the dream object she is after, the more inextricably she becomes tied to it.

Carmen Farooq-Lane is a hunter. Her brother was a dreamer . . . and a killer. She has seen what dreaming can do to a person. And she has seen the damage that dreamers can do. But that is nothing compared to the destruction that is about to be unleashed. . . .
Within the first few pages of this book, I was already overwhelmed with SO much love. Reading the descriptions of the three Lynch brothers, reading Ronan talk about loving Adam… ugh, seriously. I was smiling like an idiot at the pages. I was generally looking forward to some solid reading about Pynch but frankly that didn't happen as much as I hoped. I kind of KNEW Maggie wasn't going to make it that easy for us to just read about how much they love each other for 300+ pages but still. Sigh.
This book certainly stands alone, with a few references to characters and things from TRC, but nothing off-putting to people who aren't familiar. I highly recommend reading those books first because it really rounds everything off and you're so invested immediately with grumpy baby Ronan Lynch. It was so wonderful to be around him AND his brothers. Declan was great and Matthew was basically just a puppy?
The two new characters were Carmen and Jordan. I don't want to get too spoilery about them but I was slightly confused sometimes about what was happening with them. Stiefvater has a way of throwing you into the story and hoping you can swim along with the current. I love that this further explored dreamers and dreams! Ugh it was so fascinating.
Soo, that being said, I definitely wanted something quite different from this but unsurprisingly what she gave me was still so damn good. I love her writing SO much it's unbelievable but I always feel like I have no idea what's going on hahaha. As far as the ending, I definitely didn't put a few things together and I can't tell if I'm an idiot or if it wasn't obvious to everyone else too lol.
Related Posts