I received this book for free (hey, thanks!) in exchange for an honest review. I promise that this does NOT affect my opinion of the book or the content of my review. For real.
You Were There Too
by
Colleen Oakley
Genres:
Adult
,
Contemporary
Published by
Penguin
on January 7, 2020
Also by this author:
Close Enough to Touch
Format:
eARC
(320 pages) •
Source:
Publisher
Goodreads
•
Amazon
•
Barnes & Noble

Acclaimed author Colleen Oakley delivers a heart-wrenching and unforgettable love story about a woman who must choose between the man she loves and the man fate has chosen for her in a novel that reminds us that the best life is one led by the heart.

Mia Graydon's life looks picket-fence perfect; she has the house, her loving husband, and dreams of starting a family. But she has other dreams too — unexplained, recurring ones starring the same man. Still, she doesn't think much of them, until a relocation to small-town Pennsylvania brings her face to face with the stranger she has been dreaming about for years. And this man harbors a jaw-dropping secret of his own—he's been dreaming of her too.
Determined to understand, Mia and this not-so-stranger search for answers. But when diving into their pasts begins to unravel her life in the present, Mia emerges with a single question—what if?
I really enjoyed Oakley's sophomore novel but STILL have managed to skip her debut. Regardless, I knew I needed this one. It reminded me of an adult version of my YA favorite Dreamology, where the main character has recurring dreams with a man/boy and then finds that they actually exist in real life… and they've been dreaming about her too. Mia has been dreaming of Oliver for years and discovers he's also been dreaming of her too. They don't share/live out the same dreams at the same time but they do have similar ones sometimes.
This was a heavy book (major trigger warning for miscarriage and infertility) – definitely heavier than I expected – but very impactful. The first line of the synopsis says "heart-wrenching" but I didn't expect this level of it for some reason.
I really enjoyed the rare pops of chapters we got from other points of view (Harrison, Whitney, etc.). It added a little something different to the story. I did enjoy reading Mia's point of view though. I felt her struggle and knew there was really no easy solution to her problems. The book just felt so REAL and raw, following the ebbs and flows of her relationship(s) in a way I could understand and empathize with. Like I said though: it made for a pretty hard read, and not every decision she made was perfect or logical. I didn't agree with everything she did or said along the way.
I'm a huge fan of books involving fate/destiny and the choices we make. Is everything meant to be and predetermined, or do our decisions shape our lives and futures? This book definitely dove into that topic and I loved it. It's hard to get into a lot of it without spoiling the ending (because holy SHIT did I not see any of that coming – I thought it was going to end quietly), but overall: this was another solid and fascinating book by Colleen Oakley. Also, I will never look at a pair of sweatpants the same way ever again ❤

I received this book for free (hey, thanks!) in exchange for an honest review. I promise that this does NOT affect my opinion of the book or the content of my review. For real.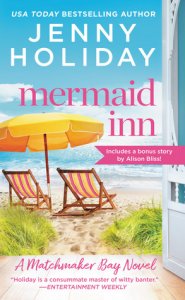 Mermaid Inn
by
Jenny Holiday
Genres:
Adult
,
Contemporary
Published by
Hachette
on January 28, 2020
Also by this author:
Paradise Cove
,
A Princess for Christmas
,
Sandcastle Beach
,
Duke, Actually
Format:
eARC
(480 pages) •
Source:
Publisher
Goodreads
•
Amazon
•
Barnes & Noble

Escape to Matchmaker Bay in this hilarious and heartwarming second chance romance from the USA Today bestselling "master of witty banter" (Entertainment Weekly).
Eve Abbott has a problem-actually, make that a lot of problems. And they're all going to get worse the moment her toes hit the sand in Matchmaker Bay. Once a blissful summer escape, now the tiny town just reminds Eve of loss. Inheriting her aunt's beloved Mermaid Inn is the only reason Eve is coming back. She's definitely not ready to handle nosy neighbors, extensive renovations, or the discovery that a certain heartbreaker still lives down the street...
Police Chief Sawyer Collins always does the right thing, even when it costs him everything. Like Evie. He's spent the past ten years trying to forget her--to forget how right she felt in his arms, to forget the pain in her eyes the day she left. The last thing he expects is to see her back in town or to find that the spark between them is as strong as ever. Sawyer knows this is his only chance to prove that his feelings have always been real... before Eve turns tail and leaves for good.
Includes the bonus novella Meant to Be by Alison Bliss!
I really wanted to read Holiday's first companion series about bridesmaids but the topic of weddings and being a bridesmaid was really a rough subject around 2018. I had so many to attend and be a part of that I genuinely could not imagine also reading about the process in my spare time. Now that I'm planning my own wedding and am past the major surge of spending a lot of money on other people's weddings, I'm more apt to read those books. And I hope to! Especially now that I've embarked on her new series, which is directly up my alley – the MC inherits an inn in a small beach town and enjoys a second chance romance. Yup, this was written for me.
I thought Eve was a little too prickly at first – there were some parts where she was kind of funny and snarky but other times I thought it was a little over-the-top and mean. This is probably why the book got off to a slower start for me; it took me a bit to get warmed up to her. I understood her issues with Sawyer, of course, but eventually she (and he!) won me over. This was certainly a hate-to-love, slooow-burn, second chance romance. Balanced all of my favorite tropes quite well! They really didn't kick the romance part into high gear until over halfway through, but then it didn't let up. This was probably one of the lowest-drama romance books I've read and I LOVED that. There were external factors for Eve that affected her decisions about the inn and the romance with Sawyer, but there wasn't a huge blow-up moment by any means; I really appreciated that.
Some of the steamy scenes were really good but there were a few early ones that made me cringe a little bit. I'll just say that her obsession with his beard wasn't my favorite, but everything else between them worked well. And it was so honest! They talked frankly about their past sexual relationship when they were inexperienced teenagers who didn't speak up about what they liked and wanted (totally realistic!). The two clearly had great chemistry and a (mostly) wonderful history together, so I appreciated that they built on that while acknowledging they've grown up.
The side characters were enjoyable and I have a few theories about who we'll see in upcoming book(s) about this charming town! I loved that it was set in Canada – just gave it something different for someone who unfortunately reads 99% of books set in the US!
Related Posts