Come Away with Me
by
Karma Brown
on August 25th 2015
Also by this author:
The Life Lucy Knew
(368 pages) •
Goodreads
•
Amazon
•
Barnes & Noble

One minute, Tegan Lawson has everything she could hope for: an adoring husband, Gabe, and a baby on the way. The next, a patch of black ice causes a devastating accident that will change her life in ways she never could have imagined.

Tegan is consumed by grief, not to mention her anger toward Gabe, who was driving on the night of the crash. But just when she thinks she's hit rock bottom, Gabe reminds her of their Jar of Spontaneity, a collection of their dream destinations and experiences, and so begins an adventure of a lifetime.

From the bustling markets of Thailand to the flavors of Italy to the ocean waves in Hawaii, Tegan and Gabe embark on a journey to escape the tragedy and search for forgiveness. But they soon learn that grief follows you no matter how far away you run, and that acceptance comes when you least expect it.

Heartbreaking, hopeful and utterly transporting, Come Away with Me is an unforgettable debut and a luminous celebration of the strength of the human spirit.

I absolutely raced through and devoured this book. It was the epitome of the "one more chapter" excuse before bed because I literally could not force myself to put the book down and sleep. I wasn't expecting to be so entranced by the story, but I couldn't stop.
I generally read Young Adult books because I still feel like I am one. I'm 24 years old (officially, as of yesterday!) but relate much more to the YA characters I read than the ones in Adult Fiction. The characters in this book were going through some pretty tough stuff that I truly couldn't relate to, but I was still SO deeply invested in their stories. For me, that's a successful book. I love reading books where I have been through similar experiences to the main character(s), because it's just easier to relate and enjoy it. If a book is able to creep in my mind and never leave, regardless of never experiencing anything like it, it's wonderful to me.
Tegan and her husband, Gabe, had a serious car accident with even more serious consequences. She still hasn't forgiven him for the accident and the results of it, and she has slipped into a depression for the past few months. Gabe reminds her one day of their "jar of spontaneity" that they put together when they were engaged, and they decide now is the time to pull it out. They wrote various destinations and "bucket list" tasks on slips of paper and would pull them out whenever they needed to. Gabe tells her to pick three and they're just going to do them. Tegan has a tough time getting herself going, but they hope the trip will bring her back to life (so to speak). One of the things I LOVED was not knowing the destinations ahead of time. The reader finds out just as the two of them embark on each journey. It was hard not to peek ahead, but I loved the suspense! Because of that, I don't want to spoil the destinations they ended up going to. Just know that they were all wonderful and unique in their own way. (If you read the synopsis, I'm sorry to say that it's a bit spoiled! But I still will leave the rest up to you as you read.)
I don't want to give anything away about the tragedy that happened during the car accident, but I will say that something surrounding that was the reason that the book didn't get the full 5 stars from me. I understand why Tegan was depressed and I don't think I could ever fully grasp that feeling of hopelessness she had… but it was hard to read at times! View Spoiler »At first, she was sad about the baby while Gabe had to suffer alone. I thought she was being selfish and I was sick of her not appreciating what he was trying to do. « Hide Spoiler AND THEN, OH GOD. View Spoiler »The twist about Gabe dying in the car accident completely broke me. I didn't see it coming but I was nervous when the quote on the front cover of the ARC mentioned "jaw-dropping." « Hide Spoiler I was totally caught off guard and NOT prepared for that. What a fantastic and talented writer. There have only been two books where the story made me bawl for the last 30-50 pages while my boyfriend brings me tissues, and this was one of them.
This story was so emotional, moving, and heart-wrenching. I loved this book and hope you will too. There's a giveaway at the bottom to win a copy of the book!

| | |
| --- | --- |
| Plot & Premise | |
| Characters | |
| Writing Style | |
| Pacing & Flow | |
| Feels or Swoons | |
| Addiction Level | |
| Overall: | 4.7 |
---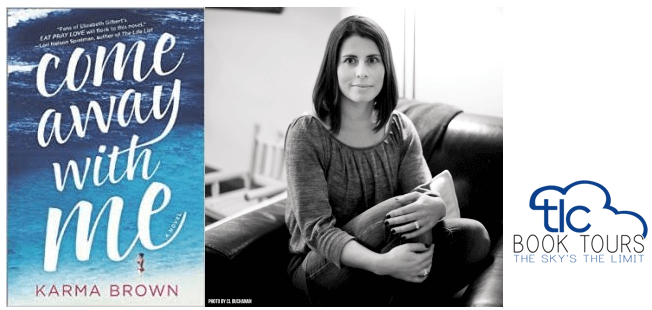 KARMA BROWN is an award-winning journalist and freelance writer, who probably spends too much time on her laptop in coffee shops. When not writing, she can be found running with her husband, coloring (outside the lines) with her daughter, or baking yet another batch of banana muffins. Karma lives just outside Toronto with her family. COME AWAY WITH ME is her first novel.
Website | The Debutante Ball | Twitter | Facebook | Goodreads
---
Related Posts