I received this book for free (hey, thanks!) in exchange for an honest review. I promise that this does NOT affect my opinion of the book or the content of my review. For real.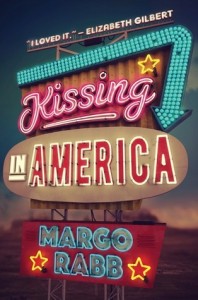 Kissing in America
by
Margo Rabb
Genres:
Contemporary
,
Young Adult
Published by
Harper Collins
on May 26th 2015
Format:
eARC
(400 pages) •
Source:
Fantastic Flying Book Club
Goodreads
•
Amazon
•
Barnes & Noble

I loved romances because when you opened the first page, you knew the story would end well. Your heart wouldn't be broken. I loved that security, that guaranteed love.

In real life, you never knew the ending. I hated that.

Sixteen-year-old Eva has never been in love. But when she meets Will, everything changes. With him, her grief over her father's death fades, and she can escape from her difficult relationship with her mother. Then, without any warning, Will picks up and moves to California. So Eva—with the help of her best friend, Annie—concocts a plan to travel across the country to see him again. As they leave New York City for the first time and road-trip across America, they encounter cowboys, kudzu, and tiny towns without stoplights. Along the way, Eva and Annie learn the truth about love and all its complexities.
I really, really enjoyed this book. I couldn't put it down. I love when a book can completely set the scene and give me plenty of things to relate to. I've been liking the format of "five reasons to read" for reviews sometimes, so without further ado…
Five Reasons to Read Kissing in America
1. The Road Trip
This is definitely the kind of book that gets me in the mood to travel. I love the idea of taking a cross-country road trip and am absolutely determined to do it someday. I have to say, I wouldn't enjoy the exact same trip that these girls had, but it definitely gave me some inspiration! The story centers around Eva and her best friend Annie traveling to California. They're headed to a TV competition for Annie to win scholarship money, but Eva organizes the trip with the purpose of visiting Will, a boy she's been falling for. I loved reading about the two of them traveling the country, stopping and meeting some interesting characters, and exploring a lot of feelings. I love when books motivate me to get up and DO SOMETHING.
2. The Friendship
Annie and Eva had a really strong relationship. I loved that they were both incredibly smart and talked about way more complex things than people their age. Eva made some mistakes, especially at the end, but Annie was always there to listen and help her. I can't imagine Eva being an easy person to be friends with, but Annie handled it pretty darn well. There were so many moments between the two of them where I just knew that they GOT each other, you know? They'd been through everything together and never judged each other.
3. The Family
Eva's father died in a plane crash two years before the story takes place. She's still majorly struggling with it… and it doesn't help that her mom refuses to discuss any of it with her. The whole book she puts her father on a pedestal while dismissing everything her mom does. I can understand why she felt that way and it felt like a very real reaction. I absolutely loved how everything wrapped up on the family front in this book. Aside from the mother-daughter relationship, we hear a lot about her grandmother, her father, and her aunt. They were very present in the book – even if they weren't physically there.
4. The Relatability
When Eva was struggling with her mom, I could completely relate. I love my mom, but there are plenty of times she says things that get under my skin. I really felt for Eva when her mom dismissed the romance novels she was always reading, or made little comments about what she was wearing. It was hard to hear because some parts of it definitely hit home for me. I highlighted so many passages on my Kindle that I related to.
5. The Realism
I don't want to get spoilery about the relationship or romance part of the book, so I'll save some of that for the spoiler tag. I felt like the situation with Eva and Will was fairly realistic. On the one hand, it felt kind of like instalove… but on the other hand, who can't relate to being completely fascinated and enamored with someone that quickly? She overanalyzed everything about their relationship and I have TOTALLY been there before. A lot of her concerns and questions were things I've found myself wondering about boys. The way things wrapped up with her and Will felt completely realistic to me, although some people may not agree. View Spoiler »When she finally gets to California, Will essentially ends things with her. He doesn't think its realistic that they can stay together on separate coasts, especially with college coming up in two years, and Eva is pretty heartbroken. Even though this isn't the typical happy ending that people want in romance books, I don't think that was the point. I wasn't surprised about how it ended after all of the build-up and analyzing that Eva did. For once, I was okay without there being a HEA. « Hide Spoiler The road trip itself was a realistic journey, and the ending mirrored that.
Overall
This book was such a pleasant surprise for me. I was engaged from the very first page. There were quite a few things about Eva that bothered me, like how quickly she fell for Will and was willing to travel the country for him, but I think that it's also something I liked about the book. Again, it just felt real to me. She was a girl with flaws who was trying to find her way – in more ways than one. The cast of characters was diverse, interesting, and incredibly fleshed out. This was an absolute solid read that I would highly recommend, especially when you're feeling that wanderlust 😉
Follow the Kissing in America AUDIO TOUR that Epic Reads is hosting. You can win lots of prizes and hear excerpts from Margo Rabb's book. Click on the banner below to start following the AUDIO TOUR!
ENTER THE GIVEAWAY for a chance to win a SOUVENIR from EACH CITY!
Related Posts