I received this book for free (hey, thanks!) in exchange for an honest review. I promise that this does NOT affect my opinion of the book or the content of my review. For real.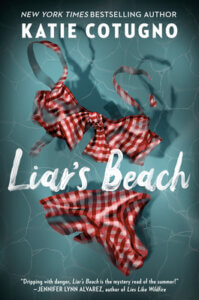 Liar's Beach
by
Katie Cotugno
Genres:
Young Adult
,
Mystery/Thriller
,
Retelling
Published by
Penguin
on May 2, 2023
Also by this author:
99 Days
,
Fireworks
,
Meet Cute: Some People Are Destined to Meet
,
Top Ten
,
9 Days and 9 Nights
Format:
eARC
(288 pages) •
Source:
Publisher
Goodreads
•
Amazon
•
Barnes & Noble

A fresh new take on Agatha Christie's classic murder mystery The Mysterious Affair at Styles , with iconic detective Hercule Poirot recast as a brilliant, brash teen girl named Holiday, and narrated by her childhood friend Linden, an athlete-scholar who fits right in at his elite New England prep school—all the while hiding some secrets of his own.

Michael Linden—or just Linden to his preppy boarding school pals—doesn't belong in wealthy, storied Martha's Vineyard. But when his roommate Jasper invites him to spend the end of summer at his massive beachfront home, August House, Linden tries his best to fit in. Linden wouldn't call it lying, exactly. Though it turns out August House is full of liars.

Then someone is found unconscious in Jasper's pool, and everyone has something to hide—Jasper, his beautiful sister Eliza, their older brother Wells, and their friends. The accident is written off as just that—an accident—but Linden begins to wonder...

Holiday Proctor. Linden's childhood friend, and the one person on the island who knows the truth about Linden. There's nothing Holiday loves more than a good old-fashioned mystery and she's convinced there's a potential killer on the Vineyard. The only question is…who?
I love Cotugno but haven't read her latest releases for one reason or another. The synopsis of this one really appealed to me and I liked that she was working in a different genre. There are very few reviews and the overall Goodreads rating is pretty low, which is interesting, but I was still cautiously optimistic. I haven't read THE MYSTERIOUS AFFAIR AT STYLES but it's definitely on my Agatha Christie to-read list now.
Linden is off to Martha's Vineyard to spend some time with his roommate Jasper and his family at their gorgeous house on the beach. He's hiding a lot about his true background/socioeconomic status but tries to fit in with them nonetheless. He's on a lacrosse scholarship at a fancy boarding school and has to keep up appearances. His childhood friend (his mom works for their family) Holiday is there too. When a body of a guy everyone hates shows up in the pool, Holiday and Linden set out to solve the mystery.
I ended up really enjoying this! It's a little surface-level and super short, which made for a breezy Memorial Day Weekend read on the porch in just a couple of hours. I don't actually wish it was longer though – she achieved what she needed to in under 300 pages. There are definitely discussions on class, Great Gatsby vibes/themes, and manic pixie dreamgirl energy, which was all a part of the wider story and message Cotugno was trying to convey.
The ending was interesting and I didn't predict it, so that was good, but the VERY ending (last sentence) was annoying lol. I don't want to spoil it or call it a cliffhanger (because it isn't in the sense of the actual mystery), but it was one in other ways. Overall, I think I'd recommend this to those who enjoy YA books centered around rich and privileged kids like I always have lol. It really was a good summer mystery to kick off the season the weekend I read it.
---
I received this book for free (hey, thanks!) in exchange for an honest review. I promise that this does NOT affect my opinion of the book or the content of my review. For real.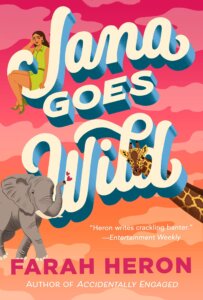 Jana Goes Wild
by
Farah Heron
Genres:
Adult
,
Contemporary
Published by
Forever
on May 2, 2023
Also by this author:
Accidentally Engaged
,
Kamila Knows Best
Format:
eARC
(352 pages) •
Source:
Publisher
Goodreads
•
Amazon
•
Barnes & Noble

The highly acclaimed author of Accidentally Engaged delivers a delightful rom-com of one woman trying to shed her perfect image at a destination wedding with hilarious — and moving — results, perfect for fans of Abby Jimenez and Jasmine Guillory .

Jana Suleiman has never really fit in—everyone always sees her as too aloof, too cool, too perfect. The one time she stepped out of her comfort zone she ended up with a broken heart and a baby on the way. Aaaand lesson learned . Now she's a bridesmaid for a destination wedding in Serengeti National Park, and almost everyone she knows will be there. Her five-year-old daughter. Her mom. Her friends. Even her potential new boss. And of course (because who doesn't love surprises!) her gorgeous-but-not-to-be-trusted ex.

Fortunately, Anil Malek is a great dad, even if Jana hasn't quite forgiven him for lying to her all those years ago. Determined to show he has no effect on her whatsoever, she and the bridesmaids concoct a go-wild list to get Jana through the week. Sing karaoke? Sure. Perform their high school dance routine in front of strangers? Okay. But the more she lets down her guard, the less protection she has against her attraction to Anil. And Jana soon realizes it's one thing to walk on the wild side . . . and quite another to fall for her ex all over again.
I had pretty high expectations for this one because I've really enjoyed Heron's two other romances. She's become an auto-read author for me over the past few years! I think she's one of the more underrated romance authors out there these days but I am really hoping the gorgeous cover draws some readers in!
This story centers around Jana (from KAMILA KNOWS BEST) and her journey co-parenting with the man she had a whirlwind two-week relationship with 5 years prior. He lied about his marital status at the time and the two have been distant but successful co-parents since she gave birth to their (unexpected) daughter. Now, they're off on a two-week safari trip for Kamila and Rohan's wedding in Tanzania.
I really loved the idea of a second chance romance between these two who never really got a fair shake at their first chance at love. Obviously there's a lot more to the story (with his marital status) but Jana has been unable to forgive him or truly move on. She's been distant ever since.
She was a really interesting character to follow because I already had some expectations on how she would be based on Kamila's book. She's portrayed as this perfect girl who everyone else was measured against and often cold (borderline rude). You get a ton of insight into her mindset and personality being in her head – it was hard at times because she was a major overthinker and very stubborn. I could see where she was coming from most of the time but I still wanted to be like GIRL WAKE UPPPP.
The romance was very slow-burn, which was appropriate given their history. I think some parts were a little repetitive but not a huge issue – almost like 20 pages could have been cut out throughout the story? The safari and moving between hotels was the main plot and the bits and pieces of Anil and Jana interacting were tossed in throughout. Anil was super sweet and I really loved him.
All in all, a very cute and charming romance with lovely characters! I would recommend Heron's romances to those who like a little less spice (but still some open door!).
Related Posts