I received this book for free (hey, thanks!) in exchange for an honest review. I promise that this does NOT affect my opinion of the book or the content of my review. For real.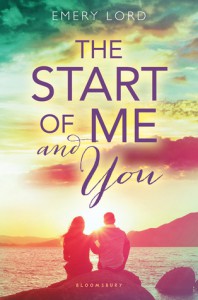 The Start of Me and You
by
Emery Lord
Series:
The Start of Me and You #1
Genres:
Contemporary
,
Young Adult
Published by
Bloomsbury
on March 31st 2015
Also by this author:
Open Road Summer
,
When We Collided
,
The Names They Gave Us
,
Meet Cute: Some People Are Destined to Meet
,
Toil & Trouble: 15 Tales of Women & Witchcraft
,
The Map from Here to There
,
All That's Left to Say
Format:
eARC
(384 pages) •
Source:
Publisher
Goodreads
•
Amazon
•
Barnes & Noble

Brimming with heartfelt relationships and authentic high-school dynamics The Start of Me and You proves that it's never too late for second chances.

It's been a year since it happened—when Paige Hancock's first boyfriend died in an accident. After shutting out the world for two years, Paige is finally ready for a second chance at high school . . . and she has a plan. First: Get her old crush, Ryan Chase, to date her—the perfect way to convince everyone she's back to normal. Next: Join a club—simple, it's high school after all. But when Ryan's sweet, nerdy cousin, Max, moves to town and recruits Paige for the Quiz Bowl team (of all things!) her perfect plan is thrown for a serious loop. Will Paige be able to face her fears and finally open herself up to the life she was meant to live?
Yeah, I'm not sure how I'll ever formulate words about this one. My Goodreads review that usually is a few sentences about my first reaction literally consisted of:
I pretty much loved this book from the first page. I'm not going to say anything fancy about it. I just did.
When I saw that I got approved for this one on NetGalley, I celebrated like never before and immediately started reading after my current book. This all happened in January – and, because I'm me, I wrote the review then. (Hi! This is January Lauren!) This was easily one of my top three anticipated books for 2015 so my excitement was out of control. Thank god, somehow, my expectations were exceeded.
I really loved Open Road Summer but I'm a weirdo in that music isn't a huge part of my life. I liked the tour aspects. I LOOOOVED me some Matt Finch. But a book centered around music is kind of meh for me. REGARDLESS, excellent book. How could she top that? (She did though) Also, there was a Lilah Montgomery reference in this book and I died.
LET ME GET TO IT FOR REAL NOW:
This book was perfection. There were some moments where I wanted to kick Paige in the butt, but I felt the same way about Reagan in ORS. Emery Lord's main characters are imperfect. Flawed. They make mistakes that the reader wants to punch them for, but loves them anyway. I loved Paige. I loved that this book followed her entire school year and gave a complete picture of her coping with the death of her boyfriend, spending time with friends, gaining new hobbies, and overcoming her fears. Some of the verrrrry basic plot reminded me a bit of Since You've Been Gone by Morgan Matson, in that the MC makes new friends and becomes a bit more outgoing in order to come out of her shell. Lord and Matson quickly became auto-buy authors for me last year, so it's no surprise that I love any formulas that one or both of them master in their book(s).
Aside from Paige, there were some GREAT secondary characters here. She had a great support system in Tessa, Kayleigh, and Morgan. They stuck with each other through everything. Even though it's a larger group of important friends, they were all characterized just enough to get a full picture of their group dynamics and individual personalities. When the girls start getting together with cousins Max and Ryan, their group grows and Paige finally feels like she has her feet on the ground. I had completely forgotten about the plot summary and was convinced for a while that Ryan was the OTP, but let me tell youuuu about Max. He's perfectly nerdy. He reads books. He's cute and tall. He's sweet and thoughtful. And Paige was a big dummy for not realizing how much perfection he embodied. Let's talk about the slowest burn of all time in the best way. (Let's not actually talk about it. Read it for yourself.) Aside from the cute boys and the lovely friends, Paige had a great family situation too – even though she didn't see it like that. Her younger sister, Cameron, and her had some slight relationship development that was really sweet. I won't get too much into everything with her family, but the situation with her parents was an interesting element to the story that I really loved. They were all supportive in their own ways and Paige was lucky to have them to help her through everything that happened.
The whole story is based around the fact that Paige's first boyfriend, Aaron, died a couple of years ago, and she's trying to move on. However, the grief/coping theme wasn't overdone. Because the book takes place over the course of an entire school year, it was a realistic portrayal of grief that did not seem rushed at all. The pacing was great. Sometimes I kind of felt like not much was happening, but this was so much a book about character development that WHO CARES. GIMME MORE MAX AND PAIGE. Also, gimme more Alcott's Books and Beans. A store with coffee AND books? Seriously, I'll spend the rest of my days there.
THE WRITING TOO. I highlighted so many goddamn quotes in this book. I absolutely love her writing style. I listened to ORS via audio so this was my first experience with actually reading Emery Lord's words on the page. It was glorious.
"In friendship we are all debtors. We all owe each other for a thousand small kindnesses, for little moments of grace in the chaos." 
SO YEP. I loved this book. So, so much. I can't find a flaw in it. The ending had my heart thudding in my chest as I watched the % complete marker at the bottom get closer and closer to 100%. I needed everything to happen in time! I was worried about being left hanging! A lot of it broke my heart in some ways and glued it back together in a lot of other ways.
Related Posts