Inspired by my recent organizational acquisitions (and posts by Hannah), I wanted to share some information about how I keep myself organized – primarily for blogging and reading, but also a little about my personal organization, too.
Part One: What's Inside My Book Bag
I carry around a tote bag full of bookish things. No, not everywhere I go… but pretty much. I bring it with me to work every day. I never know when I'll have a free second to read or will need to write something down. It'd be awful to get struck with inspiration and not have my blog notebook on hand, right? Right. So, my organization series on the blog will kick off with me showing the basics of what's inside my book bag and why I carry these items everywhere with me.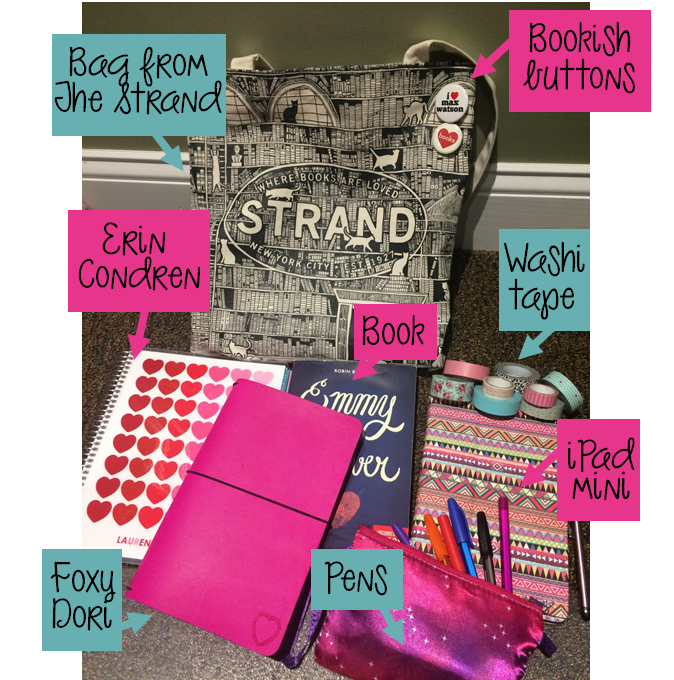 The bag itself:
I got my bag from The Strand bookstore in NYC. Chris and I went there back in October for his birthday and I knew that a tote bag was my #1 purchase there. I wish it wasn't so crowded in the store that day, though, because I've come to realize I missed out on SO many other cute accessories. I love the pattern on this one with all of the books (and Chris likes the cats). I added a couple of bookish pins to it. One came from a previous swap partner and the other came from pre-ordering The Start of Me and You by Emery Lord! I do indeed love Max Watson 😉
Items in my bag and their purpose:
Erin Condren Life Planner| Life & work planning
I just bought my Erin Condren a few months ago and it's been so awesome. I'm notoriously bad at making plans and then forgetting about them, or double-booking people. I saw the Erin Condren Life Planners somewhere in the blogosphere and thought it'd be perfect for me. My biggest issue with planners in general is that one with plain lines always mess me up. I write that I have a meeting at 12:00pm at the top of the day, because I assume nothing will happen earlier, and then something gets scheduled for 10:00am. It gets annoying because I never seem to pick the right line based on time of day. The Erin Condren planner has monthly views and weekly views. The weekly view has three boxes per day: morning, afternoon, and night. That way, I can write in each box depending on when something is happening and better plan the segments of my day. It has a to-do list section on the left side for things to do during the week that aren't scheduled, as well as lines underneath each day for tasks to accomplish during that specific day. I'll show the inside of my EC planner on another day in the organization series 😉 I generally use it to schedule out both work meetings or appointments and personal events.
Foxy Dori Traveler's Notebook| Blog planning
Here's where we can blame Hannah. Her recent post about her Foxy Dori and organizational tools totally motivated me to reinvent my blogging habits. I'll get more in detail about my new Foxy and the notebooks inside it during a later post, but I'll give you the basics right now. I ordered the following customized Foxy Dori:
Colorful Foxy Dori in Dragon Fruit | Wide Size | Quadruple Binding | Black Strap | Stamp #13 (Heart)
The point of the Foxy is to hold a few smaller notebooks, journals, and planners in one spot. I highly recommend checking out Hannah's full post because she lays everything out so nicely! I reserved my Foxy for blogging and reading only, because I think it's better to keep that part separate. I don't like writing my blog posts out on a separate planner because I frequently change around postings once they're scheduled. Here are the four notebooks/items I have in my Foxy for blogging:
Again, you'll be able to see a full post about my Foxy soon, so keep an eye out! I hope this gives you a general idea of the kinds of books and inserts you can have inside one. It's so cute and ends up fairly small in size once it's all strapped in.
Bag (with pens and markers) and Washi Tape
I keep my Erin Condren markers and my favorite InkJoy colored pens in this little pouch from a previous swap partner. I also carried my washi tape collection for a while because I wasn't sure where to keep them in my apartment. I recently cleaned off my desk (another post coming soon!) to do some planning and writing; now the washi collection lives there. I got some from my Secret Sister (The Washi Shop on Etsy) and a couple from Five Below. I obviously use the tape and pens/markers for decoration in my planner.
Book
It wouldn't be a book bag without a book! I always carry around my current read or my Kindle, if it happens to be on there. I'm currently reading an ARC of Emmy & Oliver by Robin Benway.
iPad Mini
I generally bring my iPad with me everywhere because you never know when you'll need it. Sometimes if no one's in the office for the afternoon, I'll play Friends on Netflix on it while I work. I usually don't end up using it during my workday but sometimes it's helpful to have two screens going at once.
Do you carry around a crazy bag full of bookish things? How do you stay organized? What kinds of organization-related posts would you like to see soon?
Related Posts