I received this book for free (hey, thanks!) in exchange for an honest review. I promise that this does NOT affect my opinion of the book or the content of my review. For real.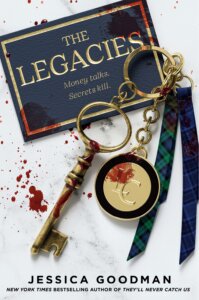 The Legacies
by
Jessica Goodman
Genres:
Young Adult
,
Contemporary
,
Mystery/Thriller
Published by
Penguin Random House
on July 25, 2023
Also by this author:
They Wish They Were Us
,
They'll Never Catch Us
,
The Counselors
Format:
eARC
(336 pages) •
Source:
Publisher
Goodreads
•
Amazon
•
Barnes & Noble

Old money. New secrets. One killer party.

Scoring an invitation for membership to the exclusive Legacy Club in New York City is more than an honor. It gives you a lifetime of access to power and wealth beyond any prep school doors and guaranteed safety and security as Legacy Club members always look out for their own. That is, after you make it through a rigorous week of events and the extravagant gala, the Legacy Ball.

So it's not surprising when Excelsior Prep seniors Bernie Kaplan, Isobel Rothcroft, and Skyler Hawkins are nominated as Legacies; their family pedigrees have assured their membership since birth—even if they're all keeping secrets that could destroy their reputations. But scholarship kid from Queens Tori Tasso? She's a surprise nominee, someone no one saw coming. Tori's never fit in this world of designer bags, penthouse apartments, and million-dollar donations. So what did she do to secure her place?

The night of the Legacy Ball is supposed to be the best night of these seniors' lives, a night of haute couture, endless champagne, and plenty of hushed gossip.

Everyone expects a night of luxury and excess.
No one expects their secrets to come out.
Or for someone to die trying to keep them hidden.
It's no secret around here that I love a "rich people behaving badly book" – there's something about it that appeals to my Gossip Girl-loving heart. I KNOW they're bad people and I'm okay with reading about them. I don't have to like or root for the characters in every book I read. I know it's a personal preference thing and I'm okay with that. Just be warned, if you aren't a rich kid drama girlie, you probably won't find much to like in this one.
This book feels simultaneously similar and different than Goodman's other books. I've rated her other books 3, 3.5, and 4 stars, respectively, so she's always been a good-but-not-a-favorite author of mine. I still find myself so drawn to her synopses and eagerly await each new release! The whole vibe of this one (like her other three books) is more of a contemporary fiction book with some death and suspense as the backbone. Her books aren't thrillers, they're sort of mysteries, but they're more like… mysterious contemporary fiction? This book is the first that features unlikeable rich kids at a prep school in NYC – the others are set in normal high schools or at summer camp.
The story alternates between Bernie (a rich kid living in her mom's shadow), Isobel (another rich kid and Bernie's best friend with a substance abuse issue), and Tori (the scholarship kid whose mom died the year before). I enjoyed reading from each of their POVs for the most part but I didn't love any of the characters. Isobel was pretty insufferable throughout. I found myself rooting for Bernie a little bit and obviously Tori is the most likeable of them all. She's trying to better her life by making it into ~the Club~ and getting the cash prize to help her father out. The book also alternates in chapters "After the Ball," where we find out that someone fell off the roof and died during the event, so the reader tries to figure out who it was, what happened, and why.
There were a handful of intertwined mysteries that I found pretty unique and interesting! I figured out one small piece of the puzzle but wasn't able to put the whole thing together. I enjoyed the journey and pretty much read the final 3/4 of the book in one sitting, which is always a good sign! The reveals and final chapters of the books were satisfying and intriguing. I hope Goodman writes more books like this one, as it quickly became my favorite of her four novels!
---
I received this book for free (hey, thanks!) in exchange for an honest review. I promise that this does NOT affect my opinion of the book or the content of my review. For real.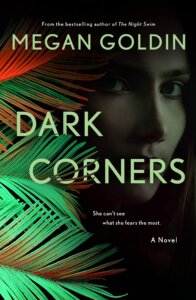 Dark Corners
by
Megan Goldin
Series:
Rachel Krall #2
Genres:
Adult
,
Mystery/Thriller
Published by
Macmillan
on August 8, 2023
Also by this author:
The Night Swim
,
Stay Awake
,
The Escape Room
Format:
eARC
,
Hardcover
(352 pages) •
Source:
Book of the Month, Publisher
Goodreads
•
Amazon
•
Barnes & Noble

Terence Bailey is about to be released from prison for breaking and entering, though investigators have long suspected him in the murders of six women. As his freedom approaches, Bailey gets a surprise visit from Maddison Logan, a hot, young influencer with a huge social media following. Hours later, Maddison disappears, and police suspect she's been kidnapped—or worse. Is Maddison's disappearance connected to her visit to Bailey? Why was she visiting him in the first place?

When they hit a wall in the investigation, the FBI reluctantly asks for Rachel's help in finding the missing influencer. Maddison seems only to exist on social media; she has no family, no friends, and other than in her posts, most people have never seen her. Who is she, really? Using a fake Instagram account, Rachel Krall goes undercover to BuzzCon, a popular influencer conference, where she discovers a world of fierce rivalry that may have turned lethal.

When police find the body of a woman with a tattoo of a snake eating its tail, the FBI must consider a chilling possibility: Bailey has an accomplice on the outside and a dangerous obsession with influencers, including Rachel Krell herself. Suddenly a target of a monster hiding in plain sight, Rachel is forced to confront the very real dangers that lurk in the dark corners of the internet.

Rachel Krall, the true crime podcaster star of Megan Goldin's acclaimed Night Swim returns to search for a popular social media influencer who disappeared after visiting a suspected serial killer.
I don't think I even read the synopsis before requesting this one! I enjoyed THE NIGHT SWIM and was so excited to get more of Rachel and her podcast. Unlike others who may be sick of this particular trope or plot device in mystery books… I am all about it. Give me all of the true crime podcasters. I also know many weren't in love with the idea of a companion/second novel, but I think it's great – the idea of following this podcaster through multiple cases and stories sounds awesome! It's no different than following a detective, PI, etc. for multiple companion novels.
Anyways, all that to say… I was pumped for DARK CORNERS! I received an egalley and also selected the finished copy as my BOTM pick for July. I was able to read both versions since I like reading my Kindle before bed in the dark 🙂 I found it to be a great choice for my final book of Summerween because it was really tense and addicting!
The story, from the synopsis, seems a little convoluted but it was easy to follow and made sense once you get into it. Rachel heads to Daytona to help the FBI with a case – an inmate being released in two days is asking for her. Enter in a missing influencer, a potential serial killer, a creepy symbol, and a whole lot more. I really enjoyed how many layers there were to this book and found it really compelling. The changing POVs (which I won't necessarily spoil) definitely added to the tension and helped mix things up. Being inside different people's heads was interesting and made me consistently wonder how everything was connected.
Some of the early reviews had people disliking Rachel now or thinking she changed as a character. I didn't remember enough of the first book and her personality to come to the same conclusion but I loved that she was often a dick to cops. No issue for me there! There was one thing I didn't love later in the book for Rachel that just didn't feel necessary but I won't spoil it here.
As I said, I spent a lot of time trying to put a ton of pieces together between all of the different characters. I figured out a thing or two that seemed obvious but the rest of the connections weren't clear to me, which made for a fun ending! The final chapters of this book were extremely tense and reminded me why I love thrillers (and should read them more often – I find myself as more of a traditional mystery girlie most of the time). Some things got explained or wrapped up in a weird way or a little too rushed, plus the last chapter and very end of the book were pretty abrupt. Not a huge issue when the rest was twisty and intriguing!
If I could add another complaint, the dialogue was weird at times – Rachel and Joe (the FBI) agent used each others names all the time throughout conversations in a way that is not how real people talk at all. Once I noticed it, I couldn't ignore it. I usually/otherwise really like Goldin's writing, which is why she's easily become an auto-buy author for me ever since I first read THE NIGHT SWIM.
All in all, this was a really good thriller and exciting companion follow-up. Another unpopular opinion here after finishing the book: I could definitely go for more books in this series! I want to see Rachel continue to solve more cases.
Related Posts