I received this book for free (hey, thanks!) in exchange for an honest review. I promise that this does NOT affect my opinion of the book or the content of my review. For real.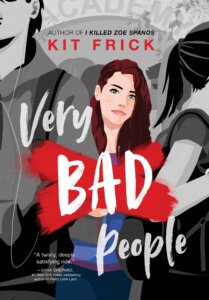 Very Bad People
by
Kit Frick
Genres:
Young Adult
,
Mystery/Thriller
Published by
Simon and Schuster
on April 5, 2022
Also by this author:
All Eyes on Us
Format:
eARC
(416 pages) •
Source:
Publisher
Goodreads
•
Amazon
•
Barnes & Noble

First editions have an exclusive foil design underneath the jacket!

In this dark academia young adult thriller for fans of The Female of the Species and People Like Us, a teen girl's search for answers about her mother's mysterious death leads to a powerful secret society at her new boarding school—and a dangerous game of revenge that will leave her forever changed.

Six years ago, Calliope Bolan's mother drove the family van into a lake with her three daughters inside. The girls escaped, but their mother drowned, and the truth behind the "accident" remains a mystery Calliope is determined to solve. Now sixteen, she transfers to Tipton Academy, the same elite boarding school her mother once attended. Tipton promises a peek into the past and a host of new opportunities—including a coveted invitation to join Haunt and Rail, an exclusive secret society that looms over campus like a legend.

Calliope accepts, stepping into the exhilarating world of the "ghosts," a society of revolutionaries fighting for social justice. But when Haunt and Rail commits to exposing a dangerous person on campus, it becomes clear that some ghosts define justice differently than others.

As the society's tactics escalate, Calliope uncovers a possible link between Haunt and Rail and her mother's deadly crash. Now, she must question what lengths the society might go to in order to see a victory—and if the secret behind her mother's death could be buried here at Tipton.
For some reason, Kit Frick remains on my auto-read list even though her books never fully do it for me. I just feel like she's a known quantity at this point and her books will be moderately good, which is sometimes all I want from a YA mystery? Add in the fact that this was a dark academia set at a boarding school with a secret society and I was ready to give it a read.
Calliope is heading to Tipton Academy, where her mom went, with the hope that she'll uncover some secrets and understand more about her late mother. Six years prior, her mom drove Calliope and her two sisters into a lake and she was the one who didn't survive. Why did she do it? Where were they heading that day? Was it murder-suicide or an accident? She's hoping to get some answers about her mom by transferring to the school. She's immediately invited to join a secret society and finds out that her mother was also a member. Calliope tries to uncover some of the mysteries of her mom's past while starting to date a boy, getting involved in the secret society's pranks, taking down a shitty teacher, and making friends. In hindsight, there was kind of a lot going on, but it didn't really feel that way while reading.
I didn't love her as a character and the writing style really bothered me. Calliope's inner thoughts were very formal, like she would say "I am heading to" instead of "I'm heading to" every single time and it just was really weird to read repeatedly? I wish this book didn't feature a romance at all because it really didn't add anything to the story. 
All in all, there's a lot of moral ambiguity throughout the story and I liked a few of the reveals that occurred. Some of the explanations to the "mystery" elements were surprising and interesting. However, the end of the story REALLY annoyed me. It left a bad taste in my mouth and the last few chapters were frustrating to read. I would give this a strong 3 stars because it did get a bit addicting and had decent reveals, but the ending, writing style, romance, and other little nitpicky things really annoyed me.
---
I received this book for free (hey, thanks!) in exchange for an honest review. I promise that this does NOT affect my opinion of the book or the content of my review. For real.
The Counselors
by
Jessica Goodman
Genres:
Young Adult
,
Mystery/Thriller
Published by
Penguin Random House
on May 31, 2022
Also by this author:
They Wish They Were Us
,
They'll Never Catch Us
,
The Legacies
Format:
eARC
(352 pages) •
Source:
Publisher
Goodreads
•
Amazon
•
Barnes & Noble
From bestselling author Jessica Goodman comes a twisty new thriller about three best friends, one elite summer camp, and the dark secrets that lead to a body in the lake.

Sisters by choice. That's how Goldie and her best friends, Ava and Imogen, define their friendship, which formed years ago at Camp Alpine Lake.This year, Goldie is back at camp as a counselor, desperate for summer to start and for Ava and Imo to arrive. With the dark secret Goldie's been keeping, she's more in need of their comfort than ever. When the boy who broke Goldie's heart, turns up dead in the lake, this last summer before college is completely upended—and Goldie learns that she's not the only person at camp who has been lying. Asking questions offers Goldie no answers, only danger and betrayals deeper than she ever imagined.
Jessica Goodman has also become an auto-buy/read author for me. Her mystery/thrillers have been solid so far and I've really enjoyed each of the plot/concepts she's featured. I'll be honest: one of my Goodreads friends had a one-line review at the top of the page that I accidentally read while reading the book that gave away the main mystery-related spoiler, which was frustrating. I've been trying to determine if I would have liked this book more if I DIDN'T suspect what the spoiler review said, or if it doesn't really matter.
The writing and overall mystery in this one were both not up to the standard I've come to expect from Goodman, if I'm being honest. I thought some parts were a bit repetitive from a writing perspective. The friendship group of Goldie, Imogen, and Ava was a little meh to read about as well – they rely on the fact that their bond from so many summers at this camp would carry them through AND help the reader root for them. I was annoyed by them for most of the story so that didn't really work for me, but it didn't dampen my overall enjoyment of the book either.
The mystery surrounding the "body in the lake" was kind of lame for a while and it FELT like it took a long time to get rolling. I emphasize the word "felt" because it was a slower read at the beginning – I was often shocked to learn I was only 40% of the way through the book and barely anything had kicked off. I couldn't figure out how the person who died was connected to what that spoilery review said so obviously there was still some mystery for me while reading, plus the overall mystery and who was involved in general. Things were MORE obvious to me at the very end when pieces were coming together because of what I saw in the review. I don't think I would have really put it together on my own but I guess I can't tell at this point.
Overall, I'll for sure keep reading Goodman's books – she's doing a better job out there than many others in the YA mystery genre, IMO.
Related Posts