In an effort to cut down on posts and burnout, my Review Roundups will feature 2-4 books I've read or listened to recently. Sometimes they're newer releases and sometimes they're all backlist titles. My ARC reviews usually get the solo treatment. Enjoy the mini reviews!
---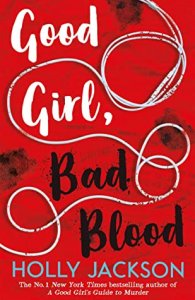 Good Girl, Bad Blood
by
Holly Jackson
Series:
A Good Girl's Guide to Murder #2
Genres:
Young Adult
,
Mystery/Thriller
Published by
Egmont
on April 30, 2020
Also by this author:
A Good Girl's Guide to Murder
,
As Good As Dead
,
Kill Joy
Format:
Paperback
(417 pages) •
Source:
Purchased
Goodreads
•
Amazon
•
Barnes & Noble

The highly-anticipated crime-thriller sequel to the no. 1 debut of 2019, A Good Girl's Guide to Murder

Pip Fitz-Amobi is not a detective anymore.

With the help of Ravi Singh, she released a true-crime podcast about the murder case they solved together last year. The podcast has gone viral, yet Pip insists her investigating days are behind her.

But she will have to break that promise when someone she knows goes missing. Jamie Reynolds has disappeared but the police won't do anything about it. And if they won't look for Jamie then Pip will, uncovering more of her town's dark secrets along the way… and this time EVERYONE is listening.

But will she find him before it's too late?
After finishing A GOOD GIRL'S GUIDE TO MURDER, I knew that I had to read the sequel as soon as humanly possible. I haven't read a lot of books during this lockdown period (combined with the new puppy period in my own life), so I want to capture that addicted-to-reading feeling as much as possible. GOOD GIRL, BAD BLOOD lived up to that for me, and allowed me to finish a nice, quick, entertaining story in a few sittings after ordering the UK edition from Book Depository.
The second installment in the series follows Pip as she tries to find her friend's missing brother. She's reluctant to work on another case because the first one fucked her up so badly, but she feels the pull to help her friend Connor and his family.
I can't get too much into the reasons this book isn't a full five-stars for me, but mild spoiler to follow: you definitely won't see the ending coming. There's literally no way to predict it and it kind of comes from left field. This was good and bad – in some ways it felt a little cheap? But in other ways it was incredibly clever and impressive, I think.
This was JUST as addicting and unputdownable as the first book. The overall mystery of book one (missing girl from five years ago) personally interested me more, but this one happening in "real time" via her new podcast was really fun. I can't wait to see where this series goes and how Holly Jackson manages to keep making surprising mysteries.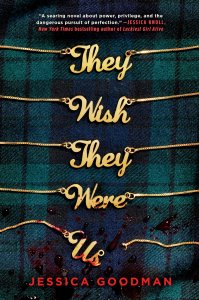 They Wish They Were Us
by
Jessica Goodman
Genres:
Young Adult
,
Contemporary
,
Mystery/Thriller
Published by
Penguin
on August 4, 2020
Also by this author:
They'll Never Catch Us
,
The Counselors
,
The Legacies
Format:
Hardcover
(336 pages) •
Source:
Purchased
Goodreads
•
Amazon
•
Barnes & Noble

A murder mystery set against the backdrop of an exclusive prep school on Long Island.

In Gold Coast, Long Island, everything from the expensive downtown shops to the manicured beaches, to the pressed uniforms of Jill Newman and her friends, looks perfect. But as Jill found out three years ago, nothing is as it seems.

Freshman year Jill's best friend, the brilliant, dazzling Shaila Arnold, was killed by her boyfriend. After that dark night on the beach, Graham confessed, the case was closed, and Jill tried to move on.

Now, it's Jill's senior year and she's determined to make it her best yet. After all, she's a senior and a Player--a member of Gold Coast Prep's exclusive, not-so-secret secret society. Senior Players have the best parties, highest grades and the admiration of the entire school. This is going to be Jill's year. She's sure of it.

But when Jill starts getting texts proclaiming Graham's innocence, her dreams of the perfect senior year start to crumble. If Graham didn't kill Shaila, who did? Jill is vows to find out, but digging deeper could mean putting her friendships, and her future, in jeopardy.
I don't buy or preorder books that often. I have to be really excited about the book or have it be a favorite author, and even then… Anyways, I was REALLY excited to read THEY WISH THEY WERE US. I decided to buy it from bookshop.org and support some indies.
I'm sad to say I was definitely disappointed! The book presents itself, at least to me, as a murder mystery. A girl , Jill, who is a part of an elite "secret society" at her prep school, decides to find out if her friend Shaila was actually murdered by her boyfriend, or if that boy's sister is telling the truth that he's innocent. I thought there'd be some kind of research to get him exonerated, figure out who the killer was, and dive deep into the Players (the society kind of thing).
Realistically, this is contemporary fiction set at a prep school where a girl was murdered. The Players are like every single frat/sorority hazing stereotype rolled into one… and not much more than that. Jill does work to find out if Graham really killed Shaila, but it's honestly somehow a side plot in this whole thing. On top of all that disappointment, I knew right off the bat who the culprit/murderer was. It was obscenely obvious.
I really needed an addicting murder mystery, since the previous one I read really helped me get some mojo back, but this wasn't that. It DID keep me engaged and was super easy to read, but it didn't hook me in the same way I was hoping it would.

I received this book for free (hey, thanks!) in exchange for an honest review. I promise that this does NOT affect my opinion of the book or the content of my review. For real.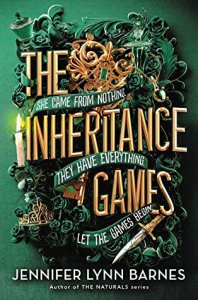 The Inheritance Games
by
Jennifer Lynn Barnes
Series:
The Inheritance Games #1
Genres:
Young Adult
,
Contemporary
,
Mystery/Thriller
Published by
Hachette
on September 1, 2020
Also by this author:
The Fixer
,
The Long Game
,
Little White Lies
,
The Lovely and the Lost
,
Deadly Little Scandals
,
The Hawthorne Legacy
,
The Final Gambit
Format:
ARC
(384 pages) •
Source:
Borrowed
Goodreads
•
Amazon
•
Barnes & Noble

A Cinderella story with deadly stakes and thrilling twists, perfect for fans of One of Us is Lying and Knives Out.

Avery Grambs has a plan for a better future: survive high school, win a scholarship, and get out. But her fortunes change in an instant when billionaire Tobias Hawthorne dies and leaves Avery virtually his entire fortune. The catch? Avery has no idea why--or even who Tobias Hawthorne is. To receive her inheritance, Avery must move into sprawling, secret passage-filled Hawthorne House, where every room bears the old man's touch--and his love of puzzles, riddles, and codes.

Unfortunately for Avery, Hawthorne House is also occupied by the family that Tobias Hawthorne just dispossessed. This includes the four Hawthorne grandsons: dangerous, magnetic, brilliant boys who grew up with every expectation that one day, they would inherit billions. Heir apparent Grayson Hawthorne is convinced that Avery must be a con-woman, and he's determined to take her down. His brother, Jameson, views her as their grandfather's last hurrah: a twisted riddle, a puzzle to be solved. Caught in a world of wealth and privilege, with danger around every turn, Avery will have to play the game herself just to survive.
I'm a huge fan of everything Jennifer Lynn Barnes writes, and I've been saving THE NATURALS series (the one thing I haven't read yet) for a rainy day in between her releases. Maybe that time will come in 2020 because I'm frankly a bit desperate for more of her words after finishing this.
THE INHERITANCE GAMES has been compared to the movie (that I loved) KNIVES OUT. I loved the idea that this seemingly regular girl would suddenly inherit billions of dollars and be thrust into this puzzle-filled super mansion with four cute brothers. I'm not clever enough to solve riddles or puzzles really so I knew this book would be suspenseful; I'd be unlikely to solve this particular mystery! I had one theory that didn't turn out to be true, but it was tangentially related to everything and sets up for the next book.
Avery was a fun character. I'm really excited to see where the rest of her story goes from here. I completely forgot it was a series until I got to the ending! I'm wondering if Avery will still be the MC or if we'll make a switch… Overall though, a really fascinating and addicting story! Another major win for Jennifer Lynn Barnes.
Related Posts