I received this book for free (hey, thanks!) in exchange for an honest review. I promise that this does NOT affect my opinion of the book or the content of my review. For real.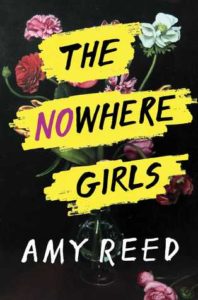 The Nowhere Girls
by
Amy Reed
on October 10th 2017
(416 pages) •
Goodreads
•
Amazon
•
Barnes & Noble

Three misfits come together to avenge the rape of a fellow classmate and in the process trigger a change in the misogynist culture at their high school transforming the lives of everyone around them in this searing and timely story.

Who are the Nowhere Girls?

They're everygirl. But they start with just three:

Grace Salter is the new girl in town, whose family was run out of their former community after her southern Baptist preacher mom turned into a radical liberal after falling off a horse and bumping her head.

Rosina Suarez is the queer punk girl in a conservative Mexican immigrant family, who dreams of a life playing music instead of babysitting her gaggle of cousins and waitressing at her uncle's restaurant.

Erin Delillo is obsessed with two things: marine biology and Star Trek: The Next Generation, but they aren't enough to distract her from her suspicion that she may in fact be an android.

When Grace learns that Lucy Moynihan, the former occupant of her new home, was run out of town for having accused the popular guys at school of gang rape, she's incensed that Lucy never had justice. For their own personal reasons, Rosina and Erin feel equally deeply about Lucy's tragedy, so they form an anonymous group of girls at Prescott High to resist the sexist culture at their school, which includes boycotting sex of any kind with the male students.

Told in alternating perspectives, this groundbreaking novel is an indictment of rape culture and explores with bold honesty the deepest questions about teen girls and sexuality.
Initial Excitement & Summary
I was over the moon when I got approved for this book. It ended up being one of those digital ones you can't use on your Kindle, so I added it to my other ebook app. Loooong, annoying story: the book was set to expire on 9/13 (and I just happened to open the book up that day, thinking maybe I'd read it). I decided to binge it in one day to finish before it expired, updated Goodreads, and made my reading plans for after work. The next time I opened the book that day, it had expired. I spent a good 30-45 minutes trying to figure out if I could redownload it and screaming at my computer. I ended up just having to go to Netgalley and redownload it onto my iPad. SIGH. ANYWAYS, all of these issues led up to me just reading the book anyways.
The story is about three girls from very different backgrounds who band together against the horrible boys in their high school. A former student was gang raped and no one believed her. Grace, Rosina, and Erin start "The Nowhere Girls" to take on the school's sexist, lopsided views of what happened and try to make it a better place.
Storytelling & Characters
The chapters focus on the individual girls, plus a bunch of chapters called "Us." I thought those chapters were incredibly powerful, as they focused on various girls around the town and what they were feeling. Those thoughts ranged across the entire spectrum of sexuality, personality, and everything else. There were real reactions about the Nowhere Girls from every walk of life – I thought the POV from the black female student and conservative female student to be particularly relevant and poignant.
Grace, Erin, and Rosina were really great main characters. They had complex backstories. It was nice to read about a chubby white girl whose mom runs a liberal church, a girl with Asperger's and an overly supportive mom, and a Mexican lesbian whose familial obligations and expectations take over her life. It wasn't just white feminism shoved down your throat, especially with the other perspectives included in the "Us" chapters or during the Nowhere Girls meetings.
I think every single person reading this book could find at least a couple of characters to relate to. They all talk openly about sex, rape, sexism, virginity, religion, and countless other things that shape the average high-schooler's life. I loved the thoughts people had about "not all men" because it's something we here time and time again. Every character brought a new voice into the discussion and shared their own feelings about what was happening.
I felt the complete range of emotions throughout reading this story. I was furious with the town of Prescott for ignoring the girls and favoring the boys the entire time. The people in leadership positions threatened them with horrible things and didn't care about what they said. I wanted to throw my book across the room because this kind of thing happens too often today. I teared up quite a few times when the conclusion of the book came. I smiled at the friendships and sisterhood that was developed too.
This book was extremely powerful. I can't think of too many negatives because it was extremely well-written. I loved the writing style, even though it took some getting used to for some reason. (I must have been used to first person instead of third person for the past few books I read).
Ending Feels
Yeah, I totally got emotional at the conclusion of this story. I was really nervous that these girls would never be heard or their voices wouldn't make a difference; my rage was going to be off the charts. I won't spoil how it ends but I have to say, it was incredibly well-done. View Spoiler »I loved the bond the girls quickly developed with Cheyenne and how they helped her through everything. Without her, I'm not sure anything would have changed. « Hide Spoiler
TL;DR
If you're looking for a powerful book involving inter-sectional feminism, a multitude of teen voices that make a difference, and just extreme WE CAN DO IT vibes, you've come to the right place. Everyone can find a character or perspective to relate to here. I definitely can't speak for all the different kinds of representation here, so I would seek out some other reviews as well.
Thoughts in a GIF

Related Posts