In an effort to cut down on posts and burnout, my Review Roundups will feature 2-4 books I've read or listened to recently. Sometimes they're newer releases and sometimes they're all backlist titles. My ARC reviews usually get the solo treatment. Enjoy the mini reviews!
---
Ghosted
by
Rosie Walsh
Genres:
Adult
,
Contemporary
Published by
Penguin
on July 24, 2018
Format:
Audio/eBook
(337 pages) •
Source:
Library
Goodreads
•
Amazon
•
Barnes & Noble

When Sarah meets Eddie, they connect instantly and fall in love. To Sarah, it seems as though her life has finally begun. And it's mutual: It's as though Eddie has been waiting for her, too. Sarah has never been so certain of anything. So when Eddie leaves for a long-booked vacation and promises to call from the airport, she has no cause to doubt him. But he doesn't call.
Sarah's friends tell her to forget about him, but she can't. She knows something's happened--there must be an explanation.
Minutes, days, weeks go by as Sarah becomes increasingly worried. But then she discovers she's right. There is a reason for Eddie's disappearance, and it's the one thing they didn't share with each other: the truth.
I realized I forgot to review this one after finishing so here's a quick review from what I remember – you know my bookish memory is garbage… Thanks Goodreads for holding my initial thoughts 😉
This book was a wild ride. It spent so much of the book thinking I had everything figured out and was really pissed that it was going to be that cliche and boring. I definitely ended up being wrong! It was almost the opposite of my prediction, without getting into spoilers. There were lots of twists and turns and suspense.
The beginning of the book was just okay for me. I wasn't overly interested in the chapters that had them getting to know each other and connecting when they first met. They were only together for about a week but fell in instalove pretty quickly. I got REALLY addicted to this one, though, while trying to figure out why he ghosted her. I was racing to finish this and see how everything wrapped up.
Overall, this one took a little while for me to get into because I wasn't overly invested in the couple in the early stages, but I absolutely couldn't put it down once the story picked up, trying to figure out the reason for the ghosting and how everything would come to a head.

With Malice
by
Eileen Cook
Genres:
Young Adult
,
Mystery/Thriller
Published by
Houghton Mifflin Harcourt
on June 7, 2016
Also by this author:
You Owe Me a Murder
Format:
Audio/Physical
(320 pages) •
Source:
Owned
,
Scribd
Goodreads
•
Amazon
•
Barnes & Noble

It was the perfect trip…until it wasn't.
Eighteen-year-old Jill Charron wakes up in a hospital room, leg in a cast, stitches in her face and a big blank canvas where the last six weeks should be. She discovers she was involved in a fatal car accident while on a school trip in Italy. A trip she doesn't even remember taking. She was jetted home by her affluent father in order to receive quality care. Care that includes a lawyer. And a press team. Because maybe the accident…wasn't an accident.
As the accident makes national headlines, Jill finds herself at the center of a murder investigation. It doesn't help that the media is portraying her as a sociopath who killed her bubbly best friend, Simone, in a jealous rage. With the evidence mounting against her, there's only one thing Jill knows for sure: She would never hurt Simone. But what really happened? Questioning who she can trust and what she's capable of, Jill desperately tries to piece together the events of the past six weeks before she loses her thin hold on her once-perfect life.
I've been doing very poorly with my Rainbow Try a Chapter challenge, but I did finally pick up WITH MALICE in March as a result! I started this audiobook when I really needed one and was able to blaze through the story in a couple of days, mixing in the hardcover copy with the audio version.
I'd seen mixed reviews – a lot of people thought it was really gripping and addicting, but others were more "meh" on it. I found myself pretty addicted throughout the book and knew I'd be able to finish it in a couple of days based on the pacing, format, and easy style.
This is sort of similar to the Amanda Knox trial/situation. This main character, Jill, goes to Italy for a school trip and gets into a car accident that kills her best friend. She doesn't remember it when she wakes up (the whole 6 weeks is missing from her memory) and everyone is accusing her of getting into the accident on purpose. This was a sort of unreliable narrator situation because Jill is learning all these things that "happened" second-hand from others on the trip, internet articles and comment sections, and conversations with her lawyer. Did Jill do it? Was this new boy she met on the trip involved somehow?
While I was addicted to it for the most part, it was not really a good book? I don't think there was really anything gained from my reading experience, if that makes sense. This definitely has a wet fart of an ending. I think it kind of makes sense for the story – without spoiling anything – but I didn't like it at all.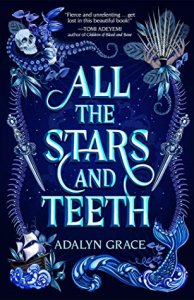 All the Stars and Teeth
by
Adalyn Grace
Series:
All the Stars and Teeth #1
Genres:
Young Adult
,
Fantasy
Published by
Macmillan
on February 4, 2020
Also by this author:
All the Tides of Fate
Format:
Audio/eBook
(384 pages) •
Source:
Purchased
,
Scribd
Goodreads
•
Amazon
•
Barnes & Noble
She will reign.
As princess of the island kingdom Visidia, Amora Montara has spent her entire life training to be High Animancer—the master of souls. The rest of the realm can choose their magic, but for Amora, it's never been a choice. To secure her place as heir to the throne, she must prove her mastery of the monarchy's dangerous soul magic.
When her demonstration goes awry, Amora is forced to flee. She strikes a deal with Bastian, a mysterious pirate: he'll help her prove she's fit to rule, if she'll help him reclaim his stolen magic.
But sailing the kingdom holds more wonder—and more peril—than Amora anticipated. A destructive new magic is on the rise, and if Amora is to conquer it, she'll need to face legendary monsters, cross paths with vengeful mermaids, and deal with a stow-away she never expected… or risk the fate of Visidia and lose the crown forever.
I am the right choice. The only choice. And I will protect my kingdom.
Set in a kingdom where danger lurks beneath the sea, mermaids seek vengeance with song, and magic is a choice, Adalyn Grace's All the Stars and Teeth is a thrilling fantasy for fans of Stephanie Garber's Caraval and Sarah J. Maas's Throne of Glass series.
I've been trying to read more fantasy books lately since this world is so weird right now; contemporary stories put me too much in the "real world" and I find myself yelling at the characters for shopping or going out to eat because we're not currently allowed to do that in March/April 2020. It puts me in a weird headspace for reading. This fantasy was picked by my YA book club and we met virtually to discuss.
I don't think I have much to say about this one because I have to admit, I did not pay as much attention to it as I should've! I started the audiobook while multi-tasking with work and walking on the nearby trail. I didn't want to buy the ebook because it was expensive and Scribd had the audio, but I didn't give myself enough time to actually take in the audiobook (no commute, no getting ready, no gym in the morning). So, I caved and bought the ebook to finish it off and pay more attention to the story.
I liked the magic system and I guess there were some interesting reveals within the story that went over my head. Thank goodness my book club could explain it. I'm curious to see what happens in the next installment (will definitely need to read a recap) but I definitely am lost about my overall feelings. The characters were good, the magic/world was cool, the pirate/mermaid situation was fun…but otherwise…??‍♀️
Related Posts