I received this book for free (hey, thanks!) in exchange for an honest review. I promise that this does NOT affect my opinion of the book or the content of my review. For real.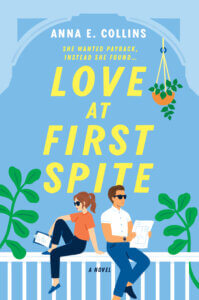 Love at First Spite
by
Anna E. Collins
Genres:
Adult
,
Contemporary
Published by
Harlequin
on January 4, 2022
Format:
eARC
(320 pages) •
Source:
Publisher
Goodreads
•
Amazon
•
Barnes & Noble

In this delightful, breezy romcom, interior designer Dani decides to get revenge on her cheating ex the only way she knows how: by building a spite house next door.

They say living well is the best revenge. But sometimes, spreading the misery seems a whole lot more satisfying. That's interior designer Dani Porter's justification for buying the vacant lot next to her ex-fiancé's house…the house they were supposed to live in together, before he cheated on her with their realtor. Dani plans to build a vacation rental that will a) mess with his view and his peace of mind and b) prove that Dani is not someone to be stepped on. Welcome to project Spite House.

That plan quickly becomes complicated when Dani is forced to team up with Wyatt Montego, the handsome, haughty architect at her firm, and the only person available to draw up blueprints. Wyatt is terse and stern, the kind of man who eats his sandwich with a knife and fork. But as they spend time together on- and off-site, Dani glimpses something deeper beneath that hard veneer, something surprising, vulnerable, and real. And the closer she gets to her goal, the more she wonders if winning revenge could mean losing something infinitely sweeter…
More links: BookShop.org // Harlequin // Books-A-Million
Powell's // Signed Copies through Third Place Books
Book Review
Dani moved to Seattle for her fiance, only to find him cheating on her with the realtor of the house they just bought together… the one that he did not include her on the paperwork for, despite their agreement. She quickly learns that Sam is not who she thought he was and is happy to cut her losses on him. When she finds that realtor getting comfortable in the house as she gathers her things, she wonders how she can make his life as miserable as he's made hers. The small vacant lot next to the house is the answer: she decides to build a vacation home with her cousin, Mia, and new landlord, Iris to spite him. Noisy construction, blocking his view of the water, and a potential revolving door of guests at the Airbnb… all to piss off Sam. She partners with the mysterious, grumpy architect, Wyatt, at her firm to get the project off the ground. The two start falling for each other as Dani struggles to keep the nature of the project secret from him.
This book was extremely addicting, especially toward the beginning. I was eager to keep reading and see how Wyatt would slowly open up to Dani. I thought they had some good chemistry, although not necessarily right off the bat – certainly no "love at first sight" here. Wyatt is grumpy and standoffish at work so it was nice to learn a bit more about why he was like that, and see him grow out of it when they were one on one. They did have a lot of communication issues, which would get occasionally frustrating, but the fact that they both were wounded from past relationships made a lot of sense here.
While I really enjoyed the main couple, the real starts of the book were Mia and Iris. They were so fun to read about and I loved the dynamics that quickly developed between all of them. The dogs were a big bonus too! If Mia wasn't already starting to date someone in this book, I would very quickly request a Mia/Matt book as a companion to this one!
The ending got slightly crazy for a bit, honestly, but I do think the very end result was super logical. I appreciated it a lot. Overall, I would definitely recommend this one if you like the grumpy hero trope and fun side characters!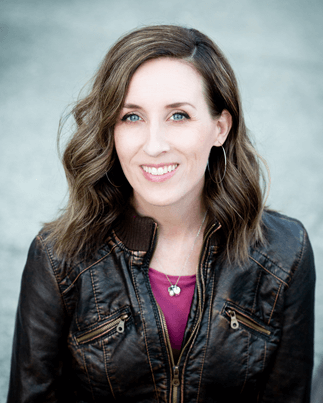 About the Author
Anna E. Collins is a Seattle-area author who writes stories about the lives and loves of women. Once upon a time she was a teacher, and she has a master's degree in educational psychology. LOVE AT FIRST SPITE is her first novel.
Links: Author Website // Twitter: @AEC_Writer // Facebook: @aecollinsbooks // Instagram: @aeccreates // Goodreads
Related Posts