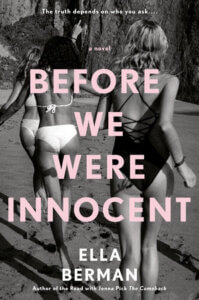 Before We Were Innocent
by
Ella Berman
Genres:
Adult
,
Literary Fiction
,
Mystery/Thriller
Published by
Berkley
on April 4, 2023
Format:
Audiobook
(384 pages) •
Source:
Libby
Goodreads
•
Amazon
•
Barnes & Noble
A summer in Greece for three best friends ends in the unthinkable when only two return home in this new novel from Ella Berman. . . .

Ten years ago, after a sun-soaked summer spent in Greece, best friends Bess and Joni were cleared of having any involvement in their friend Evangeline's death. But that didn't stop the media from ripping apart their teenage lives like vultures.

While the girls were never convicted, Joni, ever the opportunist, capitalized on her newfound infamy to become a motivational speaker. Bess, on the other hand, resolved to make her life as small and controlled as possible so she wouldn't risk losing everything all over again. And it almost worked. . . .

Except now Joni is tangled up in a crime eerily similar to that one fateful night in Greece. And when she asks Bess to come back to LA to support her, Bess has a decision to make.

Is it finally time to face up to what happened that night, exposing herself as the young woman she once was and maybe still is? And what happens if she doesn't like what she finds?
I'm always drawn to these stories of complicated best friend groups, especially when there's some overseas travel involved. I was thinking this might be like The Villa (and a few elements were definitely reminiscent of that) but I did like that book more. The premise is that Bess (our MC), Joni, and Evangeline head to Evangeline's family vacation home in Greece for the summer before they're due to go away to college. They're thinking it's a last hurrah before they all go to different schools. Evangeline ends up dying there and the two remaining girls are swept up in accusations that one or both of them killed her.
This was interesting but definitely some mixed feelings. I think a lot of it reads like a very classic "three teens go on vacation, only two come home, did one of them kill the other one?" story. I had a (very obvious) prediction but the book ended up being less predictable than that… but I'm not sure that made it any better? I got to the end and just said "okay…?" Kind of a bit pointless yet heavy-handed with some of the messaging.
One Goodreads review that I totally agree with said that it basically doesn't do enough. It's not enough of a mystery or enough of a "toxic best friends" story to really be that good. I could really picture the setting (Greece) during the chapters set in 2008, which made for kind of a fun summer read? There's also a plotline 10 years later in 2018 where Joni's fiance Willa actually goes missing and everyone is wondering if maybe she had something to do with it. This "mystery" wasn't really one either.
This made for a quick and generally addicting read – I had the audiobook and was always wishing I had a physical copy to just finish it off.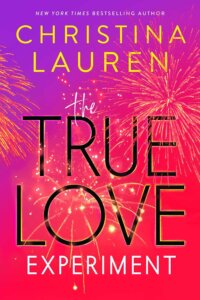 The True Love Experiment
by
Christina Lauren
Series:
The Soulmate Equation #2
Genres:
Adult
,
Contemporary
Published by
Gallery Books
on May 16, 2023
Also by this author:
The Unhoneymooners
,
Twice in a Blue Moon
,
The Honey-Don't List
,
In a Holidaze
,
The Soulmate Equation
,
Something Wilder
,
The Honeymoon Crashers
Format:
Audio/Physical
(416 pages) •
Source:
Purchased
,
Scribd
Goodreads
•
Amazon
•
Barnes & Noble

Sparks fly when a romance novelist and a documentary filmmaker join forces to craft the perfect Hollywood love story and take both of their careers to the next level—but only if they can keep the chemistry between them from taking the whole thing off script.

Felicity "Fizzy" Chen is lost. Sure, she's got an incredible career as a beloved romance novelist with a slew of bestsellers under her belt, but when she's asked to give a commencement address, it hits her: she hasn't been practicing what she's preached.

Fizzy hasn't ever really been in love. Lust? Definitely. But that swoon-worthy, can't-stop-thinking-about-him, all-encompassing feeling? Nope. Nothing. What happens when the optimism she's spent her career encouraging in readers starts to feel like a lie?

Connor Prince, documentary filmmaker and single father, loves his work in large part because it allows him to live near his daughter. But when his profit-minded boss orders him to create a reality TV show, putting his job on the line, Connor is out of his element. Desperate to find his romantic lead, a chance run-in with an exasperated Fizzy offers Connor the perfect solution. What if he could show the queen of romance herself falling head-over-heels for all the world to see? Fizzy gives him a hard pass—unless he agrees to her list of demands. When he says yes, and production on The True Love Experiment begins, Connor wonders if that perfect match will ever be in the cue cards for him, too.

The True Love Experiment is the book fans have been waiting for ever since Fizzy's debut in The Soulmate Equation. But when the lights come on and all eyes are on her, it turns out the happily ever after Fizzy had all but given up on might lie just behind the camera.
Y'all – this book was SO GOOD. Complete perfection in a contemporary romance book. This is so rare for me these days because usually I find a way to nitpick about the third act breakup or the miscommunication trope or something like that. This book had NONE of those issues. What a breath of fresh air in so many ways!
So this book is the companion sequel to THE SOULMATE EQUATION, which was similarly wonderful. Fizzy, Jess's best friend from that book, jumped off the page and readers demanded that she get her own story. And Christina Lauren DELIVERED. Fizzy is a popular romance author who, at the time of her book (3 years after book one?), has lost her romance mojo. Enter Connor: the reluctant reality show producer who thinks she'd be the perfect heroine for a new dating show. Once he sells her on the idea, the show is born: each of the 8 dudes match a romance trope (cinnamon roll, vampire, cowboy, etc.) and date Fizzy, getting eliminated each week by viewers. There's also the DNADuo element that River invented in the first book. Fizzy and Connor start to fall for each other despite the fact that she's trying to find love on HIS show… and the swoons/chemistry were off the charts.
As you can tell (and Christina Lauren said during the event I attended for this book), this is a love letter to romance readers and tropes. Fizzy is unapologetic in her love for romance and the types of books she writes, and reading about this reality show with the love interest archetypes like that was SO fun and a little bit meta.
I loved getting to see Jess, River, and Juno a lot during this book. Connor's daughter Stevie was a cute additional character as well (and I usually don't love kids in books!). I loved getting to hear about his backstory and divorce with his now-friendly-co-parent Natalia.
I won't spoil anything obviously, but the third act breakup was incredibly logical IMO and not at all based on miscommunication. These two honestly always talked about how they were feeling and the reasons for the ~breakup~ part of the book made a lot of sense given the story. I also don't want to spoil it but THE ENDING of this book was utterly wonderful and I was swooning and grinning and squealing like a pig for the final 20 pages. Absolutely adored it.
My one tiny miniscule "complaint" is that I wish we got a liittttle more time with the heroes on the show or the actual show itself. It was present, especially since it's the backdrop to the entire plot, but it would have been nice for the guys to be a little more memorable? I remember Christina and Lauren said during the tour stop that they wanted most of the dudes to be likeable but not too likeable because obviously we're shipping Connor/Fizzy here. I think they did nail that for the most part but I forgot about a lot of the guys right after they were eliminated from the show. Isaac and Evan left an impression and I would LOVE for them to get their own books 😉 Incredibly mild spoiler: there's a very specific romance trope introduced for Isaac at the end of the story that would honestly make for a great spinoff.
As you can tell, this was a very easy five-star romance for me and I'm so thrilled about it. I have always enjoyed Christina Lauren's newer books (unlike many other readers of their earlier works) but this one was a whole new level of excellent. I feel like I could go on and on about it but I'll just say that these two books specifically are excellent and I would HIGHLY recommend them… especially this one 😉
Related Posts