I was sent a finished copy of this book for review as a part of the Penguin Random House Partner program. This does not affect my opinion of the book or the content of my review. Click the photo below to view the original source on the Penguin Read a Dessen campaign website!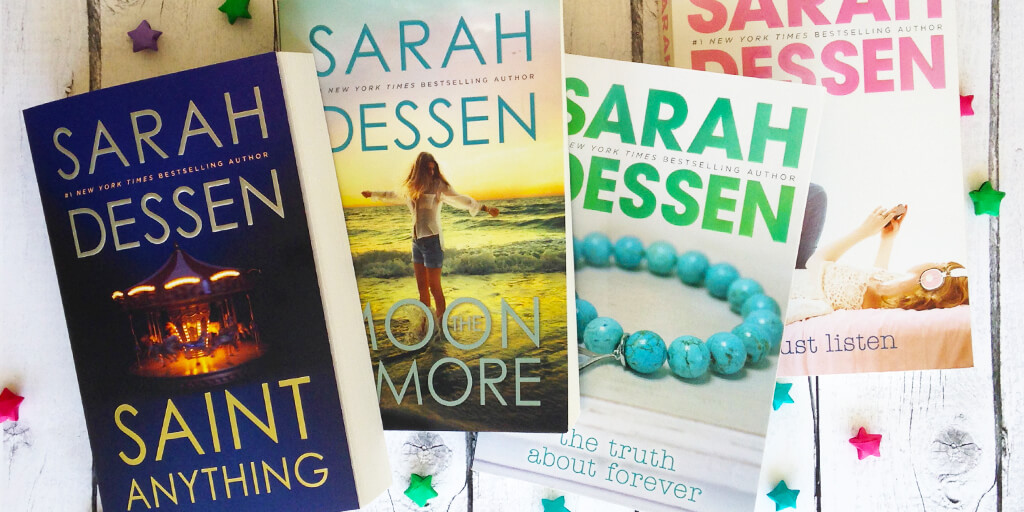 When Penguin invited some bloggers to join in with the #ReadaDessen campaign in honor of her new book ONCE AND FOR ALL (out June 6th), I hopped on board real quick. I'd been planning a Dessen-filled summer with Cristina already, but figured I'd give myself even more motivation to get rereading.
True story: everyone has a favorite Sarah Dessen book. And if you ask them about it, they'll be more than happy to gush about it for as long as possible. That's why this summer we're asking readers to spread the love by sharing their favorite Sarah Dessen novel with the world. Whether it's because your favorite Sarah Dessen book gave you a love for reading, got you through a tough time, or changed the way you see the world – we want to know. [Source]
Why Along for the Ride?
In 2009 when this book initially came out, I was turning 18 years old and moving away to college in mere months. I was with my dad and family in Maine for one of the two weeks we'd spend there each summer, when we went to this little bookstore in Wells. The shop owner asked me what kind of books I liked and I gave him my standard "I don't know, books about teenagers?" answer. He pulled out an ARC (yes, you read that right) of ALONG FOR THE RIDE and asked if I might be interested in the book. I obviously didn't know what an ARC was and he explained it (so weird to think about this knowing everything I know now!), then handed the book over for free. I was just excited because I loooooved Sarah Dessen already and didn't even realize she had a new book coming out. I can't believe my first ARC was a Dessen and I'm pretty sure I don't have the book anymore. ?
I started reading right away and finished within the day. When we go to Maine, we literally spend over 50% of our waking hours reading books on the porch or on the beach. It quickly became my new favorite Dessen. I loved Auden and her summer-before-college experience because I was dealing with the same thing. I loved Eli and how their relationship bloomed out of insomnia and bikes. I loved Colby (because who doesn't?) and wanted to spend my life in a place like that. I loved the friendships she developed and learned about how girls/boys are "expected" to act versus how people should have the freedom to act. Everything about this book just clicked with me. You can see why I was nervous about rereading. What if it didn't hold up, 8 years later?
About the Book
I received this book for free (hey, thanks!) in exchange for an honest review. I promise that this does NOT affect my opinion of the book or the content of my review. For real.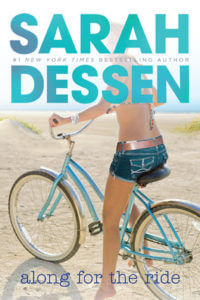 Along for the Ride
by
Sarah Dessen
on June 16th 2009
Also by this author:
That Summer
,
Saint Anything
,
Just Listen
,
What Happened to Goodbye
,
Keeping the Moon
,
Lock & Key
,
Someone Like You
,
Once and for All
,
The Rest of the Story
(383 pages) •
Goodreads
•
Amazon
•
Barnes & Noble

It's been so long since Auden slept at night. Ever since her parents' divorce—or since the fighting started. Now she has the chance to spend a carefree summer with her dad and his new family in the charming beach town where they live.

A job in a clothes boutique introduces Auden to the world of girls: their talk, their friendship, their crushes. She missed out on all that, too busy being the perfect daughter to her demanding mother. Then she meets Eli, an intriguing loner and a fellow insomniac who becomes her guide to the nocturnal world of the town. Together they embark on parallel quests: for Auden, to experience the carefree teenage life she's been denied; for Eli, to come to terms with the guilt he feels for the death of a friend.

In her signature pitch-perfect style, Sarah Dessen explores the hearts of two lonely people learning to connect.
I'm happy to report that this book was exactly as I remembered it. It was such a perfect rereading experience that I can see myself revisiting this story many more times throughout my life. Even though I initially read the story during the same period of life (the summer between high school and college) as the MC, I found myself still able to relate to Auden as a 25 year old.
5 Reasons to Love It
1. Auden's realistic and relatable character growth
She starts the book as a clone of her mother: fairly pretentious, judgmental, and addicted to school/studying. It would be understandable to be put-off by her initially, especially as she is quick to judge any girl she meets that falls into a "stereotype." However, it's also clear to see just how much her family life has influenced her thoughts. You can sense that she's just waiting to break out of their mold. Auden slowly realizes so much about herself throughout the summer. She sees all the things she missed from childhood (since she was basically a mini-adult at that point) and decides to remedy that. She also begins to notice that girls are complex and allowed to be more than one thing at a time. Instead of assuming girls who like pink and care about their clothes are vapid, she starts to see there is much more beyond the surface of everyone she meets. (More on that later!) I loved watching that character growth because it happened naturally over time and realistically.
2. Difficult parent-child relationships and divorce
As I said, her mom was pretentious and stuck-up. Her dad was exactly the same, plus selfish and annoying. Auden starts to break out of her shell and sees that her parents have some serious growing up to do too. I'm a child of divorce and know it can be hard to go between both parents and their expectations. I can't even imagine what it was like for Auden because of the specific personalities of her parents! (At least both of my parents are super cool and understanding…) I wanted to punch both her mom and her dad for just blatantly not understanding how to operate around kids or be there for their kids in other ways. It was tough to read at times, but there was some payoff and progress by the end.
3. Colby, NC!
The fictional setting of Colby is what Sarah Dessen is most known for. I always find myself gravitating towards these novels more than others, just because it's like coming home. I love reading about and picturing beach town settings in general, but the cute map of Colby in the front of the book is even better. I love learning about the different shops and the people who run them. When you read all of her books (sometimes more than once!) you feel like you know the locals at every single store or restaurant.
4. Summer romance fueled by insomnia
Oh, Eli. My heart. I think he's one of the most underrated book boyfriends ever. These two were brought together because of their insomnia. Auden was used to a nice little 24-hour diner near her house and struggled to find a good place like that in Colby. Eli opens her up to a lot of new experiences she never would have found otherwise. He had some dark elements to his past that kept him up at night, so she helped open him up to his friends again too. I just loved this romance so much.
5. Focus on friendships and complexities of people
I think the biggest thing I love about ALONG FOR THE RIDE (okay, except for everything) is how Auden learns about the complexities of people, especially women. Her mom has trained her to be a feminist (great!) but has given her a very narrow view of how women should and could act (not so feminist, mom). As I mentioned above, her mom led her to believe all women interested in clothes, makeup, the color pink, etc. are vapid and not complex. Auden learns precisely how wrong this is over time, specifically because of her friend that loves those things PLUS rides BMX PLUS was incredibly smart. Girls – and people in general – don't need to fit into one box. They can check off a bunch of them. She learned that this was true about many people in her life, including her brother, parents, and stepmom. This was a major part of Auden's growth over the summer.
Giveaway
Enter for a chance to win one (1) set of Sarah Dessen's books in paperback (ARV: $132.00). NO PURCHASE NECESSARY. Enter between 12:00 AM Eastern Time on April 17, 2017 and 12:00 AM on May 29, 2017. Open to residents of the fifty United States and the District of Columbia who are 13 and older. Winners will be selected at random on or about June 1, 2017. Odds of winning depend on number of eligible entries received. Void where prohibited or restricted by law.
Related Posts