I received this book for free (hey, thanks!) in exchange for an honest review. I promise that this does NOT affect my opinion of the book or the content of my review. For real.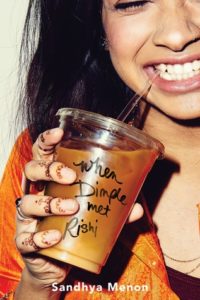 When Dimple Met Rishi
by
Sandhya Menon
on May 30th 2017
Also by this author:
From Twinkle, with Love
,
There's Something About Sweetie
,
Hungry Hearts: 13 Tales of Food & Love
,
Of Curses and Kisses
,
10 Things I Hate About Pinky
,
Of Princes and Promises
(320 pages) •
Goodreads
•
Amazon
•
Barnes & Noble

A laugh-out-loud, heartfelt YA romantic comedy, told in alternating perspectives, about two Indian-American teens whose parents have arranged for them to be married.

Dimple Shah has it all figured out. With graduation behind her, she's more than ready for a break from her family, from Mamma's inexplicable obsession with her finding the "Ideal Indian Husband." Ugh. Dimple knows they must respect her principles on some level, though. If they truly believed she needed a husband right now, they wouldn't have paid for her to attend a summer program for aspiring web developers…right?

Rishi Patel is a hopeless romantic. So when his parents tell him that his future wife will be attending the same summer program as him—wherein he'll have to woo her—he's totally on board. Because as silly as it sounds to most people in his life, Rishi wants to be arranged, believes in the power of tradition, stability, and being a part of something much bigger than himself.

The Shahs and Patels didn't mean to start turning the wheels on this "suggested arrangement" so early in their children's lives, but when they noticed them both gravitate toward the same summer program, they figured, Why not?

Dimple and Rishi may think they have each other figured out. But when opposites clash, love works hard to prove itself in the most unexpected ways.
Initial Excitement
I was excited for this book for so many reasons. I saw it a long time ago when it was added to Goodreads and discussed it with my friend Natasha, who is Indian and always reads books about white people. She was so excited to hear about the premise and added it to her non-book-blogger-TBR-in-her-head. When Nick offered it up for me to borrow, I jumped on it immediately.
Quick Summary
WHEN DIMPLE MET RISHI is set up to bring together classic rom-coms like When Harry Met Sally and some classic Bollywood movies and plot points. I've seen a good amount of these movies (Bollywood and US-based rom-coms) and have to say it was a great combination. Dimple's family is pressuring her to wear makeup, find a serious Indian boyfriend, etc. and she is not a fan of the idea. Rishi's family is doing the same thing, but his attitude is very different from hers. The two meet at a summer coding camp called Insomnia Con. Little does Dimple know, Rishi is there because their parents are all pushing for an arranged marriage. This sets off a funny chain of events where Rishi comes on too strong… and the relationship grows from there <3
Storytelling, Setting, and Feels
Plot: I adored the premise for this story. Dimple and Rishi head to a coding summer camp-type of thing and end up working together on the project. The setting and competition of who can develop the best app was a lot of fun to read about. I'm not huge on computer things or coding, but you absolutely don't need to be to enjoy this story. Rishi ended up with some different areas of expertise, so it was really nice to see him explore that avenue too. There were some classic friend blunders or sibling problems, but that added a few more levels to the story for me.
Diversity: I think there were SO many other elements to the story I can't even touch upon because I want to stay in my lane. However, from what I know about Indian culture through my best friend… this was very accurate to her experience and her family. I've enjoyed learning more throughout my years of knowing her and, right now, helping to plan her traditional(ish) wedding. She helped translate some sentences from the story and kept bugging me to send more over, so I know she is eager to get her hands on this one too. She could tell just from a few passages that she'd love it. I'm familiar with the "fitting in" feelings as well. My boyfriend is a first generation American since his parents immigrated here from Laos and Vietnam, respectively, and I think Menon nailed that experience. I don't have firsthand knowledge of it, but I hear so much from Chris and Natasha. It's wonderful. So, I think lots of people will be happy with this representation – even just from the cover art alone 😉
Romance: The romance started out with Dimple incredibly resistant to Rishi's advances (for a few reasons, but mostly because it's what her parents want her to do). I would probably classify this as a little bit of hate-to-love and there was definitely some banter. I loved watching their feelings develop over time, completely naturally. Sure, they may have only met because of an arranged marriage scenario, but the feelings were real. Also, I will note that this is totally a sex-positive YA book.
Message: I hate saying "moral" because I feel like it can sound too preachy. The thing is, this book is just about being yourself and making yourself happy. In the case of both Dimple and Rishi, they had to balance what they wanted with what their parents wanted. I don't have this issue because my parents never set up these expectations, but the cultural differences were really great to read about. I think anyone can relate overall. How do you figure out the correct path for you and take leaps of faith, but also make sure other people in your life are happy too? You have to be yourself but for many people, making their family happy is just as important. In any case, I loved watching Dimple and Rishi both struggle with this and try to find a balance.
Characters
Dimple and Rishi were pretty opposite, especially when it came to pleasing parents. Dimple and her mother butted heads all the time over things like makeup and relationships, while Rishi spent all of his time aiming to please his parents. Celia, Dimple's roommate at Insomnia Con, was intertwined in some interesting side-plots with shitty people and bad friends, so that added another interesting element to the story (especially as things started happening late in the book…). Rishi's brother makes an impact on the story too, which was really fun to read about.
End Feels and Tiny Negatives
I have to say, this book got five stars for a reason. There was some of the classic teenager/YA romance conflict toward the end of the book, but nothing I haven't seen before. In fact, the drama and angst was at a minimum compared to what I've read! I wish Dimple and Rishi handled a few things differently but everything ended up the way I wanted it to. There were too many fantastic things about this book to focus on anything bad!
TL;DR?
Please read this book. If you like romance and banter and diversity and sex positivity and ~finding yourself~ and adorable characters, add it to your TBR right now. I loved the many aspects of being a first generation American and learning even more about cultures that are different from how I grew up. The romance was absolutely swoon-worthy and Dimple/Rishi made it onto my OTP list. Great side characters, great overall plot/premise, great setting, etc. It's all so perfect.
Rating Breakdown
| | |
| --- | --- |
| Plot & Premise | |
| Characters | |
| Writing Style | |
| Pacing & Flow | |
| Feels or Swoons | |
| Addiction Level | |
| Overall: | 4.9 |
Infographic
Related Posts