I received this book for free (hey, thanks!) in exchange for an honest review. I promise that this does NOT affect my opinion of the book or the content of my review. For real.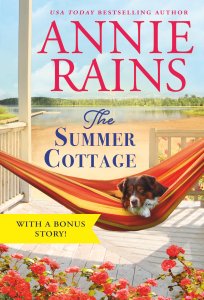 The Summer Cottage
by
Annie Rains
Series:
Somerset Lake #1
Genres:
Adult
,
Contemporary
Published by
Hachette
on May 25, 2021
Also by this author:
Christmas on Mistletoe Lane
,
Springtime at Hope Cottage
,
Snowfall on Cedar Trail
,
Starting Over at Blueberry Creek
,
Sunshine on Silver Lake
,
Season of Joy
,
Reunited on Dragonfly Lane
,
The Christmas Village
,
The True Love Bookshop
,
The Good Luck Cafe
Format:
eARC
(423 pages) •
Source:
Publisher
Goodreads
•
Amazon
•
Barnes & Noble

This summer, they'll learn that home is where the heart is.

Somerset Lake is the perfect place for Trisha Langly and her son to start over. As the new manager for the Somerset Cottages, Trisha is instantly charmed by the property's elderly residents and her firecracker of a new boss, Vi Fletcher. But Trisha is less enchanted by Vi's protective grandson Jake. No matter how tempting she finds the handsome lawyer, Trisha knows that if Jake discovers the truth about her past, she'll lose the new life she's worked so hard to build.

Jake Fletcher left Somerset Lake after a tragic loss, but he's returning for the summer to care for his beloved grandmother, hoping Vi will sell the run-down cottages and finally slow down. There's just one problem: Trisha, Vi's new employee. She's smart, beautiful, and kind, but Jake's job is to protect his grandmother's interests, and his gut is telling him Trisha's hiding something that could jeopardize Vi's future. However, as they spend summer days renovating the property and bonding over their love for the town, Jake realizes that Trisha is a risk worth taking--if only she can trust him with her secrets . . . and her heart.

Includes the bonus novella Kiss Me in Sweetwater Springs!
I adored the Sweetwater Springs series and it was definitely bittersweet to see it come to an end. However, the setup for the new Somerset Lake "spinoff" series was too perfect. I loved meeting the new MC for book one in Somerset Lake during REUNITED ON DRAGONFLY LANE.
Trisha, the ex-sister-in-law of Chase from REUNITED, decides to move her son to "nearby" Somerset Lake. She gets a job as a property manager that includes free rent of one of the cabins onsite. The cabins need a lot of work if they're going to be rentable again, so she is off to the races while trying to make a new home for her family. She is constantly running from the mistakes of her ex, Peter – you learn in previous books that he was a financial advisor arrested for taking money from his clients. This is something she doesn't stop thinking about and dwelling on as she goes through life, and it doesn't help that she and Petey are not going to tell anyone about it in their new town. 
Somerset Lake is a cute setting so far. Honestly, it doesn't quite compare to Sweetwater Springs, but I know there will be more glimpses into the town through new characters we meet in this first installment. I can see at least three ladies who will likely be MCs for future stories in this series and I'm HERE for it. One of them even owns a bookstore! I love that Trisha joins their book club, where they talk about most things other than books, and hope that will be a similar group to the Helping Hands in the Sweetwater Springs series. I know, I keep comparing the two series, but it's too easy to. Somerset Lake's "Main Street" hasn't been quite as developed yet but I expect to learn more about the bookstore, chocolate shop, and any other local business down there throughout the coming stories.
I can't get this far in the review without mentioning our hero, Jake. He's the grandson of the Somerset Cottages' owner and is sent here to convince his grandma to sell. However, sparks quickly fly between Jake and Trisha, and he starts to wonder if that's the best choice for everyone involved. He was a genuinely nice guy with a penchant for reading nonfiction how-to manuals about any random topic under the sun. I enjoyed their relationship development and was rooting for them the whole time.
As expected, this is a very sweet series so far, and I expect it will continue in the same fashion! I've come to expect easy-to-read, quick, cute, romances from Annie Rains (regardless of the book setting or series), and this one did not disappoint on that front. I'm super excited to see who the future main characters are within this companion series. I peeked at the synopsis for book two and am so excited to read a second-chance romance between the next two characters… with the bonus of a Christmas setting!
Related Posts