Book Buddies is a discussion-style review that takes place with one of my two buddies. (Learn more and see past reviews here) We both read the book and then have a private discussion about it. We post our discussion as a review on the last Wednesday of each month. You'll be able to see our similar/different opinions on the overall book, characters, writing style, etc. – just like a regular review. The first half our discussion will take place right here, and the second half will be on Cristina's blog! (Link at the bottom)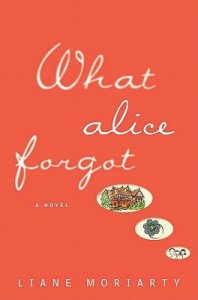 What Alice Forgot by Liane Moriarty
on June 2nd 2011
Also by this author: The Husband's Secret, Big Little Lies, Truly Madly Guilty, Nine Perfect Strangers
(423 pages) • Goodreads • Amazon • Barnes & Noble


Alice Love is twenty-nine years old, madly in love with her husband, and pregnant with their first child. So imagine her surprise when, after a fall, she comes to on the floor of a gym (a gym! she HATES the gym!) and discovers that she's actually thirty-nine, has three children, and is in the midst of an acrimonious divorce.

A knock on the head has misplaced ten years of her life, and Alice isn't sure she likes who she's become. It turns out, though, that forgetting might be the most memorable thing that has ever happened to Alice.
View Cristina's part of the discussion

here

.
If something similar happened to you, what do you think ten-years-younger-you would think about present-day-you?
Cristina: It's crazy to contemplate how different nearly everything in my life would be so drastically different, I think mostly due to how big of a jump there is between being in your teens and being in your twenties. I wouldn't know my boyfriend yet, would literally have a completely different friend set, and have very different overall goals and aspirations. However, I think 10 years younger me would be pretty happy with where I'm at. The teen years are pretty angsty, and I was definitely caught up in the small details of life back then. Yet 10 years later nearly everything in the big picture of my life is going very right in the grand scheme of things. I think younger me would be proud and impressed that I now have a great job, an awesome boyfriend, a college degree, and an apartment full of books I love (not to mention a book blog!) I think younger me would think newer me was preferable, to be honest. I'm more confident and satisfied with my life then I was 10 years ago.
Lauren: I agree – I think I said in your post how there would be an even bigger difference because we're even younger than she was. Going from your teens to your twenties is just one of the biggest life transitions in general. High school, college, and graduating into the real world are huge moments. My life is so different! I'm glad to hear that you would be really happy with your current situation. I think younger me would be slightly proud, but probably a little disappointed in my career. Back then, I was determined to be an English teacher and couldn't imagine doing anything else. My junior year of high school led me to change my mind; I ended up majoring in Marketing and going to a very business-oriented school. Other than the career disappointment, I think younger me would be happy too. I did know my current boyfriend when I was 14, but I would be incredibly surprised to see us dating and living together! He was just an acquaintance back then and I would be shocked to see us together now, for sure.
How would you have handled the children situation – waking up and having three kids when you last remember having zero? Did Alice handle it reasonably in your opinion?
Cristina: I think that Alice handled it pretty well all things considered. I mean it would be one thing to wake up and discover you had a child, but she found out she had THREE, and they were old enough to already have very solid opinions about her and complex relationships with her. I think it really gave her the opportunity to look objectively at how having children changes a marriage, since she wasn't blinded by the gradual years of changes she incurred as a mother. To be honest I don't remember too many specific scenes with her and her kids, but I do think that it was interesting that the reaction her oldest, Madison, would have when "Young Alice" would answer her with a laid back or fun approach to things. Madison would be suspicious and surprised, and I think it really helped Alice to reevaluate her relationships with her children, which is a really great thing that most people would never have the opportunity to do (and it seems that their relationship grew better over time after her amnesia). As for me, I think I'd be half completely terrified to wake up and realize I already had 3 children, and halfway thrilled, wanting to see if I saw myself reflected in them (and I think I'd pick up on those details more accurately, since I wouldn't have seen them grow into their habits and personalities since birth). I think my main concern would be how to ensure I was caring for them right, and how to hide my feelings of bewilderment without traumatizing them (such as when Alice's younger children asked her if she had forgotten who they were and she lied and said of course not, which It think was the kindest thing she could have done for them. Imagine if you were little and unable to really understand the medical situation behind things and all of the sudden your mom just forgot who you were! It would probably scar you for life even if she did get her memory back). So I honestly think Alice did a great job handling the news of her children under the circumstances.
Lauren: Yep – completely agree. Having school-aged kids is a totally different experience because she's able to have real emotional relationships with them at this point. If they were babies and toddlers, it would be a different story. They are still young and impressionable; they'd likely have very basic baby/toddler-like opinions! Her children were all old enough to have distinct personalities, likes, and dislikes. So crazy to think about! I think you're right – there were few scenes with the kids (at least without Nick involved too). Young Alice was so spunky and carefree; her personality when meeting and engaging with the kids was just completely different than the mother they knew. When Madison got in trouble at school, Alice suggested ice cream and talking about it on the beach. Madison was definitely not used to that kind of reaction or "punishment" from her mother. It's interesting that Alice woke up and had three children, when she just remembered being pregnant with one. At least she wanted to have kids in general… If I woke up and had three kids suddenly, I would wonder how the hell that happened and why. I'm not sure if I want kids so I can't imagine having THREE within the next 10 years. Yikes. I totally couldn't imagine it happening to my mom either. That would be really scary and I think she handled it as best as a person could in that situation.
What did you think of the ending? Was it what you hoped? Did it feel realistic? Do you think it would have ever happened without her losing her memory?
Cristina: This question is hard to answer without spoilers! If it hadn't been for the epilogue, I think I would have been really disapppointed with the ending. Liane Moriarty seems to write fantastic epilogues that give you a glimpse into the future you crave. I'm glad she ended up back together with Nick, but I'm really happy it seemed to have happened further along down the road rather than right away (it makes the "happy ending" feel more realistic). It gave me hope that "New Alice" was her own version of her older self, rather than one warped by her friendship with Gina. At the same time though, I do feel like things may have been wrapped up too nearly, especially for Elizabeth, who I honestly found to be an extremely annoying character throughout the book. It's like you said, the fact that she finally has a child really lends to the message that it was the only way she could find happiness in life. While she adopted children after her biological child was born, it felt tacked-on, like adoption was only a valid option after she had had her own child. So overall, pretty mixed feelings about where the author chose to leave the characters in the end.
Lauren: Epilogues, so far, have been one of my favorite elements of Moriarty's works! They can be a complete game-changer, in a great way. I think you're right about Nick. At first I was like oh my god, it better not end with her and Dominick together (I never thought they had good chemistry or that she even really liked him that much)… I'm very happy that she worked it out with Nick after some time apart. I hope that the Newest Alice (post-memory loss) is able to integrate all of the parts of her personality and have a great life with her family. As for Elisabeth, I completely agree! She was pretty annoying. I feel sort of bad saying that, because she was going through a really hard time, but still. She definitely bothered me. I thought it was somewhat weird that they still adopted some children afterwards. I have no issue with having kids later in life (and I know she didn't have much of a choice), but it did seem tacked on. I'm happy with Alice's and Frannie's endings, but wanted something different for Elisabeth. I'm not sure WHAT I would have wanted for her, but just not the way it ended.
Did you enjoy the letters by Frannie and Elisabeth? Did it help or hinder your reading experience?
Cristina: I really didn't love how the narrative was split between 3 POVs. I feel like it worked in The Husband's Secret because the "secret" at the heart of the novel connected so many characters. With this book though, I wanted to stay in Alice's head as she was very much the focus of the novel. I found myself not really caring about Frannie and Elizabeth's stories and I felt they weren't really necessary to the overall story the author was trying to tell.
Lauren: While I definitely agree multiple points of view in The Husband's Secret really impacted the story too, I think it helped with What Alice Forgot as well. I liked spending the vast majority of the time in Alice's head, so I'm glad it wasn't equally split between the letters and Alice. I liked that Elisabeth and Frannie's letters gave me some insight about Alice before she learned it about herself. It was interesting to see their reactions to how she was acting, as well as learn more about how Old Alice became New Alice. I definitely think the book would have been super effective without them, so I don't exactly think they were necessary… but they helped my enjoyment enough to not be bothered by them!
I read that the film rights have been bought for the book and Jennifer Aniston is rumored to be in talks to play Alice. What do you think? Can you think of other actors/actresses for the movie?
Cristina: I knew it was being made into a movie, but I didn't know about Jennifer Aniston as a possible casting for Alice. I wish they would consider more Australian actresses, because I love how Moriarty's work really reflects the mainstream Australian culture (which at times can have so much and also so little in common with American culture). I really associate her books with being Australian. Maybe someone like Cate Blanchett or even Portia de Rossi (both are Australian and blonde and sort of remind me of the picture of Alice I have in my head).
Lauren: Good point about Australian actresses! I didn't even think about that. I hope they don't Americanize it in the movie version, because I think the setting is wonderful as it is. Those are great actress ideas; I'm just going to hop on your idea because I am admittedly terrible about dream casting for books.
Related Posts