Southern Summer(ish)time Series
ARC August was perfect for catching up on some books I'd been putting off for basically no reason. I recently was approved for both of these on Netgalley. While they're for different target audiences – one is YA and one is Adult – they're both set in the south and bring some major warm weather vibes. They're also both second in their each of their series, respectively, and I generally enjoyed their predecessors (although not 100% loved).

I received this book for free (hey, thanks!) in exchange for an honest review. I promise that this does NOT affect my opinion of the book or the content of my review. For real.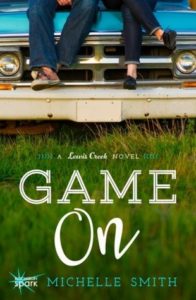 Game On
by
Michelle Smith
Series:
Lewis Creek #2
Genres:
Young Adult
,
Contemporary
Published by
Bloomsbury
on August 16th 2016
Also by this author:
Play On
Format:
eARC
(328 pages) •
Source:
Publisher
Goodreads
•
Amazon
•
Barnes & Noble
As king of baseball in the small town of Lewis Creek, Eric Perry can have any girl he wants and win every game he plays. But when a fight lands him in jail, he's only got one more strike before his baseball career is over for good. His only chance for redemption? The girl next door, Bri Johnson.

Bri hasn't talked to Eric in months— for starters, she's been too busy dealing with her jerk of an ex-boyfriend, not to mention the fact that Eric's been preoccupied trying to drink every keg in the country dry. But when he needs a way to stay on the team, she proposes a plan: if he helps her out with community service, he can stay on the team. At first it's a nightmare—Eric and Bri stopped being friends years ago, surely that was for a good reason, right? But as volunteering turns to bonding over old memories of first kisses under the stars, they start to have trouble remembering what pushed them apart.

In a town as small as Lewis Creek, nothing stays secret for long and their friendship and romance might mean bad news. But in this final, tumultuous spring before graduation, Eric and Bri are about to realize that nobody's perfect alone, but they might just be perfect together.

I hate to say it, but I have mixed feelings on this one as well. I found my attention wavering a lot in the beginning of the book and I don't think I paid enough attention to what was going on for some reason. I liked Bri and Eric well enough, but don't feel like I really got to KNOW Bri as much as Eric. I feel like there were significantly more chapters from his point of view and I missed out on Bri's perspective at times. I was missing some friendship feels I would have liked, but the family parts were fleshed out pretty nicely on both sides.
My favorite trope involves childhood-best-friends-getting-together, PLUS there was a slow-burn romance involved here. It sounded like such a win-win on the romance side for me. I liked when they reminisced on their childhood together, but this was a bit too slow-burn for me. I guess they were both protecting their hearts but I wanted to just do this so badly: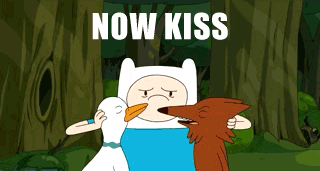 Super slow-burn aside, some of the romance was too cheesy for me. I don't know. They were constantly thinking about how gorgeous the other person was and how much they wanted them. It made everything feel really repetitive because it was the same feelings and thoughts over and over again!
Also, maybe worth mentioning? I know this book is set in the south and they often involve religion. Eric is the pastor's son so I expected a little more than the first. Not bad, but there are more religious references and talking about God/Jesus than I personally read. Absolutely nothing preachy or bothersome, but I guess I wanted to throw it out there because I noticed it more in this book than the previous!
Overall, definitely sad I didn't love this one. I think it was a cute story and I really hope there are more companions in this series. Michelle Smith is a really fun author! My rating seems generous based on my review but the feels throughout this one were too good to ignore.


I received this book for free (hey, thanks!) in exchange for an honest review. I promise that this does NOT affect my opinion of the book or the content of my review. For real.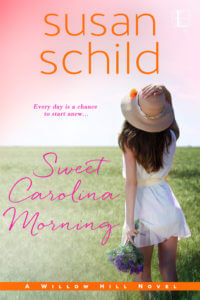 Sweet Carolina Morning
by
Susan Schild
Series:
Willow Hill #2
Genres:
Adult
,
Contemporary
Published by
Kensington
on August 2nd 2016
Also by this author:
Linny's Sweet Dream List
,
Sweet Southern Hearts
Format:
eARC
(288 pages) •
Source:
Publisher
Goodreads
•
Amazon
•
Barnes & Noble


Life down South just got a whole lot sweeter in Susan Schild's new novel about a woman whose happily-ever-after is about to begin…whether she's ready for it or not.


Finally, just shy of forty years old, Linny Taylor is living the life of her dreams in her charming hometown of Willow Hill, North Carolina. The past few years have been anything but a fairy tale: Left broke by her con man late-husband, Linny has struggled to rebuild her life from scratch. Then she met Jack Avery, the town's much-adored veterinarian. And she's marrying him. Everything should be coming up roses for Linny. So why does she have such a serious case of pre-wedding jitters? It could be because Jack's prosperous family doesn't approve of her rough-and-tumble background. Or that his ex-wife is suddenly back on the scene. Or that Linny has yet to win over his son's heart. All these obstacles—not to mention what she should wear when she walks down the aisle—are taking the joy out of planning her wedding. Linny better find a way to trust love again, or she might risk losing the one man she wants to be with—forever…

I definitely was mixed on LINNY'S SWEET DREAM LIST and my feelings for SWEET CAROLINA MORNING are unfortunately worse. There some things I really love about these books and quite a few things that annoyed me throughout. It's odd that I can give a book this low of a rating and still sort of recommend it? I don't read a lot of light adult contemporary romance and this just fits the bill when the mood strikes for me.
Pros
Setting: I love the North Carolina, small sleepy town vibes. It makes me want to move to an even smaller town somewhere other than Connecticut.
Overall feelings: I really do enjoy these characters and their stories overall. I don't know how to explain it, especially when I contradict myself in the con section below. I just don't mind reading these even when things frustrate me. Yes, I'll read the next book in the series.
Cons
Boring: Really not much happens in this book. I don't mind the "slice of life" books sometimes because it's cool to see someone go through their daily life, but then have some good character development or lessons learned. Not really the case here. That kind of brings me to my next point…
Repetitive: There are so many events and conversations that just happen repeatedly. Linny has the same thoughts, issues, lunches, meetings, and conversations with everyone in her life ALL the time. Even small phrases were repeated so many times it was weird. I've never heard the sentence "the silence spun out" but this was used probably at least 5-7 times.
Relationships: I was incredibly frustrated with some of the relationships in this one. I know Linny and Jack would have some kind of rough patch to work through, since it's the second book and they were happy in the first, but the problems really bugged me. Jack did nothing to stop his ex-wife from being terrible to them and just never seemed to understand Linny's perspective. On the other hand, Linny was terrible about sticking up for herself in certain situations.
I liked this one less than the first but can't lower the rating for some reason. I still want to read what's next for Linny and her new family. There's something that just makes me smile about this series.
Related Posts