I received this book for free (hey, thanks!) in exchange for an honest review. I promise that this does NOT affect my opinion of the book or the content of my review. For real.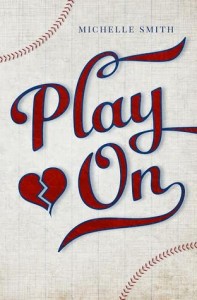 Play On
Series:
Lewis Creek #1
on April 14th 2015
Format:
eARC
(296 pages) •
Goodreads
•
Amazon
•
Barnes & Noble
In the small town of Lewis Creek, baseball is everything. Especially for all-star pitcher Austin Braxton, who has a one-way ticket out of town with his scholarship to a top university. All that stands between him and a new start is one final season. But when Austin starts flunking Chemistry, his picture-perfect future is in jeopardy. A failing grade means zero playing time, and zero playing time means no scholarship.

Enter Marisa Marlowe, the new girl in town who gets a job at his momma's flower shop. Not only is Marisa some home-schooled super-genius; she's also a baseball fanatic and more than willing to help Austin study. As the two grow closer, there's something about Marisa that makes Austin want more than just baseball and out of Lewis Creek -- he wants a future with her. But Marisa has a past that still haunts her, one that she ran all the way to South Carolina to escape.

As Austin starts to peel back the layers of Marisa's pain, it forces him to look beyond the façade of himself and everyone he thought he knew in his town. What he sees instead is that in a small town like Lewis Creek, maybe baseball isn't everything—maybe it is just the thing that ties them all together.

I really liked this one for the most part! It definitely was different than I expected in a lot of ways too. I think the best way to break it down is in a what worked/what didn't kind of format. My rating is rounded down just because I did roll my eyes at the cheese more often than it made me swoon, as well as the first reason listed in the negatives section below. Overall I would recommend this book (especially if you're a baseball fan!) because it was a cute, quick story.
What I Liked
The main character was a nice perspective to hear the story from. I liked reading a male POV in a contemporary, because it doesn't happen too much. It was nice to see the more emotional side of himself and having him admit to having feelings for Marissa. There's a lot more about the voice that I need to go into (on the negative side, unfortunately) but OVERALL I did like Austin as a main character.
The book was deeper than I expected. It had cute elements that I expect from contemporary YA, but it also had some darker themes that I didn't see coming. The issues with Austin's dad and Marissa definitely took up a lot of the book and I liked having something different and difficult to read about, while still getting an adorable story. There was a good balance between lighter and darker themes.
I'm really starting to enjoy books set in the south! I don't know why I ever used to stray away from them. Life is so different down there compared to being up here in the north, so it's nice to see the small town atmosphere and people who actually say y'all. It was funny when he mentioned Marissa's "northern accent" because most people up here don't think they have accents. Aside from New York and Boston, most people around New England at least don't feel like they have any kind of accent. Pretty funny.
I absolutely loved the plotline about Jay and Brett. It was awesome to see the genuine support and happiness from Austin. I don't want to spoil so much, but I almost liked their story more than Austin and Marissa!
What I Didn't Like
Any book that uses phrases like "be a man," "shut up and grow a pair," and "I'm whipped" is automatically going down a star for me, especially if the character doesn't show any development away from that kind of thing by the end. Gender expectations like this are at the top of my list of pet peeves. I saw some of this coming with the male POV because people are so conditioned to say things like that, but it didn't bug me any less. He was so defensive about loving his mom that it frustrated me. You don't have to be ashamed for wanting to spend time with her! Phrases like the ones above, or stereotypes that perpetuate "what it means to be a man" are extremely problematic. I could't look past this and it was probably the biggest issue in the book. I get that it's realistic because guys do tend to talk that way, but it would have been nice for him to really learn that it's not okay. This is a personal preference kind of thing; maybe it won't bother most people.
It was really cheesy. There were so many lines that I rolled my eyes for and didn't swoon about. I could feel the chemistry between the two of them but they had a lot of dorky lines to each other and there was a LOT of meaning ingested into every conversation they had.
I wish there was a bit more about Marissa. Her character was developed enough for me to like her, but there was still a bit of mystery surrounding her. Her issues were fully clarified, but it would have been nice to get to know her without all of that. Why does she like baseball so much? What's her life like? More info about her parents? I just needed a little more about her.









Related Posts