I received this book for free (hey, thanks!) in exchange for an honest review. I promise that this does NOT affect my opinion of the book or the content of my review. For real.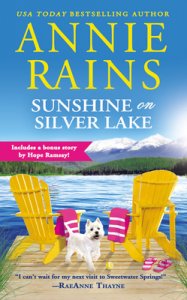 Sunshine on Silver Lake
by
Annie Rains
Series:
Sweetwater Springs #5
Genres:
Adult
,
Contemporary
Published by
Hachette
on July 21, 2020
Also by this author:
Christmas on Mistletoe Lane
,
Springtime at Hope Cottage
,
Snowfall on Cedar Trail
,
Starting Over at Blueberry Creek
,
Season of Joy
,
Reunited on Dragonfly Lane
,
The Summer Cottage
,
The Christmas Village
,
The True Love Bookshop
,
The Good Luck Cafe
Format:
eARC
(432 pages) •
Source:
Publisher
Goodreads
•
Amazon
•
Barnes & Noble

Welcome back to Sweetwater Springs, North Carolina for a heartwarming second-chance romance between a quirky café owner and a handsome park ranger.

With summer just around the corner, Emma St. James is eagerly planning a 5K run at Sweetwater Springs National Park. But first she needs the help of one charming, rugged, and handsome park ranger. Her brief high school romance with Jack Hershey may have ended in heartbreak, but Emma can't deny that he still gives her butterflies. So when Jack responds to her request with an all-too-tempting plea to pretend to be his girlfriend for the summer, how can she say no?

Jack would do anything for his sister -- even pretend to give up his bachelor life to care for his nephew. Passing his days with his high school sweetheart guarantees one long, hot summer -- but only because every moment together leaves him wanting a real relationship. He can't imagine spending another season without Emma by his side. Can he convince her to give their love a second chance before the summer draws to a close?
I'm always so thrilled to come home to Sweetwater Springs! This series has catapulted its way into my favorites list and continues to cement that spot with each new book. This is one of the best ones too, IMO!
I loved that this was both fake dating AND (kinda) second chance romance AND childhood-friends-to-more. All of my tropes rolled into one in a way that made sense! Emma and Jack were close friends (almost more) in their younger years, until Jack blew her off for her senior prom. They did reconcile and remained friends throughout their adult lives living in Sweetwater Springs, but neither one of them would take the plunge into something more. When Jack suddenly has his nephew in his care for the summer, it's easy for him to pretend (for his sister's sake) that Emma is his girlfriend. Naturally, things progress into more. Emma is currently struggling with turning 30 and the bad feelings it provides about her mother's untimely passing and battle with cancer. I REALLY enjoyed both of these characters and thought their friends-to-more relationship developed incredibly naturally.
As always, there wasn't any minor drama to split the couple up and I was never frustrated by miscommunication. Rains generally does a great job of giving the characters actual problems that need to be worked through to cause the "breakup" moment in the book. This one was short-lived too.
Sweetwater Springs continues to be a fun, cute setting, and I love that we keep getting introduced to new female characters that MAY turn into future leading women in a companion story. Gimme books for Nina, Sophie, and Diana! Rains always sprinkles in hints of what may come in the future and I'm excited about all of the prospects.
---
I received this book for free (hey, thanks!) in exchange for an honest review. I promise that this does NOT affect my opinion of the book or the content of my review. For real.
10 Things I Hate About Pinky
by
Sandhya Menon
Genres:
Young Adult
,
Contemporary
Published by
Simon and Schuster
on July 21, 2020
Also by this author:
When Dimple Met Rishi
,
From Twinkle, with Love
,
There's Something About Sweetie
,
Hungry Hearts: 13 Tales of Food & Love
,
Of Curses and Kisses
,
Of Princes and Promises
Format:
eARC
(368 pages) •
Source:
Author
Goodreads
•
Amazon
•
Barnes & Noble

The follow-up to When Dimple Met Rishi and There's Something about Sweetie follows Pinky and Samir as they pretend to date—with disastrous and hilarious results.

Pinky Kumar wears the social justice warrior badge with pride. From raccoon hospitals to persecuted rock stars, no cause is too esoteric for her to champion. But a teeny-tiny part of her also really enjoys making her conservative, buttoned-up corporate lawyer parents cringe.

Samir Jha might have a few . . . quirks remaining from the time he had to take care of his sick mother, like the endless lists he makes in his planner and the way he schedules every minute of every day, but those are good things. They make life predictable and steady.

Pinky loves lazy summers at her parents' Cape Cod lake house, but after listening to them harangue her about the poor decisions (aka boyfriends) she's made, she hatches a plan. Get her sorta-friend-sorta-enemy, Samir—who is a total Harvard-bound Mama's boy—to pose as her perfect boyfriend for the summer. As they bicker their way through lighthouses and butterfly habitats, sparks fly, and they both realize this will be a summer they'll never forget.
I'm a member of Sandhya Menon's street team and received this for free from the author, but it doesn't affect my views of the book! 
I've been so excited to read this story – fake dating and hate-to-love are definitely some of my favorite tropes. Pinky and Samir have been slowly building that chemistry since the beginning of the Dimple/Rishi universe. Samir's been growing up a lot and I think that context makes for a much better read here!
Pinky's a stubborn activist and Samir is a momma's boy. On paper, they make no sense. When Samir's summer internship in DC is abruptly cancelled when he arrives for his first day, he's contacted by Pinky for a favor. She needs a fake boyfriend for the summer to prove a point to her mom, who she's always fighting with, and Samir will be the perfect fit for her mother's buttoned-up ways. Naturally, as with all fake dating, real sparks fly throughout the summer.
There were a few side plots that didn't impact the story much, like Dolly's relationship with Cash, and I wish they were developed more for the sake of something new. The story was somewhat repetitive with Pinky and Samir so it would have been nice to see more Dolly or have that piece impact them more? Also, (sorry for the very middle spoiler coming) Samir's situation with his mom was resolved in some ways but he lied to her about the whole summer and that wasn't even addressed lol.
Overall, there were so many great elements to this story, like the chemistry between Pinky and Samir and the Cape setting, but I wish a few more things were fleshed out and there was a bit more meat to the plot.
Related Posts