I am a member of Sandhya's Street Team because I support her and love her books. However, this book was provided by the author in exchange for an honest review.
I received this book for free (hey, thanks!) in exchange for an honest review. I promise that this does NOT affect my opinion of the book or the content of my review. For real.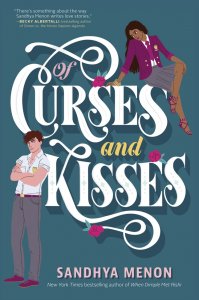 Of Curses and Kisses
by
Sandhya Menon
Series:
St. Rosetta's Academy #1
Genres:
Contemporary
,
Fairytale Retelling
,
Young Adult
Published by
Simon and Schuster
on February 18, 2020
Also by this author:
When Dimple Met Rishi
,
From Twinkle, with Love
,
There's Something About Sweetie
,
Hungry Hearts: 13 Tales of Food & Love
,
10 Things I Hate About Pinky
,
Of Princes and Promises
Format:
eARC
(384 pages) •
Source:
Author
Goodreads
•
Amazon
•
Barnes & Noble
From the New York Times bestselling author of When Dimple Met Rishi comes the first novel in a brand-new series set at an elite international boarding school, that's a contemporary spin on Beauty and the Beast.

Will the princess save the beast?

For Princess Jaya Rao, nothing is more important than family. When the loathsome Emerson clan steps up their centuries-old feud to target Jaya's little sister, nothing will keep Jaya from exacting her revenge. Then Jaya finds out she'll be attending the same elite boarding school as Grey Emerson, and it feels like the opportunity of a lifetime. She knows what she must do: Make Grey fall in love with her and break his heart. But much to Jaya's annoyance, Grey's brooding demeanor and lupine blue eyes have drawn her in. There's simply no way she and her sworn enemy could find their fairy-tale ending…right?

His Lordship Grey Emerson is a misanthrope. Thanks to an ancient curse by a Rao matriarch, Grey knows he's doomed once he turns eighteen. Sequestered away in the mountains at St. Rosetta's International Academy, he's lived an isolated existence—until Jaya Rao bursts into his life, but he can't shake the feeling that she's hiding something. Something that might just have to do with the rose-shaped ruby pendant around her neck…

As the stars conspire to keep them apart, Jaya and Grey grapple with questions of love, loyalty, and whether it's possible to write your own happy ending.
When I first saw the announcement for this book and series, I was straight-up over the moon. It immediately became one of my top most anticipated reads. When I was accepted to join Sandhya's street team and was given an egalley of this book, I was even MORE excited. I dove into it pretty quickly. Unfortunately I didn't FINISH it just as quickly, but I'll get into that later. As you can see from this post, I was so effing excited:
Like… excuse my French but are you fucking kidding me? I need this series more than I need the air I breathe. Everything about this is perfect and has me written all over it. The author, the boarding school setting, the fairytale retellings, the possible fake dating/hate-to-love trope… Good lord. I've been turning a corner on Royal-related books lately and this one will 100% be perfect for me. I just know it.
I was in a bit of a slump in September 2019 when I started reading this (woof) and unfortunately that hindered my interest in it. I put it aside for maybe a week or two after starting because I had a few other required reads to sneak in between. When I picked it back up in October, I wasn't quite as excited to keep reading.
The premise of this story is that there's a boarding school called St. Rosetta's Academy that modern Royals can attend. Each book in this series will be a contemporary version of a fairytale retelling. This one is of Beauty and the Beast, where Jaya (the lead female) is an Indian princess who has to break the curse for the British aristocrat Grey (the lead male). It's a hate-to-love romance that involves some con work on Jaya's part.
I think the biggest issues – probably aside from my own expectations, if I'm being honest – is the pacing and initial character work. From a pacing perspective, really not much happens in the first 30% of the book. There's a decent amount of background information about the school and their families, but I still wasn't invested or that interested. The book continued along decently but the actual romance part was too short-lived for me to care about, and I wasn't genuinely excited to read more at any point. The second half did pick up overall though.
I didn't like Jaya because she was a super prim Royal that honestly just felt like a wet blanket at all times. She was so proper and it just didn't work for me. Grey was brooding and definitely Beast-like, if we're going to talk about the retelling aspects, but he ALSO didn't interest me that much off the bat. I had a good feeling that Jaya and Grey would both let their defenses down a little bit as the story progressed, so I was intrigued enough to continue and see the walls break down between them. After all, the hate-to-love romance tends to be a slow-burn too. If you're into classic Royal stories and grumpy lead males, this book will be SUPER up your alley… but it's just not necessarily up mine. I recently turned a corner on Royal romances after having some success or general interest in them, but this book reminded me of the reasons I previously DIDN'T want to read them.
Now that I've whined a lot, I'll share some good things. I loved the ending and the opening up of both characters (just wish it happened sooner!). The St. Rosetta's School was excellent and more books set there are going to be wonderful to read about. I loved that this had hints of the holidays, but really just covered the ground with snow and made me happy when I read it in October, too excited for that season. The final 10% of the book really was wonderful; I loved learning more about the "true sides" to some of the characters, both main and side.
Overall, I have to admit I'm extremely sad about this one. I know 3.5 stars isn't the worst rating in the world, but my expectations were so damn high. I really thought this would be perfect for me. I'll be honest though: I have COMPLETE faith that the other books in this series will work for me. New characters, new type of fairytale retelling, and the same fun boarding school setting? I'm down. This book was totally a case of "it's not you, it's me." (Although yes, I do think the pacing was an issue in general and not just me.)
Related Posts