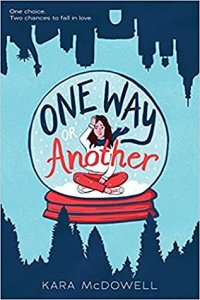 One Way or Another by Kara McDowell
Genres: Young Adult, Contemporary, Holiday
Published by Scholastic on October 6, 2020
Also by this author: Just For Clicks
Format: Audiobook (320 pages) • Source: Scribd
Goodreads • Amazon • Barnes & Noble

The average person makes 35,000 decisions every single day. That's about 34,999 too many for Paige Collins, who lives in debilitating fear of making the wrong choice. The simple act of picking an art elective is enough to send her into a spiral of what-ifs. What if she's destined to be a famous ceramicist but wastes her talent in drama club? What if there's a carbon monoxide leak in the ceramics studio and everyone drops dead? (Grim, but possible!)

That's why when Paige is presented with two last-minute options for Christmas vacation, she's paralyzed by indecision. Should she go with her best friend (and longtime crush) Fitz to his family's romantic mountain cabin? Or should she accompany her mom to New York, a city Paige has spent her whole life dreaming about?

Just when it seems like Paige will crack from the pressure of choosing, fate steps in -- in the form of a slippery grocery store floor -- and Paige's life splits into two very different parallel paths. One path leads to New York where Paige falls for the city . . . and the charms of her unexpected tour guide. The other leads to the mountains where Paige might finally get her chance with Fitz . . . until her anxiety threatens to ruin everything.

However, before Paige gets her happy ending in either destiny, she'll have to face the truth about her struggle with anxiety -- and learn that you don't have to be "perfect" to deserve true love.
Story
I'm a sucker for a parallel life/universe kind of story. Should she go to NYC or her crush's cabin for the Christmas holiday? I love seeing both timelines and how they end – will she end up in the same place? The main character, Paige, struggles with anxiety and decision-making; when she hits her head on the grocery store floor, the story and her life split into two universes so we can see how it plays out. I enjoyed the best-friends-to-more situation that was possibly brewing too – Paige had had a crush on her best guy friend for years and is trying to figure out how to move on and get over it.
I liked reading both stories/settings. I think the wintery cabin with Fitz and his family was more interesting because they were actually spending time together. The NYC timeline was cool for her to travel and spend time with her mom's friend's son, Harrison, but she spent a ton of time still thinking about Fitz.
Wintery Setting & Holiday Feels
NYC during the holidays is always a dream setting. I've been near Christmas and it was a chaotic time that I don't want to relive ever again. I'm not a city girl. I can definitely see the magic in it and love reading Christmas books set there! It's the closest I'll get haha. The Christmas feels were medium because those elements weren't the point of the story. It was just the time of year where the book took place, if that makes sense. The snowed-in Christmas cabin feels in one of the fates was honestly a bit better than the NYC Christmas feels.
Overall
I enjoyed reading both for the most part, but it was hard to be in her head. She second guessed everything and self-sabotaged a ton but I know it was her anxiety. Just hard to read in what I thought would be a lil fluffy holiday story.


---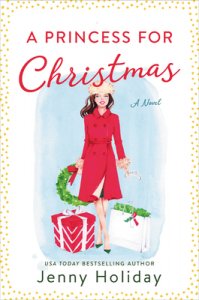 A Princess for Christmas
by
Jenny Holiday
Series:
A Princess for Christmas #1
Genres:
Adult
,
Contemporary
,
Holiday
Published by
Harper Collins
on October 13, 2020
Also by this author:
Mermaid Inn
,
Paradise Cove
,
Sandcastle Beach
,
Duke, Actually
Format:
Audio/eBook
(400 pages) •
Source:
Purchased
,
Scribd
Goodreads
•
Amazon
•
Barnes & Noble

"A perfect combination of sweet and sexy moments makes A Princess for Christmas an unputdownable read!"--Mia Sosa, USA Today bestselling author

From USA Today bestselling author Jenny Holiday comes a modern fairy tale just in time for Christmas about a tough New Yorker from the other side of the tracks who falls for a princess from the other side of the world.

Leo Ricci's already handling all he can, between taking care of his little sister Gabby, driving a cab, and being the super of his apartment building in the Bronx. But when Gabby spots a "princess" in a gown outside of the UN trying to hail a cab, she begs her brother to stop and help. Before he knows it, he's got a real-life damsel in distress in the backseat of his car.

Princess Marie of Eldovia shouldn't be hailing a cab, or even be out and about. But after her mother's death, her father has plunged into a devastating depression and the fate of her small Alpine country has fallen on Marie's shoulders. She's taken aback by the gruff but devastatingly handsome driver who shows her more kindness than she's seen in a long time.

When Marie asks Leo to be her driver for the rest of her trip, he agrees, thinking he'll squire a rich miss around for a while and make more money than he has in months. He doesn't expect to like and start longing for the unpredictable Marie. And when he and Gabby end up in Eldovia for Christmas, he discovers the princess who is all wrong for him is also the woman who is his perfect match.
Story
I've adored the two Jenny Holiday books I've read before so when I saw this one, I knew I'd be in love too. Sexy version of a Hallmark movie with a Christmassy princess/normal guy romance? YES. I used to not be into royal books but that's changed over the last year or so.
Marie, Princess of Eldovia, comes to the US before the holidays to visit the UN and meet with important clients. When she finds herself without a ride, Leo (a cab driver from the Bronx) and his little sister take Marie around for the duration of her trip. When everyone hits it off, they travel to Eldovia for Christmas.
Leo and Maria end up in a hookup arrangement, for lack of a better phrase, while visiting – so yes, the sexy version of a Hallmark movie is a perfect description. It was funny because Leo also kept referring to it as a "made-up Hallmark movie country" and that's very accurate haha. Obviously the two of them catch some feelings and have to navigate what to do next – she needs to marry someone in a certain position and Leo is a working class guy from the Bronx.
Wintery Setting & Holiday Feels
Like I said in the book review above, Christmas and winter in NYC is a wonderful setting to read about. THEN they head to a dreamy foreign country for Christmas?! Yes please again. The fictitious country they went to was snowy and very heavily cocoa/chocolate-themed. Both of them had sad feelings overall about the holiday season so it was a little more serious occasionally.
Overall
This was a highly enjoyable holiday romance. I think the two characters with their opposite personalities made for a really fun romance, and the Eldovia setting was so cute and magical. This could very easily be tamed into an actual Hallmark movie in the future 😉


---

Related Posts