I received this book for free (hey, thanks!) in exchange for an honest review. I promise that this does NOT affect my opinion of the book or the content of my review. For real.
The Christmas Village
by
Annie Rains
Series:
Somerset Lake #2
Genres:
Adult
,
Contemporary
,
Holiday
Published by
Hachette
on October 12, 2021
Also by this author:
Christmas on Mistletoe Lane
,
Springtime at Hope Cottage
,
Snowfall on Cedar Trail
,
Starting Over at Blueberry Creek
,
Sunshine on Silver Lake
,
Season of Joy
,
Reunited on Dragonfly Lane
,
The Summer Cottage
,
The True Love Bookshop
,
The Good Luck Cafe
Format:
eARC
(416 pages) •
Source:
Publisher
Goodreads
•
Amazon
•
Barnes & Noble

USA Today bestselling author Annie Rains returns to Somerset Lake, North Carolina, with a heartwarming Christmas story about a midwife and her ex-fiance who face high stakes when they must team up to compete in the neighborhood house decorating contest, in this trade paperback that will help get readers in the holiday spirit.

Once upon a Christmas, she gave him her heart. This year, he'll have to win it back again . . .


When Lucy Hannigan returned to her childhood home in Somerset Lake, one of the first things she did was join the local book club. And thank goodness, because now that Lucy's first Christmas without her mother is bearing down upon her, she can use all the help and support she can get. Especially when she has to take in a tenant and the only person interested is Miles Bruno, her ex-fiance.

Lucy's friends keep teasing her about the way Miles is trying to make up for his mistakes but forgiving and forgetting isn't coming easily to Lucy. With bills piling up and her mother's finances in disarray, however, Lucy isn't in any position to say no.

As the small town prepares for the holidays and competition heats up in the Merriest Lawn decorating contest, Lucy can't help feeling like a Scrooge. Her mom loved the holidays and won the contest each year, but as much as Lucy would like to carry on the tradition, she isn't sure she has it in her to deck the halls this holiday.

Yet when Miles shows up with tons of tinsel, dozens of decorations, and lots and lots of lights, Lucy begins to wonder if maybe the spirit of the season will finally mend her broken heart.
Story
I love Annie Rains' books – that's no secret around here. I've read them all so far under the Forever Romance umbrella, and can't wait to dive into the novella that occurs right after this book! I can always count on her to deliver an enjoyable Christmas story each year and THE CHRISTMAS VILLAGE was no exception. This is the second book in the Somerset Lake companion series, a setting we've only seen so far during summertime.
Lucy and Miles were high school sweethearts who were once engaged before Miles unceremoniously called it off. Neither of them truly moved on from it though. Now they're back under "one roof" (more like "one yard" as Miles is renting Lucy's garage apartment temporarily) and sparks are flying again. I do love a second chance romance and this couple was totally worth rooting for! I don't love reading books about cops but the "Christmas Crankster" mystery that Miles worked on throughout the book was entertaining and he's really a great guy.
Wintery Setting & Holiday Feels
Somerset Lake's residents love Christmas and that was clear in this book! They spoke about the holiday season in its debut novel so I was really looking forward to seeing how they celebrated. There were a lot of decor references and holiday events that made me feel Christmassy, especially decorating Lucy's big pink house for the neighborhood competition.
Overall
This series continues to impress! I was sad that Sweetwater Springs was no longer the setting for Rains' books but Somerset Lake is proving to be just as cute and homey. I love that the lake setting is great for summertime and the small "Main Street" vibes are perfect for winter as well. I think this is one of Annie's best books so far. I can't wait to keep reading about this friend group (book one started with Trisha, who moved to town from Sweetwater Springs, and this book was about Lucy) so Tess and Moira can get their happily-ever-afters. I have a sneaking suspicion I already know who they'll be paired off with and I can't wait.


---


I received this book for free (hey, thanks!) in exchange for an honest review. I promise that this does NOT affect my opinion of the book or the content of my review. For real.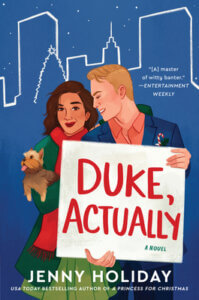 Duke, Actually
by
Jenny Holiday
Series:
A Princess for Christmas #2
Genres:
Adult
,
Contemporary
,
Holiday
Published by
Harper Collins
on November 16, 2021
Also by this author:
Mermaid Inn
,
Paradise Cove
,
A Princess for Christmas
,
Sandcastle Beach
Format:
Audio/eARC
(384 pages) •
Source:
Publisher, Scribd
Goodreads
•
Amazon
•
Barnes & Noble

USA Today bestselling author Jenny Holiday follows A Princess for Christmas with another delightful contemporary Christmas romance between a playboy baron and a woman who has said goodbye to love.

Maximillian von Hansburg, Baron of Laudon and heir to the Duke of Aquilla, is trapped. Under pressure from his domineering father, he must marry a suitable bride before he inherits a title that feels like a prison sentence. In New York to meet a prospective wife, he ditches his responsibilities and appears on Dani Martinez's doorstep. He's been intrigued by the no-nonsense professor since he met her at the Eldovian royal wedding and is determined to befriend her.

Newly single Dani is done with love—she even has a list entitled "Things I Will Never Again Do for a Man"—which is why she hits it off with notorious rake Max. He's trying to escape relationships, and she's resolved to avoid them at all costs. All they want from each other is friendship and a distraction from their messy lives.

As their bond begins to deepen, so does their attraction, until they end up in bed together. Falling in love was never part of the plan—Max's family doesn't see Dani as a perfect match, even as his heart tells him she's the one, and Dani isn't sure she can make it in Max's world. Can they find the courage to live they life they desire, even if it means risking everything?
Story
I really have loved every single Jenny Holiday book I've read, so I expected this one to be no exception! The previous book in this companion series, A PRINCESS FOR CHRISTMAS, was adorable. This story follows Maria's "ex-fiance" Max and Leo's best friend from NYC, Dani. They're the best man and maid of honor in Maria and Leo's Christmas wedding the following year (when the story starts) and the rest of the plot is over the course of a year. It begins one Christmas when Max spends time with Dani in New York – the two develop a mostly-virtual friendship until the following November when they had to Eldovia for the wedding.
The two of them had a lot of chemistry. The main trope was that they were just ~best friends~ after a while and of course they didn't have feelings for each other! *sarcasm* They each let their guards down and confided in each other like they never had with anyone else. I really enjoyed the slow development of their relationship and enjoyed that it took place over a year. Dani was dealing with a divorce and Max was dealing with his familial expectations and horrible parents.
Wintery Setting & Holiday Feels
As I mentioned, the story starts during the holiday season in NYC, which is one of the best cities for Christmas (to read about). It blazes through the months after, through the summer, and picks up in earnest in November when they had to Eldovia for the wedding. This led to TWO sections of the book with holiday feels. Eldovia is a gorgeous snowy country and they also went to Austria after the wedding. Lots of good holiday settings in theory. I didn't find it to be overly holiday-ish though. It's one I would have preferred to read in the day or so after Christmas, when I'm still in the holiday spirit but don't need a ton of direct Christmas references.
Overall
I'm pleased to report that this was another solid Jenny Holiday book. I could read a ton of books in this universe and hope there will be more, especially if they're Christmassy. I really liked Max and Dani and was happy to read about them. It was a really nice story. I have no idea what prevents me from rating this a tiny bit higher but maybe it just didn't fulllllly click for me? It could be the slight lack of Christmas feels too but that's probably my own expectations.


---

Related Posts