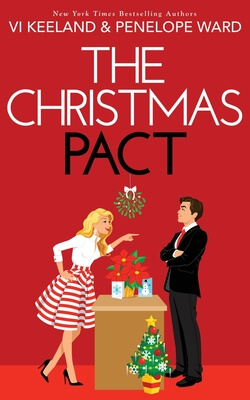 The Christmas Pact by Vi Keeland, Penelope Ward
Genres: Adult, Contemporary, Holiday
Published by Amazon on November 1st, 2020
Format: Audiobook (148 pages) • Source: Audible
Goodreads • Amazon • Barnes & Noble


Heat up the holidays with this sizzling new novella from New York Times best-selling authors Vi Keeland and Penelope Ward!

Riley Kennedy's emails keep getting crossed with her colleague, Kennedy Riley.

The infuriating man forwards them along with his annoying commentary and unsolicited advice. At least she never has to see him in person since they work in different locations…until they come face to face at the office holiday party. As luck would have it, Kennedy turns out to be gorgeous…though still a jerk. Yet somehow he's able to charm her out on the dance floor—and convince her to participate in his crazy scheme: He'll go home with Riley for a Christmas party and pretend to be her boyfriend if Riley agrees to be his date to a wedding.

It sounds easy enough. But little by little, the act they're putting on starts to feel like so much more than a Christmas pact—and Riley's about to learn there's more to Kennedy than she ever imagined.
Story
I decided to listen to this on a whim when I ran out of podcasts on December 22nd – I had a lot of Christmas errands to run and knew the 2 hour runtime would be something quick and easy to bolster my holiday reading AND Goodreads challenge. I ended up enjoying it quite a bit!
Riley Kennedy and Kennedy Riley work at the same publishing house and constantly receive each other's emails. When they finally meet at the company Christmas party, they end up making a Christmas pact: Kennedy will go to Riley's Christmas Eve to show her mom she DOES have something exciting in her life, and in exchange, Riley will go to Kennedy's brother's wedding after New Years.
I thought the chemistry was actually well-done (very THE HATING GAME!) in a novella. I usually struggle with plot development due to the length and find there to be too much instalove, but this felt just right for me. I loved the characters and their families: they slotted into each other's lives nicely.
Wintery Setting & Holiday Feels
Yes, there's a smattering of Christmas and a mention of New Years but in a novella, not a ton of time to develop holiday feels. It has a company holiday party, Christmas Eve and morning (briefly) celebrated… and that's about it. The setting is upstate NY so there's some snow too!
Overall
The ending was a bit silly but I enjoyed it – it kind of made sense! There were a lot of things happening in this (tons of character backstory) and interesting elements (the Dear Ida thing). I feel like this worked as a novella but I could totally see this as an expanded, longer story, with more flirting and maybe a hookup in between Christmas and New Years. All in all, a good book.


---


I received this book for free (hey, thanks!) in exchange for an honest review. I promise that this does NOT affect my opinion of the book or the content of my review. For real.
The Twelve Dogs of Christmas
by
Lizzie Shane
Series:
Pine Hollow #1
Genres:
Adult
,
Contemporary
,
Holiday
Published by
Hachette
on September 29, 2020
Format:
eARC
(357 pages) •
Source:
Publisher
Goodreads
•
Amazon
•
Barnes & Noble

A delightful holiday romance about a small-town single dad and an animal rescue owner as they try to find forever homes for a dozen lovable pups before Christmas.

Pine Hollow has everything Ally Gilmore could wish for in a holiday break: gently falling snow in a charming small town and time with her family. Then she learns some Grinch has pulled the funding for her family's rescue shelter, and now she has only four weeks to find new homes for a dozen dogs! But when she confronts her Scroogey councilman nemesis, Ally finds he's far more reasonable — and handsome — than she ever expected.

As the guardian of his dog-obsessed ten-year-old niece, Ben West doesn't have time to build a cuddly reputation. But he does feel guilty about the shelter closing. So he proposes a truce with Ally, agreeing to help her adopt out the pups. As the two spend more time together, the town's gossip is spreading faster than Santa's sleigh on Christmas Eve. And soon Ben is hoping he can convince Ally that Pine Hollow is her home for the holidays... and the whole year through.
Story
I've had this egalley waiting on my Kindle since last year's holiday season when I didn't get to it. I always overcommit on my holiday reading! I'm always, always down for a new companion series set in a cute small town and this series starter is no exception! It takes place in Pine Hollow, Vermont, which is super cute and full of nosy neighbors that really care for each other. More on the Christmassy setting later though!
Ally comes to her grandparents house in Pine Hollow to escape her lackluster life in NYC and learns their animal shelter is losing funding, thanks to Ben and the rest of the town council. Ben, a generally grumpy guy, is caring for his niece Astrid after her parents passed away, so he has a lot on his plate (including renovating their house and taking one of their spots on the town council). He's always stressed and Scrooge-like, but feels bad about the lack of animal shelter funding. The two of them decide to feature "the Twelve Dogs of Christmas" so they can get everyone adopted before the new year.
They had some good chemistry but I have to admit, the back-and-forth was SO frustrating to read about. They each had their own hang-ups about starting a relationship and assumed so many incorrect things about the other person without asking. The whole book was basically one big miscommunication after another, with the same repetitive internal dialogue happening in both of their heads for over 300 pages. The ending made up for some of my frustration, as it was super cute and made me a little teary-eyed at times!
Wintery Setting & Holiday Feels
Any Christmas book set in snowy Vermont is a win for me! I loved learning about the many holiday events the town has (a parade, pageant, fair, etc.). Because of all these events, there was a good amount of holiday cheer leading up to Christmas in the story. It was really nice to see how everyone came together for the holiday season and made a big deal of the season.
Overall
I ended up really loving the final chapter of the book and that gave me a little bit of rose colored glasses on the whole book. I think the best part of companion series is that you have the opportunity to learn about someone new in the next story while still enjoying the adorable small town setting. Needless to say, I'm actually super excited to read book number two and hope to get to it as soon as I can!


---

Related Posts