I received this book for free (hey, thanks!) in exchange for an honest review. I promise that this does NOT affect my opinion of the book or the content of my review. For real.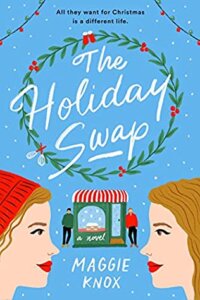 The Holiday Swap
by
Maggie Knox
Genres:
Adult
,
Contemporary
,
Holiday
Published by
Penguin Random House
on October 5, 2021
Format:
eARC
(352 pages) •
Source:
Publisher
Goodreads
•
Amazon
•
Barnes & Noble

The International Bestseller--A feel-good, holiday rom com about identical twins who swap lives twelve days before Christmas--perfect for fans of Christina Lauren's In a Holidaze and Josie Silver's One Day in December

All they want for Christmas is a different life.

When chef Charlie Goodwin gets hit on the head on the L.A. set of her reality baking show, she loses a lot more than consciousness; she also loses her ability to taste and smell--both critical to her success as show judge. Meanwhile, Charlie's identical twin, Cass, is frantically trying to hold her own life together back in their quaint mountain hometown while running the family's bustling bakery and dealing with her ex, who won't get the memo that they're over.

With only days until Christmas, a desperate Charlie asks Cass to do something they haven't done since they were kids: switch places. Looking for her own escape from reality, Cass agrees. But temporarily trading lives proves more complicated than they imagined, especially when rugged firefighter Jake Greenman and gorgeous physician assistant Miguel Rodriguez are thrown into the mix. Will the twins' identity swap be a recipe for disaster, or does it have all the right ingredients for getting their lives back on track?
Story
I love a good swap story! Identical twins Charlie and Cass switch lives for a week during an incredibly busy time in their lives. Charlie manages the family's bakery in their adorable hometown, where she's under the gun to finish their famous holiday bread by Christmas Eve while her parents are on vacation. Cass lives in LA, a few hours away, and is a famous celebrity baker. She's filming a limited-run holiday-themed baking show with a shitty coworker and needs everything to go well so she can "win" her own TV show. When Cass gets a concussion and loses her sense of smell and taste, she and Charlie switch places – Cass doesn't need those to bake her well-known family recipes and Charlie is a great baker that can step in for the show.
Naturally, the two ladies fall for some cute guys where they are, under the guise of their sisters. These kinds of stories usually come with a ton of drama and predictable results in the end, but honestly this one was tame! There were a lot of side plots for both of the MCs and annoying characters, but I think everything got a decent amount of page time to feel necessary.
Wintery Setting & Holiday Feels
I enjoyed the holiday feels throughout this one. They had a lot of tasty-sounding holiday-themed baked goods. I will admit that Cass's chapters in their cute, snowy hometown had more holiday feels for me than the scenes in LA (with good reason). I always prefer stories in small towns, especially when they're full of holiday goodness. I'm giving this the highest holiday cheer rating (below) because of the very end of the book tipping it over the edge.
Overall
This was a cute book! This is the kind of story that doesn't need to be set around the holidays necessarily, but was made SO much better by the Christmas vibes. I loved that both sisters were baking cozy holiday treats. I really adored the end of the book, which is why it's so highly rate for me. I highly recommend this one if you like a ~holiday swap~ with very little drama.


---


I received this book for free (hey, thanks!) in exchange for an honest review. I promise that this does NOT affect my opinion of the book or the content of my review. For real.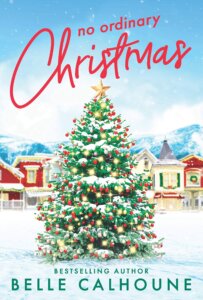 No Ordinary Christmas
by
Belle Calhoune
Series:
,
Maine #1
Genres:
Adult
,
Contemporary
,
Holiday
Published by
Hachette
on September 28, 2021
Format:
eARC
(318 pages) •
Source:
Publisher
Goodreads
•
Amazon
•
Barnes & Noble
The quaint New England town of Mistletoe is thrilled to welcome back one of their own, Dante West. Now a famous Hollywood action star, Dante is filming a movie in town to help the local economy, as well as make amends with the people he hurt when he abruptly left Mistletoe all those years ago.

Librarian Lucy Marshall isn't thrilled to see Dante. He was once her best friend and first love until he left her behind without a word of goodbye. When Dante makes her an offer she can't refuse -- use of the library as a filming venue in exchange for a lucrative donation, Lucy finds herself spending a lot of time in Dante's company. With the magic of Christmas in the air, Dante and Lucy begin to forge a new bond. But can two people leading such different lives find lasting love the second time around?
Story
It took me a really long time to get into this book and finish it, which surprised me. I love that it's a diverse holiday story set in small-town Maine. The premise is excellent: Dante left Mistletoe, Maine for Hollywood years ago and is now a successful action star. He's coming home to Mistletoe to film a romance-based movie and needs all the local help he can get. This includes his ex-girlfriend, Lucy, the town librarian. She's still upset he left for Hollywood without her, as she was supposed to go with him, and the two of them attempt to coexist in town. There are other family dynamics for both main characters that get explored too.
I have a lot of issues with this one though. I didn't love the writing style and found it kind of repetitive. I also thought the characters jumped to conclusions A LOT. I understand they're both feeling each other out as they come back together, trying to rebuild trust… but they very quickly wrote each other off after one incident or assumption. The black moment was brought on by one of the most classic miscommunications in books, with one character immediately jumping to conclusions after seeing a split second of something. I thought there was a more mature or logical option for this but obviously I'm not the author. Just wasn't a fan of it.
Wintery Setting & Holiday Feels
It didn't feel super Christmassy in the beginning because of all the drama, honestly. They went to a tree farm early in the book but otherwise it was mostly arguing and random family dynamics. There were some Christmassy pieces later on but it didn't feel like that was a main point in the story.
Overall
I didn't love this one, clearly, but I'm very hopeful for the rest of the companion series. I love small town Maine obviously so the setting hits the mark for me. The diversity is great too because its very uncommon in books based in Maine. I was hoping the next book would be about her sister and I was right! Fingers crossed I like that one more – definitely going to give it a shot!


---

Related Posts