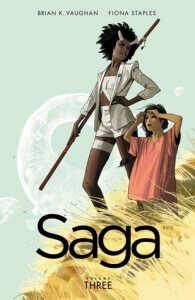 Saga, Volume 3
by
Brian K. Vaughan
,
Fiona Staples
Series:
Saga: Collected Editions #3
Genres:
Comic/Graphic Novel
Published by
Image Comics
on March 25th 2014
Also by this author:
Saga, Volume 1
,
Saga, Volume 2
Format:
Paperback
(144 pages) •
Source:
Purchased
Goodreads
•
Amazon
•
Barnes & Noble

From the Hugo Award-winning duo of Brian K. Vaughan (The Private Eye, Y: The Last Man) and Fiona Staples (North 40, Red Sonja), Saga is the sweeping tale of one young family fighting to find their place in the universe. Searching for their literary hero, new parents Marko and Alana travel to a cosmic lighthouse on the planet Quietus, while the couple's multiple pursuers finally close in on their targets.

Collects issues 13-18.

It had been a little while since I finished the second volume in this series, so I was admittedly a little lost when it got started. Luckily, the narrator does a pretty good job of rehashing what previously happened without being super repetitive.
I was quickly back in the crazy world of Saga, and this is definitely one of my favorites so far. The action really picked up after the halfway point and I even loved before the action when they were just hanging around the house. It ended with a few crazy events and, as usual, I'm eager to see what happens next!
It's extremely difficult to review these without giving major spoilers for the previous books, so I won't try to give you more info! 😉 If you aren't reading this series yet and you have an interest in graphic novels, get going!
---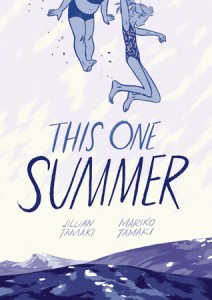 This One Summer
by
Mariko Tamaki
,
Jillian Tamaki
Genres:
Comic/Graphic Novel
Published by
Macmillan
on May 6th 2014
Format:
Paperback
(320 pages) •
Source:
Library
Goodreads
•
Amazon
•
Barnes & Noble

AN UNFORGETTABLE SUMMER.

Rose and her parents have been going to Awago Beach since she was a little girl. It's her summer getaway, her refuge. Her friend Windy is always there, too, like the little sister she never had, completing her summer family.

But this summer is different.

Rose's mom and dad won't stop fighting, and Rose and Windy have gotten tangled up in a tragedy-in-the-making in the small town of Awago Beach. It's a summer of secrets and heartache, and it's a good thing Rose and Windy have each other.

In This One Summer, cousins Mariko Tamaki and Jillian Tamaki, the team behind the award-winning Skim, redefine the teen graphic novel. Gorgeous, heartbreaking, and ultimately hopeful, This One Summer is a vibrant view into girlhood and growing up.

I wish I had a dollar for every time I went to the bookstore and thumbed through this book. It was on my wishlist forever and I always resisted the urge to buy it. I wish I hadn't waited so long, but I ended up getting it from the library. I finished it in a couple of hours – reading almost 100 pages one night before bed, and then reading the following 250 pages the next morning in the bathtub (soaking my muscles after skiing, lol). I couldn't stop.
There were some super realistic plot points that I loved. The book follows around two "summer best friends" as they both stay in their beach cottages with their families over the summer. They start frequenting the town's general store, renting movies each night. They observe the teenage boy working there and the rest of the teens in the town as drama unfolds.
The two girls are between 14 and 15 years old, so you can imagine the kinds of conversations they had. Some were mundane, everyday topics like boobs and boys; some were more complicated family issues. (Rose's parents had a lot going on this summer.) I just liked how this book showed various snapshots of their lives.
Rose did irritate me when she picked up the word "slut" from some of the boys in town. Luckily, Windy's perspective/response to Rose was perfect. I wish there was a real lesson learned here, but we don't see that in the book. I've talked about slut-shaming extensively in the past and have related it to one of my favorite books, so I can't complain too much. I don't expect every young girl to learn within the course of one book that the word "slut" is terrible and rude and not a good idea to use. The ending, though, did leave me with hope that she would be learning soon. Each summer, for these girls, is an opportunity to learn and grow. I loved that message.
I also wanted to share my brief Goodreads review because I think it's pretty spot-on to my general thoughts on the book: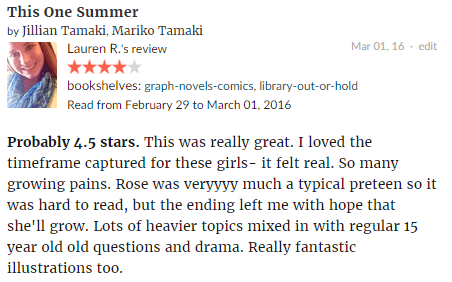 Related Posts