I received this book for free (hey, thanks!) in exchange for an honest review. I promise that this does NOT affect my opinion of the book or the content of my review. For real.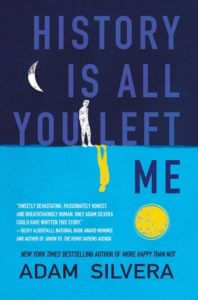 History Is All You Left Me
by
Adam Silvera
on January 17th 2017
Also by this author:
They Both Die at the End
,
What If It's Us
(320 pages) •
Goodreads
•
Amazon
•
Barnes & Noble

When Griffin's first love and ex-boyfriend, Theo, dies in a drowning accident, his universe implodes. Even though Theo had moved to California for college and started seeing Jackson, Griffin never doubted Theo would come back to him when the time was right. But now, the future he's been imagining for himself has gone far off course.

To make things worse, the only person who truly understands his heartache is Jackson. But no matter how much they open up to each other, Griffin's downward spiral continues. He's losing himself in his obsessive compulsions and destructive choices, and the secrets he's been keeping are tearing him apart.

If Griffin is ever to rebuild his future, he must first confront his history, every last heartbreaking piece in the puzzle of his life.

I'm not totally sure where to begin with this review, but let me just say – Adam Silvera is now on my list. (That sounds bad, but I obviously mean must-read-all-this-author's-books list.) HISTORY IS ALL YOU LEFT ME is the first book I've read by him, but I'll definitely be going back and reading his debut sometime soon. Do yourself a favor and do the same, if you haven't read him yet. I'm already predicting I'm going to love that one too.
The synopsis honestly wasn't super appealing to me, compared to the books I usually read, but I decided to try it out for some reason. I'm obviously glad I did. Griffin has OCD (something I was kind of nervous to read about) and recovering from the sudden death of his ex-boyfriend/best friend (something I also don't do as well with). I like reading books where characters are moving on from grief, but those books generally take place months later when the person has had to some time to cope. This book completely exceeded my expectations.
Literally within the first paragraph, I loved his writing style. I don't know why but there's just something about it that clicked with me instantly. The rest of the book was very much the same – such an engaging style that's easy and enjoyable to read. Griffin was an interesting character. His OCD was actually quite interesting to read about and wasn't overwhelming *there* to make it feel like a book exclusively about a boy with OCD. The book was mostly about getting over Theo, coming to terms with his death, and (of course) Jackson's new presence in his life. I liked their friendship quite a bit, even when I thought they might be getting a little to co-dependent.
The book was super emotional and raw. I loved being inside Griffin's head as he tried to come to terms with everything and move on, even though he didn't really want to. The chapters switched between "history" and "today" to show Theo and Griff's relationship on one end, and the aftermath on the other. I loved getting to know the before and after of their story because it really made it easy to understand why Griffin was so torn up about losing him. Oftentimes grief books don't show enough of the deceased person to really understand their relationship or FEEL why they're upset about the loss. I just loved the glimpse into that part of everything and the chapter switches were incredibly well-done and not jarring at all.
A lot of times contemporary books don't necessarily have "twists" like mysteries or thrillers. There are some occasions where I manage to be surprised, but I am often able to predict what's going to happen. (Clearly I don't mind because contemps are my favorite and I'll always read them – predictable or not!) However, there were actually a few moments towards the end of this one that made my jaw drop a little bit. AND I LOVED IT. The twists were so perfect and well-done and realistic and *happy sigh.*  I'm so happy with the "endgame" of the story and it will likely surprise you.
Overall, one of my favorites that I read in 2016 for sure. (So weird to think that I'm writing this in JUNE 2016 right now. Hello 2017 Bookmark Lit!)

| | |
| --- | --- |
| Plot & Premise | |
| Characters | |
| Writing Style | |
| Pacing & Flow | |
| Feels or Swoons | |
| Addiction Level | |
| Overall: | 4.8 |

Related Posts