Alright friends – I'm going to go in a different direction today to introduce this book review, because it requires a backstory. I'm not sure if any of you are familiar with the cult classic movie called The Room, but if you are – please be my best friend immediately. I use the above line on my About page on the blog, because it's too perfect.             All images/GIFs in this post courtesy of Buzzfeed.
What the hell is The Room?
Good question. When I first started dating Chris, him and our friend, Chelsea, would always go back and forth quoting these terrible lines from a movie. They finally showed it to me and explained how bizarre the creator (and director, and producer, and actor, and writer) of the movie was. Tommy Wiseau is an enigma that refuses to talk about where he's from (because of his interesting accent), how he got his money (he funded the multimillion dollar trainwreck of a movie by himself), and really anything about his history. He's a creepy man of mystery. He wears more than one belt a time. He says things like "move on next question" WAY more than a person should, especially when the point of the thing is to be a Q&A. If you're curious to read more evidence to show just how weird this dude is, read his Reddit AMA.
Anyways, this movie is considered "the Citizen Kane of bad movies." The acting, writing, cinematography — everything — is so beyond terrible. It's actually hilarious. It's essentially about a woman who starts cheating on her fiance with his best friend… but there are SO many random subplots that get brought up for a conversation and then dropped completely. It also has the most bizarre soundtrack with songs that repeat the words "you are my rose" over and over again. It's unreal that Tommy Wiseau exists as a human being and that this movie also is a thing. I'm so glad it is though. If you'd like to see a compilation of some of the weirdest moments/lines from the movie, check it out. 
So, people get together and watch this movie when it plays during midnight showings at indie theaters. We've heard of all the things that people do during the showing:
Throw plastic spoons at the screen whenever one of the framed stock images of a spoon appears onscreen, because those are logical decorations of course
Yell out some of the more famous lines of the movie as they happen
Throw a football back and forth between multiple people in the audience, because there are countless random/unnecessary football-tossing scenes throughout the movie
Cheer for cars as they drive across the Golden Gate Bridge in random scenery shots
So, naturally, we went to a midnight showing
This has been Chris's life goal since he first saw the movie back in high school. NOT TO MENTION, Tommy would be there in person, in the audience, answering questions from us. INSANE. So, we bought our tickets and made plans to go with our friends from Hoboken, as well as stay at their apartment. We struggled to stay awake that late but it was SO WORTH IT.
Because Chris and Rahul bought merchandise, we were able to meet and take a picture with Tommy. He signed our DVD case with something like "to Lauren and Chris, be good to each other." From a normal person, that sounds like nice advice. From Tommy….Idk. It was fucking amazing to meet him though. Unreal. The showing was equally amazing and we were able to participate in all of the aforementioned activities. The vibe in that theater is unexplainable.
Should you watch this movie?
Honestly, it's terrible. It's also one of my favorite things ever. If you have a sense of humor and generally enjoy bad movies, please watch it and quote it with me endlessly. There is some (terrible) nudity throughout the movie, so don't say I didn't warn you.
I wanted to give you a little preview to show just how bizarre this movie is… and why I knew I needed to read this book. By the way, The Disaster Artist (review below) is being turned into a movie, produced by James Franco! Without further adoooo…
---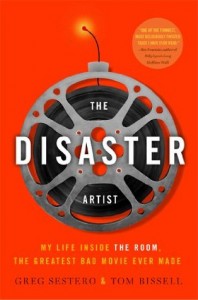 The Disaster Artist: My Life Inside The Room, the Greatest Bad Movie Ever Made
by
Greg Sestero
,
Tom Bissell
on October 1st 2013
(270 pages) •
Goodreads
•
Amazon
•
Barnes & Noble

From the actor who lived through the most improbable Hollywood success story, with an award-winning narrative nonfiction writer, comes the inspiring, fascinating and laugh-out-loud story of a mysteriously wealthy outsider who sundered every road block in the Hollywood system to achieve success on his own terms—the making of The Room, "the Citizen Kane of bad movies" (Entertainment Weekly).

In 2003, an independent film called The Room—written, produced, directed, and starring a very rich social misfit of indeterminate age and origin named Tommy Wiseau—made its disastrous debut in Los Angeles. Described by one reviewer as "like getting stabbed in the head," the $6 million film earned a grand total of $1,800 at the box office and closed after two weeks. Now in its tenth anniversary year, The Room is an international phenomenon to rival The Rocky Horror Picture Show. Thousands of fans wait in line for hours to attend screenings complete with costumes, audience rituals, merchandising, and thousands of plastic spoons.

Readers need not have seen The Room to appreciate its costar Greg Sestero's account of how Tommy Wiseau defied every law of artistry, business, and interpersonal relationships to achieve the dream only he could love. While it does unravel mysteries for fans, The Disaster Artist is more than just an hilarious story about cinematic hubris: It is ultimately a surprisingly inspiring tour de force that reads like a page-turning novel, an open-hearted portrait of a supremely enigmatic man who will capture your heart.
This book was so perfect. I couldn't be happier. I learned everything I never knew that I needed to know about The Room. It confirmed everything I already knew about Tommy Wiseau, including how actually crazy he is. Greg Sestero did such a great job with this story.
I switched between listening to the audiobook and reading the ebook I bought a couple of years ago. Chris and I started the audio during our trip down to New Jersey for the movie. I still can't get over how fucking SPOT ON Greg's impression of Tommy is. I literally thought it was him every single time. Towards the end of the book, I listened the audio myself and then finished with the ebook for the last few chapters. I was just so eager to see the movie finish and "go to" the premiere.
The book alternates chapters between Greg's career and how he met Tommy, and the actual set of the movie. It was cool to learn about Greg's history and how his career progressed (and how he ended up getting involved with this monstrosity), but I can't deny that I was more enthralled by the chapters on set. Words can't even describe the chaos, confusion, and laughability of everything that happened during the making of this movie. No words. It was exactly how I imagined it – maybe even a little worse.
I can't really explain how wonderful this book was, but if you're a fan of the movie at all – you need to read it. It makes everything so much more interesting.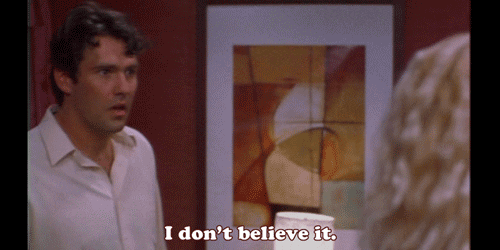 Related Posts