June has been a super busy month so far and we're not even halfway through yet! When I was pulling together my Lauren Lately post, I realized that I had quite a bit I could discuss on the vacation/trip front. I went to NYC for a BEA-related event but didn't actually go to BEA or Bookcon, so that necessitated a post. I also went to the Bay Area for Cristina's wedding the following weekend and turned that into a long weekend trip with some friends. We split our time between the Livermore area and downtown San Francisco.
BEA Party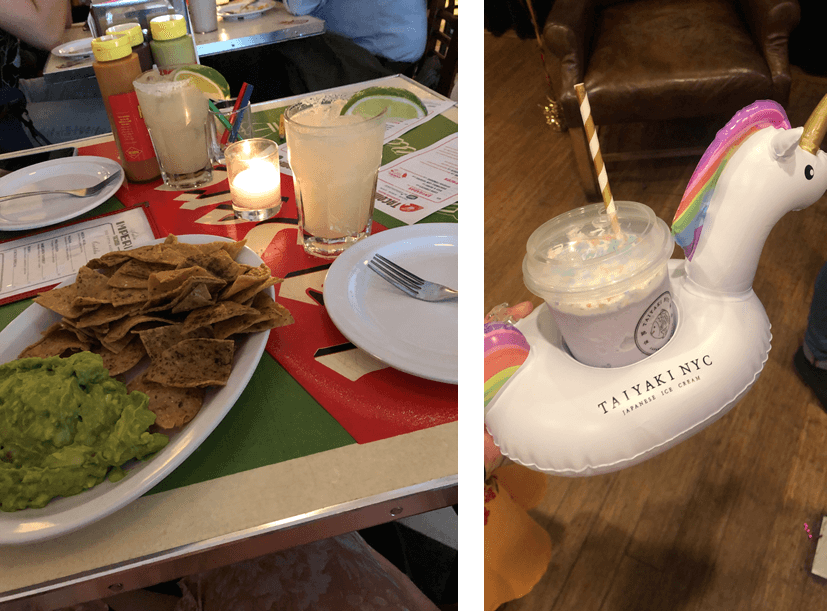 When I was invited to the Big Honcho party during BEA weekend, I knew I had to make it happen this year. I was invited last year when living in Maine but obviously that wasn't feasible at the time (at least compared to when I live in Connecticut!). I went down to the bottom of the state Friday afternoon and took the Stamford train into the city before the party. I met with Natasha (my friend you'll see in the SF recap below) for dinner before heading to Madalyn's hotel.
I got to meet her friends Chelsea and Alexa before heading into the party. IT WAS SO GREAT TO MEET MADALYN IRL because she has been one of my favorite people in the community since she joined Novel Ink. Long overdue meeting, folks. We also caught up with various other bloggers and booktubers, including Kristin, Alexa, and Rachel. It was great to see/meet them and drink some taro shakes out of unicorn floaties! The party itself was low-key and not super planned (meaning there weren't planned activities, which is fine! but there wasn't a lot to do otherwise). We went out to a pub afterward but I ended up heading out pretty early to catch the express train back. It was worth the ride into the city alone to meet Madalyn and my other friends, but otherwise I do wish I actually went to BEA for the day beforehand to round things out.
Bay Area
Wednesday: DELAYS ON DELAYS
We left work early Wednesday to get down to Southern Connecticut, where Rahul and Natasha live, to meet up with them for our flight out of JFK. Juuuust as we pulled into their apartment, we got the alert that our flight would be delayed about an hour… then another alert later that it'd be more like two hours. We got some burrito bowls delivered for dinner, left later than we planned, and got to the airport for our now 11 PM flight. We sat on the runway for an hour with THIRTY planes ahead of us trying to leave, so we didn't land in SF until 4AM PST, which was 7AM for us in EST. It was a rough, short night of sleep, and an annoying travel experience in general.
Thursday: Wine and Wedding
The first real stop on our trip was to Wente Vineyards, which is the oldest winery in the country (or something like that – I have a terrible memory). Fun fact: I really dislike wine, but it's mostly because the smell of it makes me queasy and brings me back to a bad night I once had. I've been slowly working toward it by having mimosas (champagne), so this was okay. I ended up doing the tasting and honestly? I like the TASTE of the wine itself but I can't smell it… so… I still am stuck not liking wine I guess.
After the vineyard, we had a quick lunch on the way back to the hotel at The Press. They had some good paninis and much-needed coffee. We had a couple of hours before Chris and I had to leave for the wedding, so we hung by the pool. Natasha did my eye makeup, which came out excellent of course.
Chris and I finished getting ready and went to the venue for Cristina and Max's wedding. Y'ALL – I have been in and around a lot of weddings in the past couple of years and this was my favorite venue. Favorite decor (most like "my taste" at least, meaning something I'd do at my own wedding). ALL OF IT WAS PERFECTION. I can't wait to see more photos. The food was also great, the bride was beautiful, and Chris and I danced all damn night. I made a little thread on Twitter about this already but I was so happy to be there and so grateful to have met Cristina through this community. She's been my BFF since the very early days and it was just an amazing experience. Is it weird that I cried more frequently during her wedding than any of the others I've been to? Regardless, I am still smiling from that night.
Friday: Touristy Spots in San Francisco

We headed away from the valley/wine-filled part of the Bay Area into San Francisco! We stayed near the airport so we weren't super close, but we weren't that far away either. We just wanted to have a more low-key and cheaper place to stay. We had brunch at Surisan, which had amazing Korean fusion food. We walked over to Fisherman's Wharf and did some classic activities, like go into the old-school arcade and stare at Alcatraz.

We walked over to Pier 39 just to see what the fuss is about and it was pretty much exactly as expected. Lots of chain-type quick restaurants and shops. It was fun to see the sea lions on the docks though! I'm glad we did this super-touristy area on Friday instead of Saturday because I bet weekend visitors would have been a lot crazier than the small crowds we experienced.
We headed over to Ghiradelli Square, which was a little underwhelming but still cute to check out. On our way there, however, we stumbled across a huge poster for The Room and the giant pair of pants to represent where Tommy Wiseau had his own weird clothing store. It was such a happy accident and we all freaked out. I got a chocolate malt at the factory store thing and then we went to touch our feet in the Pacific Ocean for the first time! I didn't get to do it last year so I made sure I did it this year.
We went over to Chinatown after leaving the wharf area. We started with the little fortune cookie factory, which was so cool, and then roamed a little through the streets and shops. We were a little disappointed with the Dragon Gate just because we thought it would be a bit grander and bigger, for such a popular attraction. Regardless, definitely a fun area to spend time in.
Chris had a few skateboarding-related items on his bucket list for the city, starting with the China banks. A lot of famous skateboarders have shot parts in this area because there are some "natural" brick banks to do tricks on. It's been heavily policed recently and has skate-blockers on the benches, but he was very excited and overwhelmed to be in this spot after seeing it in so many videos from his younger days. We walked through some shopping areas near Union Square on the way to the Thrasher store. It wasn't in the best location but we enjoyed chatting with the person working in the shop. Chris got a store-exclusive hoodie, which was great / the only reason we went there!
For Friday night, we headed into the Mission District for dinner and drinks on the rooftop of El Techo. The place had a bizarre check-in/dining process but it worked out okay in the end. Chris and I got drinks while we waited for Natasha and Rahul to arrive (we split off after Chinatown for 30 minutes or so).
The view of the city from up there was incredible and worth it! We got a table when they arrived and got some small plates for dinner, plus an excellent pitcher of margaritas. There was plenty to see up there in terms of clientele and drunk people, so that was a big win too haha.

After dinner and drinks, we walked over to Urban Putt to play mini golf. Let me tell you, this was the wildest mini golf course ever. There were insanely technologically advanced parts and even races where you put your balls in a maze instead of putting. It was AWESOME. We got drinks and brought them throughout the course. After we finished, we played a couple of the arcade games they had and got a little competitive with the basketball toss. On our way back to the hotel, we had to stop for In-N-Out. Sadly it was our one
Saturday: Presidio, Golden Gate, and Roaming
We went into the city and got banh mi from Bann Mi Cafe for lunch, and then made our way to the Presidio. The Batteries to Bluffs trail took us right along the water, getting closer and closer to the Golden Gate Bridge. Chris also recognized another skate spot (the first picture above), so that was fun for him too.
When we got to the end of the trail, we went over to the lookout area for the bridge, right around where it begins. It was cool to see it that close up! We actually had a pretty loose plan for Saturday so we continued exploring a couple of other outdoorsy spots after our hike ended.
The next stop was to see the Painted Ladies, which was cool because I do love Full House. We lounged in that park for a while and just relaxed while we figured out the rest of our plans. We decided on Lombard Street next, which is considered to be the most crooked/winding street in the world or something. It was cooler than I expected! We then headed over to the Ferry Building for ice cream and Lao Kitchen for dinner. We were pretty wiped at this point and when it got to be around 8:30, we headed back to the hotel to watch Always Be My Maybe on Netflix.
Sunday: Home
We were woken up by the hotel's fire alarm around 1:30AM and it was extremely irritating, especially after we had to fight them about our broken air conditioner (we ended up with two fans…). Needless to say, our second hotel was not as good as the first one (at least that one had a nice pool!). We left our hotel around 9AM for the 11AM flight. We had the smoothest flight ever and shaved off more than an hour of flying time, so we got back to Connecticut just after 7PM (our time!). Overall, it was such a fun trip and I'm so glad we were able to get away for a long weekend!
Related Posts