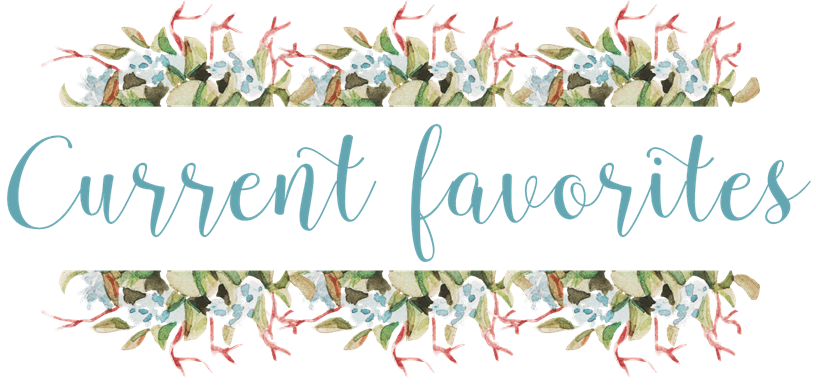 Welcome to the first of two posts about my updated makeup and skincare routines, thoughts, etc.! Today's post will feature my current makeup routine and other items I hope to try soon. Yesterday's was about my favorite beauty YouTubers of the moment, recent skincare or makeup items I returned or stopped using, and my updated skincare routine. Check that one out if you missed it! The same little background information is below:
So I posted recently about the new skincare routine I was trying out, but it wasn't hitting the mark for me after about two months of religious use. I go through phases (about 1-2 times per year) where I get REALLY into beauty, makeup, skincare, etc. – I watch YouTube constantly, research products, buy and try new things, and inevitably end up returning way too much lol. I'm very much in one of these periods right now. I recently bought a bunch of new things and have been trying them out over the last month. I included some of them in my Lauren Lately post with mini reviews but I've since returned, exchanged, and bought more things.
Reminder about my skin type: I have oily skin (my nose and cheeks are the first to get oily, followed by a little on my forehead and chin sometimes). My pores are quite large and makeup doesn't "settle" into my face nicely. When I'm doing my makeup, my sponge or brush will often pick the makeup back off my skin and essentially remove it, leaving nothing in its place but a red spot without foundation. This is one of the biggest issues I've been trying to work on! I also have some pimples in spots, but not full-blown acne most of the time.
Current Makeup Favorites
I'll talk more specifically later but I've changed a handful of things around here… and added more items to my routine! 1-2 years ago I was super into makeup and did the whole thing, including bronzer and highlighter, etc… I cut those out when I got lazy and did a super basic face. My makeup routine was moisturizer, primer, concealer, foundation, eyebrows, mascara, and blush. No liner, no eyeshadow, no contouring, nothing. I probably will have plenty of days where I don't do the full routine but it's nice to have these items to rotate in when I feel fancy or have time!
Recent purchases (face):
I'll go in order of application here. I heard good things about the whole LA Girls Pro Conceal – Green (Ulta) line but obviously tried the green one here because I have redness. I like it but need to experiment more. Primer is kind of the biggest question mark I have still. I'm working on using a few to try out: Dr. Brandt Skincare Pores No More – Pore Refiner Primer (Sephora) and Hourglass Mineral Veil (Sephora) (not pictured here because I'm dumb). Both are nice in very different ways. For foundation, I will always love my Doublewear, which is down below in the tried-and-trues… but I recently tried out the Too Faced Peach Perfect Comfort Matte Foundation (Sephora). I'm not completely sold on it yet though… I don't like the finish or lasting power compared to DW but it is a really nice foundation. I'm trying to find the right combo of things to use underneath! For concealer, I bought the Tarte Shape Tape Contour Concealer (Ulta) a long time ago and have been loving it (but wasn't sure on making it a favorite down below since it's still recent). I also bought the Makeup Revolution Conceal & Define (Ulta) because it's widely considered a cheap dupe for Shape Tape. I'll be experimenting with them and see if Shape Tape will keep being my go-to! For bronzing and highlighting, which is newer for me again, I got the Makeup Revolution Mini Chocolate, Bronze & Glow (Ulta)… which I adore. I use Innisfree Matte Blur Setting Powder (Innisfree) for my whole face but am still trying to figure out if I love it or not! My friend absolutely swears by it and it keeps her matte all day, but I don't notice toooo much of a difference quite yet. For other little things, I've been trying out Lipsense (which you may have heard of) with the Lipsense Starter Kit with Luv It and Summer Sunset (Facebook) and two glosses. It lasts literally all fucking day, through eating and kissing and rubbing your hand on your lips. It's kind of a miracle product. And finally, I've been using the Gerard Cosmetics Slay All Day Setting Spray in Rose (Gerard Cosmetics) because my girl Nikkia on YouTube loves it and this is actually her collab scent.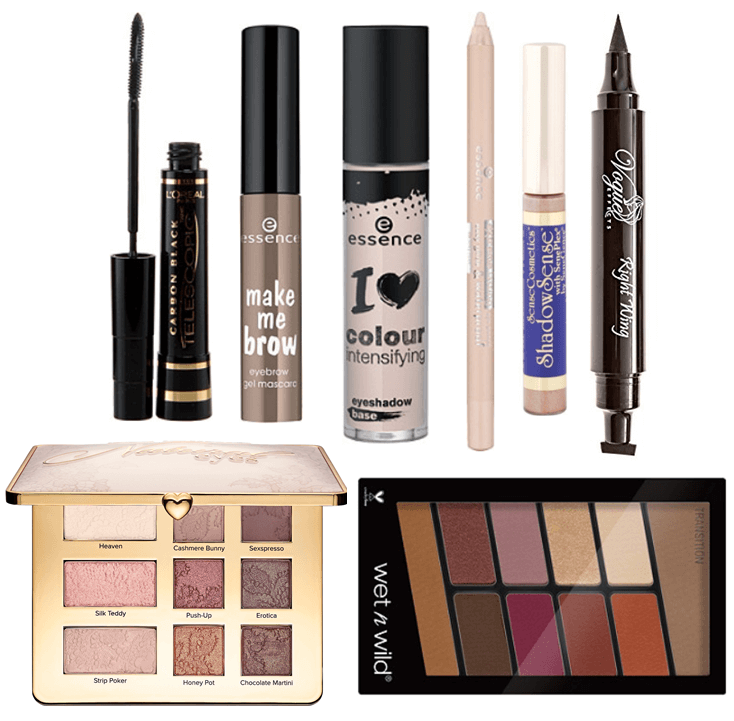 Recent purchases (eyes):
I can be lazy and not do my eyes every day, that's for sure, but it didn't stop me from buying all kinds of shit. For the primer, I am looooving Essence I Love Colour Intensifying Eye Base (Ulta). It holds all day and intensifies the color really nicely. In a quick rundown of other Essence products I'm loving, I use the Essense Make Me Brow Eyebrow Gel (Ulta) to keep my eyebrows in place and the Essence Extreme Lasting Eye Pencil in Nude (Ulta) to brighten the waterline because my eyes get red down there. Mascara is one of my favorite things in general and I recently discovered an absolute LOVE for the L'Oreal Telescopic Carbon Black Mascara (CVS). It's weird – I didn't love it the first day I used it but every day since it's been perfect. For eyeshadow things, I recently bought Wet n Wild Color Icon Eyeshadow in Rose All Day (Ulta) as a REALLY PERFECT dupe for the Anastasia Beverly Hills Modern Renaissance palette. I also splurged and got the Too Faced Natural Eyes (Sephora) palette, which I'm obsessed with. One of the products you can also get through SeneGence (the LipSense company) is eyeshadow that lasts all day; I got Shadowsense in Sandstone Pearl Shimmer and Mocha Java (Facebook). I haven't tried them yet but I'll keep you posted. And finally, a really fun thing that's super highly rated on Amazon and RachhLoves tested on her channel – Vogue Effects Eyeliner Stamp (Amazon). It comes with two pens (one stamp for each eye) and a felt tip eyeliner on both. It makes perfect wings that just stamp right on your face and last ALL DAY.
Tried-and-true favorites:
There are some things I'll never stop using, I think! These are those holy grail products for me. Even though I've generally enjoyed the new Peach Perfect foundation, Estee Lauder Double Wear Stay-in-Place Foundation (Macy's) will ALWAYS be my favorite. It has the best amount of coverage, keeps my skin oil-free the longest, and literally does not move throughout the day. Combined with Estee Lauder The Mattifier Shine Control Perfecting Primer + Finisher (Macy's) primer, I really can't go wrong. I have issues with makeup actually sticking to my face and sometimes when I'm applying, I end up picking the makeup up and moving it around. If I get some patchy spots, my favorite IT Cosmetics Your Skin But Better CC Powder (Ulta) provides extra color and coverage! Another one that can't really be replaced (even by Shape Tape) is the Maybelline Instant Age Rewind Dark Circle Eraser (Ulta). I use this all the time, but it's the best for quickly covering pimples and other spots. I use it a lot when I tone down my makeup to run errands (basically a CC cream, CC powder, and concealer) just for quick coverage. My brows look perfect with IT Cosmetics Brow Power (Ulta), the NYX Jumbo Eye Pencil (Ulta) is great for highlights in the corner of my eye, and the NYX Blush – HD or Baked (Ulta) stays there all day.
Next on my List
I never stop creeping on new products to buy, so naturally I have to include some of the next ones on my radar! I've heard a lot of good things about these products through Ulta/Sephora reviews and YouTube, so I'm curious to test them out and see what I think! I'm sure I won't buy all of them, especially if I try another version that I like first and don't think it's necessary. (You'll also see that there are three primers on here because I'm crazy.)
Can you tell that my pores are the worst and primer is my number one nemesis? Yeah. The vast majority of these things are primers and/or pore smoothers because I can never seem to find one that works perfectly. I've heard great things about The Ordinary High-Adherence Silicone Primer (Sephora), J.ONE Jelly Pack (Ulta), and Hourglass Veil Mineral Primer (Sephora) so I'd love to try them at some point. (ETA: I actually got a mini of the Hourglass but was too lazy to remove it from here lol). Otherwise, the Clinique Exfoliating Scrub (Sephora) and Clinique Pore Refining Solutions Stay Matte Hydrator (Ulta) for oily/pore-y skin, so I'd want to try them too. Another moisturizer that my girl Nikkia loves is the Dermalogica Oil Control Lotion (Ulta), so I'm considering that as well. Otherwise, I've been looking into eye serums (like No7 Protect & Perfect Intense Advanced Eye Cream (Ulta)) since mine are puffy sometimes and hooded on the top. I've added the Fenty Beauty by Rihanna Invisimatte Blotting Powder (Sephora) because it seems great and has good reviews. I can't help but add the  Too Faced Just Peachy Velvet Matte Eyeshadow Palette (Sephora) palette because ugh it's so gorgeous and highly rated and I know it smells amazing. Another random skincare thing is the The Ordinary Hyaluronic Acid (Sephora) that I've been thinking about trying. The Ordinary is SO cheap!
Related Posts