After trying some new face cleansers and skincare items in 2017, then deciding they were my favorite after just a month or so, I actually went off and tried a completely new routine for 2018. One of my favorite items that I listed from Lush actually slowly made my face break out (I think – I can't tell for sure but it's really the only new thing I was using during that time). I saw this thread on Twitter/Tumblr where a user talked about their skincare routine that seriously cleared up their acne. I don't have too bad of an acne situation, but there are enough pimples to bug me. I'd love to wear a clean face out for errands and not feel all red/blotchy. I started this new routine on February 9th and now, around a month later, I wanted to share my routine and feelings about it.
My Skin Type/Other Details & Goals
Before I get into things, I don't want to lead anyone astray about doing this routine. If you don't have the following skin conditions/type, then maybe it won't be the best for you. I'm NOT an expert on things like this and honestly I never cared that much about my skin, which is horrible. Confession: I didn't even remove my makeup before bed until I was nearly out of college. (I actually had less acne back then; go figure…) Skincare was never a priority for me but I still got angry when I broke out or had blackheads. So now, at the old age of 26, I decided to actually start giving a shit about my skin.
Here's what I had/have:
Large visible pores no matter what I do to cover them
Oily skin, primarily on my nose, cheeks, forehead, and chin
Not-really-severe-at-all acne (breakouts in random spots)
My goals for switching up my routine:
Use more natural skincare options (not 100% natural because I have some favorites I can't get rid of quite yet, but make a switch to things with a lot less chemicals, etc.)
Clear up my acne and reduce breakouts in general
Shrink my pores as much as humanly possible
Have softer skin on my body/hands; start actually using lotion for this
Reduce oil production on my face
Nighttime Routine
Every night before bed, I follow this routine. As I mention below, I alternate between the soap and cleanser pictured here. I purchased the micellar water, moisturizer, and spin brush from Walmart; the witch hazel and tea tree cleanser from Amazon; and the castile soap from Trader Joe's. Some alternative places to buy these are Target and Ulta, as I've seen a few of them here and there. I know I could have gotten the majority of these from Amazon/Target/Walmart but I just wanted to share where I actually got them. I noticed the castile soap at Target for a LOT more; Trader Joe's had it for a few dollars less. I also want to note that the moisturizer below is the one I only use at nighttime, because it's a bit too thick and greasy for my day use. My skin gets too oily with it so I stick with my other favorite moisturizer in the day routine section.
1. I remove makeup with Garnier SkinActive Mattifying Micellar Water on a cotton pad or microfiber cloth I got from Amazon. I rub the pad all over my face to remove facial makeup like foundation, then hold the pad/towel on each eye before swiping mascara away. You don't really want to rub hard on your eyes.
2. Then, I use another cotton pad with Thayer's Witch Hazel (Rose Petal) all over my face to get the dirt and other crap out of my pores. I wet my face with warm water to open up my pores afterwards.
2. I wet my spin brush (a must-have: I got mine from Walmart for $14 – Conair True Glow Travel-Sized) and squirt on soap or cleanser. I don't use the same one every night; I alternate. On the first night, I use Dr. Bronner's 18-in-1 Hemp Peppermint Pure-Castile Soap. (The oringal poster of this routine said that it's too harsh to use Dr. B's every night so I decided to take a page out of her book and alternate.) On the second night, I use my old favorite cleanser: The Body Shop Tea Tree Skin Clearing Facial Wash. I use the brush all over my wet face; it recommends 10 seconds per "section" of your face in the instruction manual for this one.
3. Finally, I wash my face off with cold water to close the pores and pat dry. I apply the Thayer's Witch Hazel again and follow up with Neutrogena Oil-Free Moisture (Combination).
Daytime Routine (During & After Shower)
I take a shower in the morning because my thin hair looks like a greaseball if I shower at night. As a result, I wash my face in the shower and do my skincare routine immediately after. I saw good reviews for the face and body soap on Amazon (I think after originally reading a Buzzfeed article) for clearing acne, so this was my own doing. You'll see the witch hazel here again but a new daytime face lotion. I'm also including the body wash and body/hand lotion from Avon, which was a Christmas gift from my Avon-addict stepmom. I get the moisturizer from Ulta usually but you can also get it on Amazon.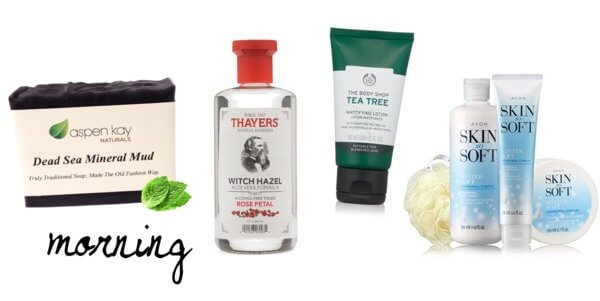 1. In the shower, after I wash my hair, I wash my face with the Aspen Kay Dead Sea Mineral Mud Soap. I rub my wet hands on the bar and massage the soap into my face and neck, then rinse it off. I use Avon Skin So Soft (Wintersoft) Body Wash on my body.
2. When I get out of the shower, I immediately apply the Thayer's Witch Hazel with a cotton pad to my face. I apply my daytime moisturizer, The Body Shop Tea Tree Mattifying Lotion to my face afterwards. (I do my regular makeup routine a little later because you have to let the moisturizer soak into your skin before continuing. More on that another day, perhaps?).
3. I apply the Avon Skin So Soft Body Cream and then Hand Cream in the appropriate places. For me, that includes body cream on my arms and elbows and the hand cream obviously on my hands.
Feelings After One Month
This routine is truly more extensive than I've ever done before. I used to just use one face wash/cleanser in the shower and then wipe my makeup off with a Norwex cloth at night. I have to get used to it but I've been doing a great job of following it every single night. I almost forgot last night but I actually got out of bed to go do it.
As I mentioned at the beginning, I started this routine exactly one month ago. The girl on Twitter that introduced me to most of my nighttime routine said that her face cleared up in 2-3 months and that "it gets worse before it can get better." Your face is getting allll of the garbage pulled out of it, so it can sometimes cause a flare-up before it improves. I decided to believe her and not give up after a week like I normally would have. I'm currently at the phase where I'm breaking out a bit more than usual, so we'll see.
I like the super clean feeling I have at night now and the bar soap I'm using in the shower makes me feel great. I notice that when I wake up in the morning, my face is more even and not as blotchy as it usually would be. I wouldn't look too bad if I were to head out and run errands right away. In general, the redness is kind of cleared up later in the day too. I think the biggest thing I was hoping for (and still am) is that my pores will go away or get smaller. Sometimes it looks like they are and sometimes they look the same, so the jury is still out on that one.
Related Posts