Everyone is doing some amazing 2017 wrap-ups and I decided that I couldn't resist. I finally saw Andi's new Favorite Things feature this week and it was the last straw to inspire this post. I don't plan on making it monthly like her, because lord knows I already have two monthly wrap-ups that kind of already share this, but I thought it would be fun to round out a "best of 2017" list for me. I won't be including actual books, but I will definitely be featuring book-related things. I took a scroll back through my Lauren Lately posts to see what was a fave each month.
Lush Dark Angels Cleanser | I started to get a little bored of my face cleanser, so I went over to Lush to see what might work better. I really enjoy this charcoal cleanser for my oily skin! I've noticed that it takes longer for my face to get oily each day, which is usually my #1 concern. The only issue is that it's hard to completely wash off in the shower (or in general) because it's black. However…
Spongeables Charcoal Face Sponge | …this sponge does the trick! I like that it has a coarse side and a soft/smooth side. I rub the coarse side to exfoliate a little bit and make sure the cleanser is all gone, then I use the smooth side to finish it off. I think this pairs well with the cleanser overall in making my skin feel really smooth.
Estee Lauder Doublewear Foundation and The Mattifier Primer | I am in love with this combo, again for my oily skin… but also for the amazing long-range coverage. I don't ever feel like I need to touch my face up. I think they just introduced a lighter shade of the foundation too, which may look even better for me. (The Mattifier up there is an older bottle design, but it looks about the same now.)
IT Cosmetics CC+ Airbrush Perfecting Powder | This goes on top of it all. Some days I just use a redness covering BB cream and put this on the top of it for running errands. It gets the job done with some nice coverage depending on how much you use! I can't believe I didn't have this powder in my life for so long.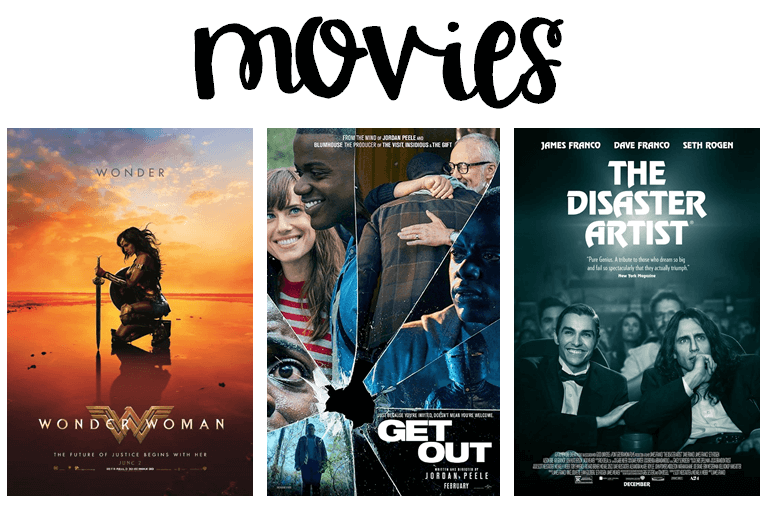 Wonder Woman | YAS QUEEEEEN. I loved this so much. And my mom, who doesn't like superhero movies, also loved this… which makes me really happy. I could say so many things about feminism and girl power and how much I want to smooch Gal Gadot, but I'll just let you think about all that on your end. Easily my favorite DC movie and arguably my favorite superhero movie in general between both DC and Marvel.
Get Out | Chris doesn't like scary movies but I made him see this, because I knew we'd love it. It completely blew my mind from start to finish. I never thought a political thriller of sorts would make it onto my favorite movies of the year list, but this makes it on my all-time favorite list. Please see this if you haven't already.
The Disaster Artist | You know how much I love The Room and everything that goes along with it, and this movie exceeded my expectations. I'm already a fan of the Franco brothers (and almost literally everyone else in this movie… about a book… about a movie) and seriously I cannot stop thinking about this. From an adaptation perspective, it stayed quite true to the book without making it like 5 hours long. I loved it.
Total Divas | This was my biggest binge of the year and I loved it. I'll talk more about WWE later on but this was a wonderful way to get some behind-the-scenes looks at the business, especially the badass women wrestlers. I love that they're slowly getting more respect, big matches, and "firsts" over the last couple of years. My favorite girls in general might be the Bellas but I have a soft spot for Nattie's antics.
Shameless | This was another big undertaking with Chris. We binged all of the Netflix seasons pretty quickly and basically loved it. He started to fall of the wagon toward the end and we actually only watched one episode of the current season. I think he'll want to continue at some point and I'm not OVERLY eager, but I would like to get moving at some point. Maybe today during the snow…
Big Little Lies | I didn't love the book as much as others but the miniseries was the BEST. I loved everything – the characters, the acting, the cinematography, the music… It was all great. I'm a bit nervous about season two because what could they possibly talk about? But I have faith.
Stranger Things (S2) | I can't forget this one. I loved the first season so I was again nervous about season two. I think they did a reallllly great job of expanding the world, and I would argue that both seasons were equally great. I am still personally partial to S1 but man I didn't think it was possible to make a follow-up season just as good for a show like this!
Schitt's Creek | Most underrated show out there. It is absolutely HILARIOUS and I am obsessed with everything about this show. The characters are so perfect and the Levy men are my FAVORITE. I can't get enough of it. I don't even know what else to say but maybe I'll work up a post about this show sometime.
The Bold Type | FEMINIST AF. It's sad that a lot of people are like "I loved this show but it's not realistic" because the boss is so supportive and awesome. It sucks that it's not our reality, or that we're not used to seeing that kind of boss on TV. I think everyone expected her to be a bitch or something because most shows like this definitely don't feature positive authority figures (especially women). I think there's a lot more for them to explore in season two, so I'm excited.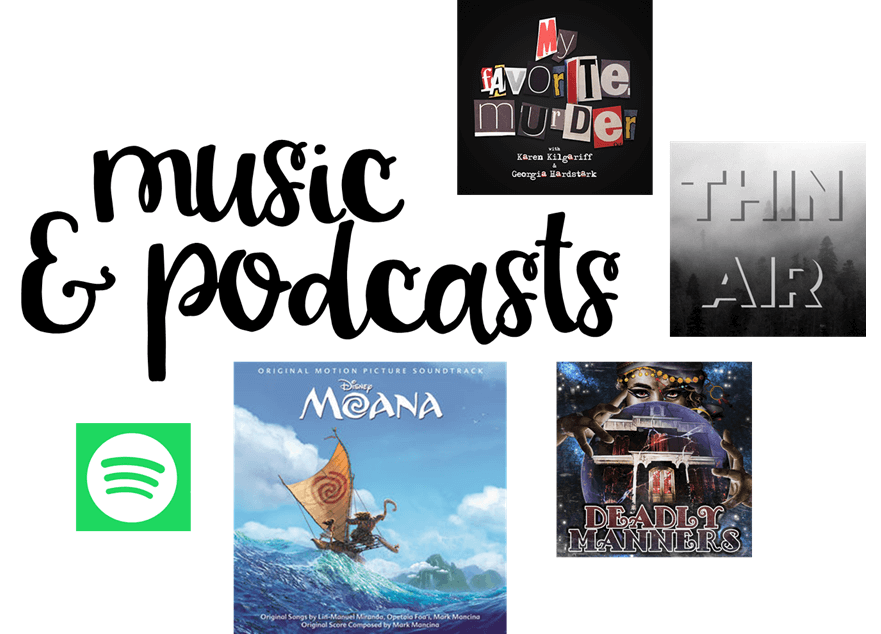 Spotify playlists | I don't listen to music as much as I listen to audiobooks or podcasts, but I do love Christmas music season! I made an Ultimate Lauren playlist, as well as Summer 2017 and a Winter one right now.
Moana soundtrack | Okay so I am never the person to go out and listen to a movie soundtrack after seeing it, but this one was so catchy… I could not resist. Especially because it includes Dwayne Johnson singing a great song and I want to hug him for days.
My Favorite Murder, Thin Air, and Deadly Manners | These were probably my top three podcasts of the year. I thoroughly enjoyed each of them, even if My Favorite Murder started to annoy me and I stopped listening. It's a great weekly podcast maybe, but when you binge too many in a row… not so much. In any case, I'm hoping to start fresh in a few months by listening to the new ones each week instead of binge-listening. Check out my podcast recommendation posts (one and two) for more recs/details!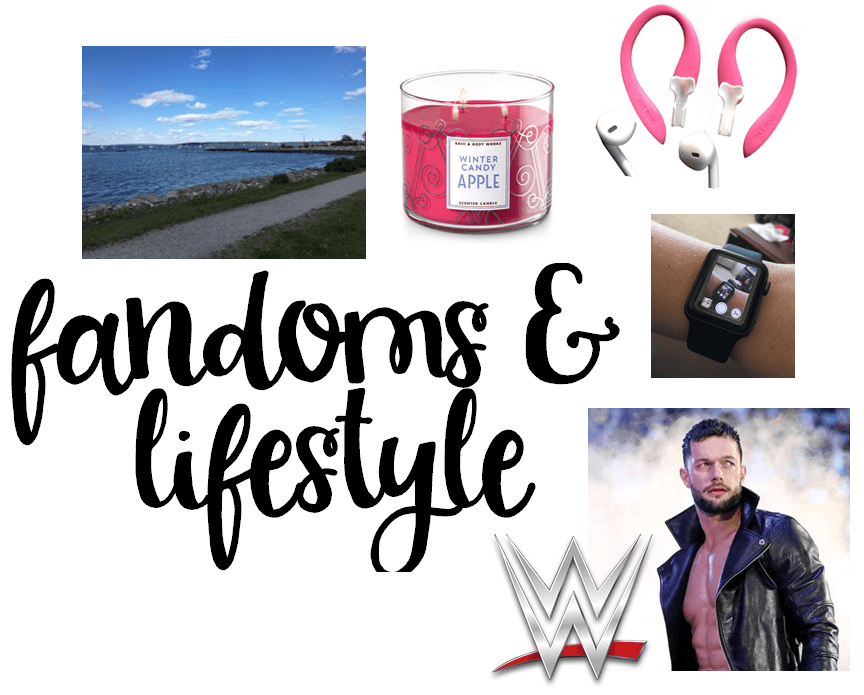 Maine life | I have to include this here because it's technically my lifestyle! We obviously moved to Maine mid-year and overall it's been a great decision. It's hard to come home every month and feel uprooted for a few days, but hopefully we'll enjoy more of Portland in the first half of 2018 while we're still here.
Candles | This isn't a new thing for me really, but I've gotten into the habit of always having candles burning (mostly at night, so I don't waste them!). My favorite scent ever is still Winter Candy Apple from B&BW, but there are some amazing Novelly Yours scents I got this year as well.
Earbud Clips | I have very weird ear shapes so ear buds ALWAYS fall out of my heat. It's always annoying, but it's especially annoying when you're trying to ski and wear mittens when putting them back in. One of my favorite 2017 purchases was a set of earbud clips. I'm showing the exact ones I ordered but I don't think they're in stock now. In any case, they were easily the best decision because now I don't have to worry. And once I upgrade to wireless ear buds at some point, they'll be even more important.
Apple Watch | Another spur-of-the-moment purchase was my Apple Watch. I really love having the ability to track fitness, quickly check messages, and look at certain apps when needed. I can easily use Swarm to check in places. I can read a text without having to pull my phone out when I'm out to dinner. Overall, it's super convenient and anyone who says "you don't need it" clearly doesn't have one! You rely on it ASAP once you have it… which can be a good or bad thing 😉
WWE | I think honestly the biggest fandom or hobby of this year is WWE. I actually have a post coming up in a month or two about my experience as a newbie WWE fan (that probably only Morgan will care about). This was the first calendar year that I cared about wrestling, and it's been only increasing since I started watching. I'm also showing my favorite perfect wrestler above – Finn Balor.
---
What do you think of my favorite things?!
Related Posts