In an effort to cut down on posts and burnout, my Review Roundups will feature 2-4 books I've read or listened to recently. Sometimes they're newer releases and sometimes they're all backlist titles. My ARC reviews usually get the solo treatment. Enjoy the mini reviews!
---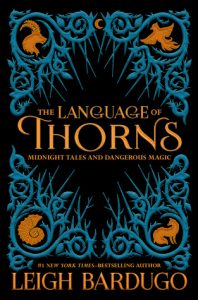 The Language of Thorns: Midnight Tales and Dangerous Magic
by
Leigh Bardugo
Genres:
Young Adult
,
Fantasy
Published by
Macmillan
on September 26th 2017
Also by this author:
Shadow and Bone
,
Siege and Storm
,
Ruin and Rising
,
Six of Crows
,
Summer Days & Summer Nights
,
Wonder Woman: Warbringer
,
Crooked Kingdom
,
King of Scars
,
Ninth House
Format:
eBook
(281 pages) •
Source:
Library
Goodreads
•
Amazon
•
Barnes & Noble

Love speaks in flowers. Truth requires thorns.

Travel to a world of dark bargains struck by moonlight, of haunted towns and hungry woods, of talking beasts and gingerbread golems, where a young mermaid's voice can summon deadly storms and where a river might do a lovestruck boy's bidding but only for a terrible price.

Inspired by myth, fairy tale, and folklore, #1 New York Times–bestselling author Leigh Bardugo has crafted a deliciously atmospheric collection of short stories filled with betrayals, revenge, sacrifice, and love.

Perfect for new readers and dedicated fans, these tales will transport you to lands both familiar and strange—to a fully realized world of dangerous magic that millions have visited through the novels of the Grishaverse.

This collection of six stories includes three brand-new tales, all of them lavishly illustrated with art that changes with each turn of the page, culminating in six stunning full-spread illustrations as rich in detail as the stories themselves.
Ayama and the Thorn Wood

 This story really hooked me after the first couple of pages; what an interesting collection of stories this already is shaping up to be! I liked this story a lot. I always struggle with reviewing short stories but Bardugo's writing style is gorgeous and addicting.
The Too-Clever Fox 

 Another excellent one. This one was very clever (lolz) and I didn't expect that ending. Loved it. I'm not sure if I'm supposed to be ~learning lessons~ from these but I am so bad about fables haha.
The Witch of Duva 

 Another excellent one. This one was very clever (lolz) and I didn't expect that ending. Loved it. I'm not sure if I'm supposed to be ~learning lessons~ from these but I am so bad about fables haha.
Little Knife

 I liked the message of this one. Bardugo is really good at surprising me when I reach the end of each story.
The Soldier Prince

 Gorgeous writing as usual but I'm not 100% sure what happened there, or what the message is? The concept overall was interesting but still don't know what any of it means or what really happened haha.
When Water Sang Fire

 I wish I had a better memory of the other Grisha books to understand more of the connections here. I was intrigued by this final story either way.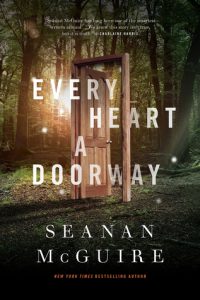 Every Heart a Doorway
by
Seanan McGuire
Series:
Wayward Children #1
Genres:
Young Adult
,
Fantasy
Published by
Macmillan
on April 5th 2016
Also by this author:
Lost in the Moment and Found
Format:
eBook
(173 pages) •
Source:
Library
Goodreads
•
Amazon
•
Barnes & Noble
Eleanor West's Home for Wayward Children
No Solicitations
No Visitors
No Quests

Children have always disappeared under the right conditions; slipping through the shadows under a bed or at the back of a wardrobe, tumbling down rabbit holes and into old wells, and emerging somewhere... else.

But magical lands have little need for used-up miracle children.

Nancy tumbled once, but now she's back. The things she's experienced... they change a person. The children under Miss West's care understand all too well. And each of them is seeking a way back to their own fantasy world.

But Nancy's arrival marks a change at the Home. There's a darkness just around each corner, and when tragedy strikes, it's up to Nancy and her new-found schoolmates to get to the heart of the matter.

No matter the cost.
What a creepy, bizarre little book this was! First of all though, let me note the amount of diversity – the main character was asexual, another was transgender, and there were countless others that seemed to relate to disabilities, mental illness, and more. It was refreshing to read this.
The concept of the story is that there's a boarding school with a bunch of kids who have traveled through doors to other worlds (like Narnia, even though the book talks shit directly about that book series lol, or Alice in wonderland). The headmistress was an awesome, eccentric grandmother-type that genuinely wanted to help these kids whose parents felt like they had no other options. I liked learning about each of the children and the worlds they traveled to, since none of them were the exact same.
A murder mystery develops in the house as bodies start showing up. Even though I figured out who the culprit was pretty much immediately, the journey to the end was very intriguing. The author develops all of the worlds really well in such a short book! I'm fascinated to read more companions set here.
I didn't love the ending. It's partially because my sleuth skills were too good (not really, I genuinely think it was obvious to most people), but also for another reason I don't want to say because spoilers. View Spoiler »I thought she was going to be happy in the house and try to move on with her life… right until her door showed up and she went inside. I guess I just wanted a nice, neat and tidy ending. « Hide Spoiler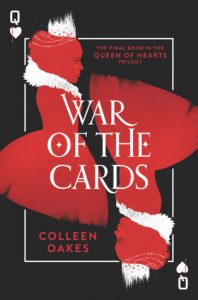 War of the Cards
by
Colleen Oakes
Series:
Queen of Hearts Saga #3
Genres:
Young Adult
,
Fantasy
,
Retelling
Published by
Harper Collins
on November 7th 2017
Also by this author:
Queen of Hearts
,
Blood of Wonderland
Format:
Hardcover
(352 pages) •
Source:
Library
Goodreads
•
Amazon
•
Barnes & Noble
The final book in the twisted YA trilogy re-imagining of the origin story of the Queen of Hearts.

Dinah has lost everyone she ever loved. Her brother was brutally murdered. The wicked man she believed was her father betrayed her. Her loyal subjects have been devastated by war. And the boy she gave her heart to broke it completely.

Now a dark queen has risen out of the ashes of her former life. Fury is blooming inside Dinah, poisoning her soul and twisting her mind. All she has left is Wonderland and her crown, and her obsession to fight for both. But the war rages on, and Dinah could inherit a bloodstained throne. Can a leader filled with love and rage ever be the ruler her kingdom needs? Or will her all-consuming wrath bring Wonderland to its knees?

This is not a story of happily ever after.

This is the story of the Queen of Hearts.
For some reason, I can't stop reading this series. I am usually terrible about keeping up with new book releases in series unless I LOVE it… and I don't love this series. The books are usually uninteresting yet easy to read, except for the cliffhangers at the end of them. I was eager to get to the finale and requested it from the library to finish up Flights of Fantasy.
I have to say that this book was probably the best of the three. I was intrigued throughout and there was a decent amount of action for once! I felt like the early battling took up a lot of time, but kept it interesting. There were some revelations made that should have been obvious sooner, but it wasn't frustrating to be one step ahead of Dinah. Because the action kept up throughout, I didn't find myself wondering why these books weren't all squished together (I will say though: this series COULD easily be two books instead).
I'm not really sure what to make of the ending? I compared this series a lot to Heartless because you basically know how the books will end when they're about the Queen of Hearts, but you can't wait to figure out how she gets there. I don't want to say anything about the end of the book except that I generally liked it.
I don't feel like I can actively recommend this series though. The first two books were addicting in a weird way, even though nothing happened. The cliffhangers kept me intrigued for the rest of the series and I guess by the very end, they didn't totally disappoint.
Related Posts