I received this book for free (hey, thanks!) in exchange for an honest review. I promise that this does NOT affect my opinion of the book or the content of my review. For real.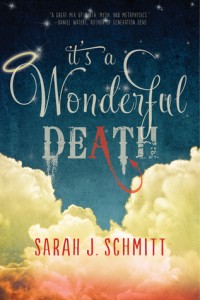 It's a Wonderful Death
by
Sarah J. Schmitt
on October 6th 2015
(320 pages) •
Goodreads
•
Amazon
•
Barnes & Noble

Seventeen-year-old RJ always gets what she wants. So when her soul is accidentally collected by a distracted Grim Reaper, somebody in the afterlife better figure out a way to send her back from the dead or heads will roll. But in her quest for mortality, she becomes a pawn in a power struggle between an overzealous archangel and Death Himself. The tribunal presents her with two options: she can remain in the lobby, where souls wait to be processed, until her original lifeline expires, or she can replay three moments in her life in an effort to make choices that will result in a future deemed worthy of being saved. It sounds like a no-brainer. She'll take a walk down memory lane. How hard can changing her future be?

But with each changing moment, RJ's life begins to unravel, until this self-proclaimed queen bee is a social pariah. She begins to wonder if walking among the living is worth it if she has to spend the next sixty years as an outcast. Too quickly, RJ finds herself back in limbo, her time on Earth once again up for debate.

RJ is a snarky, unapologetic, almost unredeemable, very real girl. Her story is funny and moving, and teens will easily connect with her plight. Prepare to meet the Grim Reaper, who's cuter than you'd expect; Hawaiian shirt–wearing Death Himself; Saint Peter (who likes to play Cornhole); and Al, the handler for the three-headed hound that guards the gates of Hell. This cast of characters accompanies RJ through her time in the afterlife and will do their best to gently shove her in the right direction.

This book definitely ended up being different than I expected! I can't tell if I'm glad about that or not. I was picturing a similar story set-up to BEFORE I FALL, which is one of my favorite books of all-time. It was definitely reminiscent, but not the same. More on that later.
The premise of the story is that soul of mean girl RJ is accidentally collected before she's supposed to die. She gets brought up into the afterlife and has to deal with trying to get back to earth to finish living her life. She's not ready to die yet, so she has to prove to a jury of angels and other related mythical beings that she deserves a second chance at life. By doing this, she will be sent back to her past to re-do some key moments in her life. If she makes the changes and improves her life (and those around her), she may get a second chance on earth.
I thought it would be a book that focused solely on RJ going back and reliving / re-doing some of her life events. There was actually very little time spent on that part, and the rest was spent dealing with the "afterlife," a trial, and repercussions. The changes that RJ made within herself were somewhat believable, but because the re-do aspect of the book was so short, it was hard to REALLY feel the change. It was too quick for me. In BEFORE I FALL, you got to see such a gradual, realistic transition from mean girl to good person, and this book lacked it.
A few other parts didn't feel realistic either, like View Spoiler »the fact that her fixing some mistakes literally led to the cure of cancer. Wow, okay. « Hide Spoiler Overall, though, the book was a lot of fun! I didn't feel super connected to RJ but I was definitely rooting for her. This was a book that focused more on having an interesting, engaging plot that kept you reading, rather than being character-driven. Also, along the same lines, I'm glad there wasn't a romance. I think that not all books NEED romance and this book was smart for not including one.
I thought the book was funny and amusing right off the bat. I couldn't believe how relaxed RJ was about the fact that she had just died. The writing was a bit awkward at times for some reason; it felt maybe a little cheesy? Also, RJ struck me as… very dense… right off the bat. It took a lot of conversation between her and someone else in the "lobby" for her to understand a few VERY OBVIOUS things. Maybe I'm just being nitpicky, but jeez.
When the book was nearing the 70% mark, I had no idea what would be left in the story. Would they show the results of the trial and then see RJ in that situation? I thought the pacing felt weird until I got closer to the end. AND JESUS THE END! I think some may not like the end, but I actually thought it was fitting. View Spoiler »It also reminded me again of BEFORE I FALL. RJ ended up dying at the end of the book, even after she won the trial. She was destined to "burn bright" for a short time and impact a lot of lives, but that was it. « Hide Spoiler It seemed a bit much, but also felt right. Overall, this book was not what I expected, but I'm really glad I read it! I would be definitely open to a sequel, too 😉

| | |
| --- | --- |
| Plot & Premise | |
| Characters | |
| Writing Style | |
| Pacing & Flow | |
| Feels or Swoons | |
| Addiction Level | |
| Overall: | 3.8 |
Related Posts