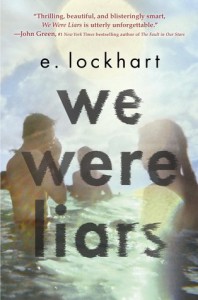 We Were Liars
by
E. Lockhart
Genres:
Young Adult
Published by
Random House
on May 13th 2014
Also by this author:
How to Be Bad
Format:
Audiobook
(227 pages) •
Source:
Audible
Goodreads
•
Amazon
•
Barnes & Noble
A beautiful and distinguished family.
A private island.
A brilliant, damaged girl; a passionate, political boy.
A group of four friends—the Liars—whose friendship turns destructive.
A revolution. An accident. A secret.
Lies upon lies.
True love.
The truth.

We Were Liars is a modern, sophisticated suspense novel from National Book Award finalist and Printz Award honoree E. Lockhart.

Read it.
And if anyone asks you how it ends, just LIE.
Review: Well, I decided to make my first review about a book I didn't like too much. I have mixed emotions about this book, so let me try to work through them here. I have to admit, I was extremely interested in the book based on the cover. I don't know who is making all these cool, graphic book covers lately, but I love them. I was fascinated by the small amount of plot-related information that was out there and it kept getting rave reviews, so I decided to try it out. The general plot, without giving anything away, is that a rich family goes to their own private island every summer. The kids play while the adults get drunk. Sounds about right for my family gatherings (minus the private island thing). The book goes back and forth between past summers and the current summer, which surprisingly wasn't too confusing. The main character loved to repeat the same effing phrases over and over again. If I read "Gatt… my Gatt" one more time, I think my head would have exploded. The writing style was choppy and not what I normally like.
She wrote paragraphs that seemed literal but were actually figurative. At one point, she says something along the lines of "my father shot me; my brains were all over the grass," or some shit. As I'm reading, I was like holy shit this dude just shot his daughter… Oh wait, that wasn't literal. Unfortunately, this was one of the first scenes in the book; it didn't really start me on the right foot. The charaters were incredibly underdeveloped as well. Even the main character, Cady, was barely fleshed out. Half of the time, I couldn't tell who was a "Liar" or who was a "Little." I didn't really care, either. Characters, in general, are the most important pieces of the book for me; if I don't like or am not interested in their story, I'm not going to like the book. Maybe the author didn't develop the characters for a particular reason (which may make sense). Regardless, no one was complex enough to care about. Not even Cady. The ending certainly made my jaw drop, and not in a good way. I won't spoil anything here; some people said they figured it out ahead of time. The book was climbing towards a climax so. incredibly. slowly. that I truly didn't think it would reach one. Most books keep that part towards the late-middle, then have some kind of conclusion afterwards. This book chugged its way to the defining moment where you FINALLY learn what the fuck happened, and then it pretty much ends. The conclusion happens (quickly) and then it's over. What the fuck? What was the point of this book???
Now that I've explained all the reasons I wasn't a fan of the book, it's hard to even put together what I liked about it. So, all anger aside, I can say that I really didn't hate this book. I liked seeing what it was like to be a part of a rich family that happens to own its own private island, even though all of their problems are superficial or boring. The ending was a shocker for me, and I give the author props for not being predictable. The less you know about this book before reading it, the better. If I were to write a thirty-second plot summary, the book sounds extremely interesting and worth reading. Unfortunately, the underdeveloped characters and the slowest moving plot of all time really killed this one for me.
Related Posts