I received this book for free (hey, thanks!) in exchange for an honest review. I promise that this does NOT affect my opinion of the book or the content of my review. For real.
It's Kind of a Cheesy Love Story
by
Lauren Morrill
Genres:
Young Adult
,
Contemporary
Published by
Macmillan
on March 9, 2021
Also by this author:
Meant to Be
Format:
eARC
(352 pages) •
Source:
Publisher
Goodreads
•
Amazon
•
Barnes & Noble

A delicious love story with all the toppings, Lauren Morrill's It's Kind of a Cheesy Love Story is a contemporary YA rom-com about love, friendship, and pizza, perfect for fans of Becky Albertalli and Jenny Han.

After her mother gave birth to her in the bathroom of a local pizzeria, Beck Brix been given the dubious privilege of having minor fame, free pizza for life, and a guaranteed job when she turns sixteen—a job she unfortunately can't afford to turn down.

Stuck with her geeky co-workers instead of taking Instagram-ready shots with her wealthy, photogenic friends, Beck finally realizes what she's spent her whole life trying to hide: that Hot 'n Crusty is a part of her.

Then disaster strikes the beloved pizza parlor that's become like home, and Beck realizes that it takes losing something to really know what it's worth.
Thanks to Morgan, I read MEANT TO BE years ago. She thought I would like it based on my questionnaire for Secret Santa (I think?) and sent it my way, and she was totally right. I have completely slept on her other books since then though and clearly that's a damn shame.
IT'S KIND OF A CHEESY LOVE STORY obviously caught my eye because I love pizza more than most things in the world. A girl is born in a pizza parlor's bathroom and she's given free pizza for life AND a job when she turns sixteen. Begrudgingly, she accepts both, and spends her Friday night in Hot N' Crusty instead of with her group of ~popular~ friends that she doesn't necessarily fit in with anymore (did she ever?).
I truly adored this book – it had all of the elements I'm looking for in a YA romance. Beck is trying to figure out what to do with her life but not in the traditional ways within the genre. Sure, she's not sure yet about college or future jobs, but she's trying to find herself among her friends and new work group. She has a secret obsession with a sci-fi show and a few other pieces of herself that she's hiding from her friends, which is creating a wedge between them that only grows when she finds common interests with her HNC pals. It was lovely to watch her grow closer to Julianne and the others through movie nights and group hangouts at a different pizza place (yup).
Meanwhile, the brooding James Dean-type, Tristan, is growing closer (and keeping his distance at the same time because #brooding). I loved him and learning more about his family, hobbies, and future plans. He was such a cute and swoony MC literally without trying to be. In the end, he helped Beck realize who she truly is.
This book truly had it all for me. Beck was trying to maintain her old friendships without being her true self, and refusing for too long to bridge the gap between her "old life" and new one. There wasn't a ton of drama honestly – just a lot of nice realizations and a wonderful ending that made me so happy. All in all, if you're honestly looking for a quintessential YA contemporary romance focused on friendship, pizza, and being true to yourself, do not skip this book.
---
I received this book for free (hey, thanks!) in exchange for an honest review. I promise that this does NOT affect my opinion of the book or the content of my review. For real.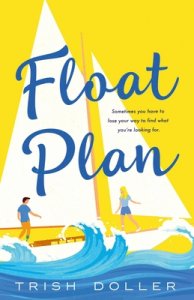 Float Plan
by
Trish Doller
Series:
Beck Sisters #1
Genres:
Adult
,
Contemporary
Published by
Macmillan
on March 2, 2021
Also by this author:
Where the Stars Still Shine
,
The Suite Spot
,
Off the Map
Format:
Audio/eARC
(272 pages) •
Source:
Publisher, Scribd
Goodreads
•
Amazon
•
Barnes & Noble

Critically acclaimed author Trish Doller's unforgettable and romantic adult debut about setting sail, starting over, and finding yourself...

Since the loss of her fiancé, Anna has been shipwrecked by grief—until a reminder goes off about a trip they were supposed to take together. Impulsively, Anna goes to sea in their sailboat, intending to complete the voyage alone.

But after a treacherous night's sail, she realizes she can't do it by herself and hires Keane, a professional sailor, to help. Much like Anna, Keane is struggling with a very different future than the one he had planned. As romance rises with the tide, they discover that it's never too late to chart a new course.

In Trish Doller's unforgettable Float Plan, starting over doesn't mean letting go of your past, it means making room for your future.
Is it possible to have simultaneously zero expectations and high expectations for a book? Because that's exactly what happened here. I've heard so many great things about Trish Doller's YA books – she's a favorite author for many of my friends. I generally enjoyed WHERE THE STARS STILL SHINE but I think the hype got to me. I didn't have many expectations for FLOAT PLAN and truly requested it on a whim waaaay back last year before the pub date was pushed (I think?). I thought I would give her first foray into adult contemporary romance a try because the premise of sailing around in honor of her recently-deceased fiance sounded intriguing. The reviews started coming in and I saw how much people loved it, so my expectations increased.
I am thrilled to say that this is so well-deserving of all the early praise and I cannot recommend it enough. I read the first page or two of the book (also – major trigger warning for suicide) and thought, oh god – what am I getting into right now? I expected to be too sad for most of the book, but Doller so perfectly balanced all of the emotions. The journey that Anna went on had plenty of sad moments, but so many happy and hopeful ones too. She was honoring Ben on her journey while moving on with her life in more ways than one.
She hires Keane, a professional sailor, on a whim to help her after a rough couple of days of solo travel. She soon realized she was in over her head. Soon, the sparks are flying, but Anna is rightly hesitant but not overly nervous about moving forward. I was so pleasantly surprised at how well this transition was done for her – she never rushed, never glossed over her feelings, but knew the time was right when it was. I was happy that this book took place 10 months after Ben's suicide because fresher grief is always hard for me to read about. Frankly, I rarely read heavy contemporaries.
I LOVED reading about all of the islands and how to sail a boat. Doller must have done an insane amount of research for this! It felt like she took this journey herself and then wrote about it all.
My reading is still all over the place so it means a lot when I say that I finished it in two sittings. I started it on a whim right after finishing another book, to keep the reading mojo going, and read late into the night, then finished first thing in the morning. Sidenote: I love the audiobook for this – I finished off the last hour via audio when I was getting ready for work and definitely wish I had for a longer period of time!
Overall, Doller's first book within the adult contemporary romance genre is a major success in my eyes. I hope to read a lot more from her in the future.
Related Posts