I received this book for free (hey, thanks!) in exchange for an honest review. I promise that this does NOT affect my opinion of the book or the content of my review. For real.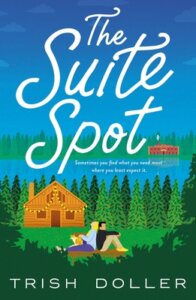 The Suite Spot
by
Trish Doller
Series:
Beck Sisters #2
Genres:
Adult
,
Contemporary
Published by
Macmillan
on March 8, 2022
Also by this author:
Where the Stars Still Shine
,
Float Plan
,
Off the Map
Format:
eARC
(288 pages) •
Source:
Publisher
Goodreads
•
Amazon
•
Barnes & Noble

Trish Doller's The Suite Spot is a charming romance novel about taking a chance on a new life and a new love.

Rachel Beck has hit a brick wall. She's a single mom, still living at home and trying to keep a dying relationship alive. Aside from her daughter, the one bright light in Rachel's life is her job as the night reservations manager at a luxury hotel in Miami Beach—until the night she is fired for something she didn't do.

On impulse, Rachel inquires about a management position at a brewery hotel on an island in Lake Erie called Kelleys Island. When she's offered the job, Rachel packs up her daughter and makes the cross country move.

What she finds on Kelleys Island is Mason, a handsome, moody man who knows everything about brewing beer and nothing about running a hotel. Especially one that's barely more than foundation and studs. It's not the job Rachel was looking for, but Mason offers her a chance to help build a hotel—and rebuild her own life—from the ground up.
I really loved FLOAT PLAN so I had pretty high hopes for THE SUITE SPOT. These books were both similar and different from each other and therefore perfect companions. I could spend this whole review comparing the two books and sisters but I'll try to keep it (mostly) about this one.
When Rachel is fired from her job at a fancy boutique hotel in Florida, she and her daughter Maisie aren't sure what's next. She receives a lead from a friend that a guy on a small Ohio island is looking for someone to run his brewery-centered hotel/glamping spot. When her "boyfriend" disappoints them once again, she decides to take the plunge and the job. Mason, the owner of the place, wasn't fully up front with her when he offered the job – the cabins aren't even built yet and the brewery is barely done. He's mourning the loss of a few things/people in his life too and remains pretty guarded around Rachel and Maisie.
I adored the small island setting AND brewery hotel storyline. I would 100% stay at a glamping resort like this one! Small town vibes are my favorite to read and this setting had the perfect little town of people to flesh that out. Maisie was super cute and Mason was an excellent love interest. I like how this series so far has been very heavy on the family feels and/or overcoming some kind of grief or loss – taking relationships and romance slowly after disappointment or heartbreak. These are the ultimate slow-burns that aren't fully romance books for that reason, IMO.
Aside from the slow-going, lovely romance, there are tons of family feels, diversity, and friendship. If I could complain about anything, it would be something spoilery at the end. I won't get into specifics but basically Rachel jumped to conclusions and made an impulsive decision without fully vetting out the options (IMO). I've read a few books like this where the main source of conflict or the black moment could be solved through a simple phone call or something equally easy.
Overall though, this companion series has been wonderful. I went into FLOAT PLAN with high expectations and no expectations at the same time, so my fully high expectations for THE SUITE SPOT made me nervous. The premise was right up my alley and luckily the lovable characters made it even better.
Related Posts