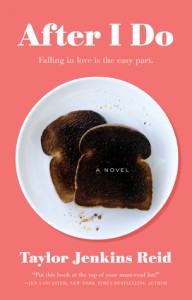 After I Do
by
Taylor Jenkins Reid
on July 1st 2014
Also by this author:
Maybe in Another Life
,
One True Loves
,
The Seven Husbands of Evelyn Hugo
,
Evidence of the Affair
,
Daisy Jones and The Six
,
Malibu Rising
,
Carrie Soto Is Back
(352 pages) •
Goodreads
•
Amazon
•
Barnes & Noble

From the author of Forever, Interrupted—hailed by Sarah Jio as "moving, gorgeous, and at times heart-wrenching"—comes a breathtaking new novel about modern marriage, the depth of family ties, and the year that one remarkable heroine spends exploring both.

When Lauren and Ryan's marriage reaches the breaking point, they come up with an unconventional plan. They decide to take a year off in the hopes of finding a way to fall in love again. One year apart, and only one rule: they cannot contact each other. Aside from that, anything goes.

Lauren embarks on a journey of self-discovery, quickly finding that her friends and family have their own ideas about the meaning of marriage. These influences, as well as her own healing process and the challenges of living apart from Ryan, begin to change Lauren's ideas about monogamy and marriage. She starts to question: When you can have romance without loyalty and commitment without marriage, when love and lust are no longer tied together, what do you value? What are you willing to fight for?

This is a love story about what happens when the love fades. It's about staying in love, seizing love, forsaking love, and committing to love with everything you've got. And above all, After I Do is the story of a couple caught up in an old game—and searching for a new road to happily ever after.

I've now read 2/3 of Taylor Jenkins Reid's published works and she's easily a favorite author. 5 stars for both books. Not only are they favorites, but they both taught me so much. Her books just have a way of impacting you unlike any others. I don't know how she does it, but she takes regular people going through pretty average things (like falling out of love and making decisions) and just makes their stories so incredibly engaging and enthralling. For once, the hype about a book didn't ruin anything for me. I'm not entirely sure how to describe how much I loved this book and all of the characters, so I'm going to break some stuff down.
The realest relationship
I loved Lauren and Ryan's relationship from the very beginning. The book shows how they met and how their relationship developed before getting to the point where they choose to separate. It was a nice segue, showing some different increments over time: when they met, a few years into the relationship, and all the way to months before the book starts. It was truly necessary to see why these people should be together and the kind of relationship they're fighting to fix.
On top of the flashbacks, I just loved them and shipped them like crazy. At the same time, it was so obvious how they started to fall apart. There were so many lessons about keeping a relationship going during each and every moment. The little things can seriously add up.
Family feels like crazy
Lauren's family was fully fleshed out and supportive the whole time. I loved learning about everyone: her grandmother, siblings (brother and sister), and mother. It's amazing how their regular interactions and fairly average lives could make me so happy and engaged the entire time. During Lauren's year away from Ryan, she learned a lot about herself and her family. She was able to understand what everyone wanted from their lives, and it really helped her.
Different kinds of love
There's no right answer for love, or one kind of love. There were so many different kinds of loves and relationships and romantic expectations represented in this book! They all felt normal and ARE normal. Each person in Lauren's life went through completely different romances and had different feelings about love. No one person was right. The author fully exposes all kinds of people and what they want from their love lives, or lack thereof.
Incredibly relatable love lessons
I can't imagine a person reading this book and not having anything to relate to. All of the little problems Lauren and Ryan have seem so universal. Sometimes I felt like it was written for me. If you've ever been in love or are currently in a relationship, I'm sure you'll find something to take away from this story. I have a few things I plan to do going forward:
Spend more time listening. Put my phone down when Chris talks to me.
Keep laughing a lot – at everything we can.
Be myself and stick up for what I want, as often as possible. Honesty is the best policy (really!)
"Isn't it nice … once you've outgrown the ideas of what life should be and you just enjoy what it is."
"Just because you can live without someone doesn't mean you want to."
"We are tied to each other. We can hate and love, miss and loathe each other all within the same breath. We can never want to see each other again while never wanting to let go."
I feel like I did a pretty good job of summarizing my feelings on Goodreads, so here's a snapshot of my review (as I sometimes do):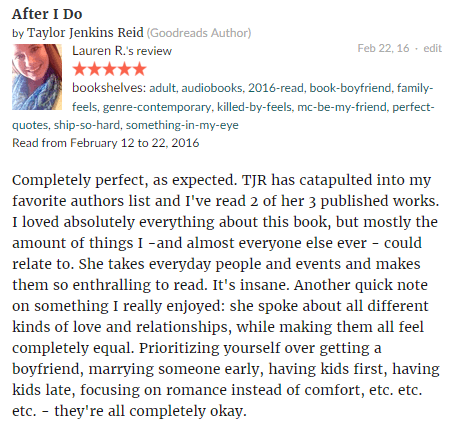 Related Posts