I received this book for free (hey, thanks!) in exchange for an honest review. I promise that this does NOT affect my opinion of the book or the content of my review. For real.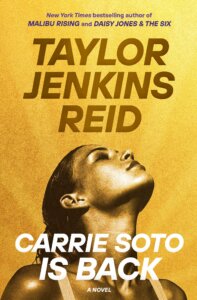 Carrie Soto Is Back
by
Taylor Jenkins Reid
Genres:
Adult
,
Historical Fiction
Published by
Penguin Random House
on August 30, 2022
Also by this author:
Maybe in Another Life
,
After I Do
,
One True Loves
,
The Seven Husbands of Evelyn Hugo
,
Evidence of the Affair
,
Daisy Jones and The Six
,
Malibu Rising
Format:
eARC
(384 pages) •
Source:
Publisher
Goodreads
•
Amazon
•
Barnes & Noble

In this powerful novel about the cost of greatness, a legendary athlete attempts a comeback when the world considers her past her prime—from the New York Times bestselling author of Malibu Rising.

Carrie Soto is fierce, and her determination to win at any cost has not made her popular. But by the time she retires from tennis, she is the best player the world has ever seen. She has shattered every record and claimed twenty Grand Slam titles. And if you ask Carrie, she is entitled to every one. She sacrificed nearly everything to become the best, with her father, Javier, as her coach. A former champion himself, Javier has trained her since the age of two.

But six years after her retirement, Carrie finds herself sitting in the stands of the 1994 US Open, watching her record be taken from her by a brutal, stunning player named Nicki Chan.

At thirty-seven years old, Carrie makes the monumental decision to come out of retirement and be coached by her father for one last year in an attempt to reclaim her record. Even if the sports media says that they never liked "the Battle-Axe" anyway. Even if her body doesn't move as fast as it did. And even if it means swallowing her pride to train with a man she once almost opened her heart to: Bowe Huntley. Like her, he has something to prove before he gives up the game forever.

In spite of it all, Carrie Soto is back, for one epic final season. In this riveting and unforgettable novel, Taylor Jenkins Reid tells her most vulnerable, emotional story yet.
Taylor Jenkins Reid really is something else. She's never written a bad book (IMO) – even the one I didn't LOVE was still a four-star read… and I'm even thinking of rereading via audio to see if my opinion changes!
This book was fascinating. I wasn't totally excited from reading the premise – a tennis player? Not interested really. I completely forgot that she was a very small side character in another book of TJR's too. It took me a long time before I realized all of the Mick Riva connections between her newer stories. He sucks but what a fun tie-in between everything. Her historical fiction books have been so lovely lately!
Carrie Soto is a badass tennis pro. She's broken all the records and had a great career until she slowed down and retired after some bad matches and a downward spiral (ability-wise). She and her father are sitting at the tennis match when Nikki Chan, the newest phenom, breaks Carrie's record (I had to double check this because none of the tennis information stuck in my brain)… and Carrie promptly unretires to win it back. She's 37 years old and has been retired for 5+ years but feels like she needs to get it back.
The story centers around her comeback, with a good section at the beginning going through her early career pre-retirement, as she competes in all of the major Opens. It was fascinating and felt SO true to live when TJR included commentary and snippets from Tennis broadcasters or news articles about her return. Carrie had a reputation for being a bit of a bitch during her reign and people did not let her forget it. The "Battle-Axe" was back and taking no prisoners. Everyone judged her about something and doubted her ability to do it.
Carrie was an interesting character though – she was fierce as hell. She was also very closed off emotionally for a lot of reasons. She could be harsh and brutal, even to those she loved (like her father – who was also her coach). Sometimes I did think it was a little too much, like she needed more socialization at an early age to help her learn how to communicate with people (lol). She just didn't care and I kind of loved it. She started training with an old flame Bowe Huntley because he was the only one interested in working with her and/or not afraid of her. He's at the very end of his career and wanted to make one last splash/tournament run, and he believes training with Carrie is the way to do it. They could relate to each other in some ways and she had to get used to being a normal human around him. You can imagine what happens from there and I really loved how Bowe interacted with Carrie's dad.
I would say that my 4.5 star rating is mostly based on two factors. This didn't come away on fully equal footing to some of my favorites by her. It just didn't give me the vibes of an all-time favorite. Also, there's a LOOOOT of technical tennis stuff happening in this one. I appreciate that it was fully necessary to go through all of the vocab words, so to speak, to keep it authentic and TJR either knows a lot about tennis and/or did a ton of research… but it was a bit skimmable at times. Some matches I just breezed through to see the very end result.
All in all, this was another major winner by TJR for me. There were quite a few predictable moments but not really in a bad way. It had all the feels too.
Related Posts